Vancouver Talmud Torah students of all ages worked together to prepare the Vancouver Jewish Community Garden. (photo from VTT)
The first few weeks of spring have been a particularly busy time for Vancouver Talmud Torah (VTT) students. Armed with child-size wheelbarrows, shovels, rakes and plenty of enthusiasm, students spent last March preparing the soil for Vancouver Jewish Community Garden. VTT's head of school, Emily Greenberg, said the formidable task of building up the garden, which will provide crops for a variety of food security initiatives in the community, has been a big hit with the kids.
"We had every single one of our students, including our littlest 3-year-olds, coming out to the garden and helping to move soil into the planter boxes," Greenberg said, adding that it took about a week to fill all of the planters. "At the beginning of the week, I saw a mountain that was easily over seven feet tall of dirt and, by the end of the week, they had taken it down to the ground."
Their work paved the way for two community days in early April, in which families from throughout Metro Vancouver turned out to help.
The Vancouver Jewish Community Garden is the brainchild of three Jewish agencies: VTT, Congregation Beth Israel (BI) and Jewish Family Services (JFS). Approximately 1,800 square feet of the 6,000-square-feet garden will be dedicated to growing food to support various BI and JFS initiatives. The property will also include an education centre, walking paths and seating areas.
BI's Rabbi Jonathan Infeld said the synagogue has been looking for ways to grow food that could support its philanthropic programs, such as the Veggie Club, which cooks up fresh soup that's distributed through JFS, and One Heart Dinner, which provides sit-down meals to community members experiencing homelessness or food insecurity. He said the new garden will not only supply BI's programs with freshly grown food, but serve as an outdoor classroom for its Hebrew school and for expanding community education programs.
"We will be creating and using this opportunity for our Hebrew school students to literally learn [about] Judaism connected to the land while getting their hands dirty in the garden," Infeld said.
According to the rabbi, the garden's unique gift isn't just that it can teach community members how to grow food. "This garden is truly about feeding hunger, whether we are talking about those who physically hungry or those who are spiritually and Jewishly hungry as well," he said, noting Judaism attaches communal responsibility to the act of growing food, instructing Jews to dedicate parts of their crops to those in need, a commandment that dovetails with the garden's very purpose.
"Judaism [also] commands us to say blessings before and after every time we eat, to recognize that we are given a gift of food from God. When we go to the supermarket and we buy our food and prepare it and make it, it's easy to forget from where it came."
The tasks involved in building and tending this garden, he explained, also serve to remind us that food doesn't arrive easily. "It needs a lot of hard work, it needs our interaction and it needs divine intervention" in order to feed a family. "By being involved in the farming and producing and the growing of food, our community will be able to see in front of their eyes what the Jewish laws pertaining to eating are really all about," Infeld said.
For JFS, it made sense to support a program that produces food for community sustainability initiatives and also serves as a classroom for youth education, said JFS chief executive officer Tanja Demajo.
"The garden is a very important part of the food justice and inclusion and community engagement [programs] that we are trying to build through the Kitchen and our food initiatives," she said. "So, it really wasn't hard for us to lend our support and voice. It was very meaningful, and what's even more meaningful is this opportunity to build partnerships between VTT and BI. That's quite unique and amazing.
"It is really neat to see how we can all think through different lenses of the ways to build a community; how to put education … and community engagement and food production together and create this accessible space for everyone to participate in."
Greenberg said this may be the first project of its kind – several Jewish agencies with differing mandates partnering to create a community garden.
"That is something that we are really proud of and we hope it sets a standard for collaboration, because we are always stronger together, and we know that this is something that was only achievable because we were able to work together to accomplish it," she said.
According to Greenberg, several founding donors played an important role in making the garden possible.
"The Diamond Foundation secured a long-term lease of this land for future development," she said. "We would like to thank the Diamond Foundation for allowing us the opportunity to use this land for a Jewish community garden on a temporary basis."
Greenberg said they are also grateful to the Jewish Federation of Greater Vancouver, in partnership with the Jewish Community Foundation and the Ronald S. Roadburg Foundation, for their significant financial seed gifts.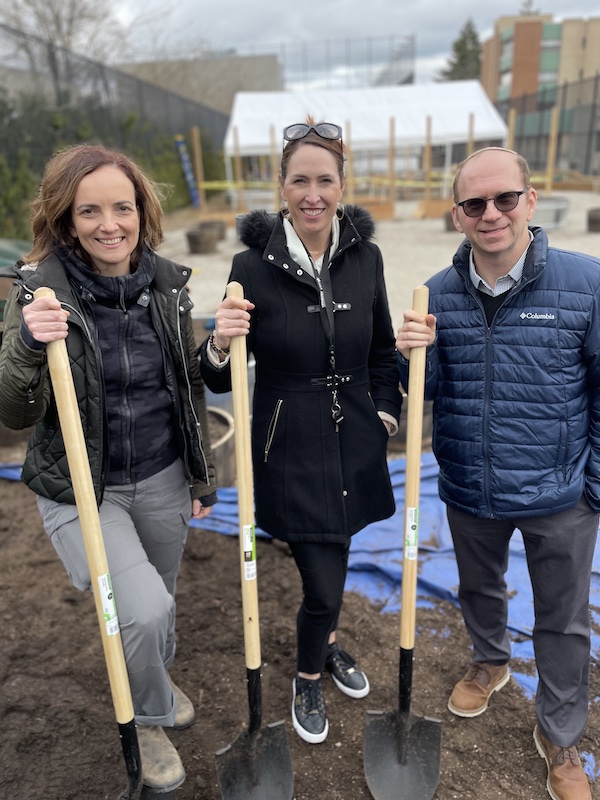 With the planters filled and seeded, the garden is now well on its way. Community members spent April planting a cornucopia of flowering plants like black-eyed Susans, purple coneflowers, sweet peas and sunflowers. Fruit trees, including apple and plum, already had been planted, along with grapes, raspberries, strawberries, and lettuces.
"Once we begin having students regularly in the garden, we will be holding lessons for all students, from rishonim (3-year-olds) to Grade 7," Greenberg said, noting that the new classroom melds well with the school's iSTEAM (Israel innovation, science, technology, engineering, arts and mathematics) program. "The garden gives us an opportunity to dive deep into iSTEAM and look at, for example, drip irrigation," an Israeli invention that the community garden will be using and which is now used globally. "It's completely transformed the agricultural sector," Greenberg said. "So, for kids to see how innovation has come out of Israel and is then being transplanted all over the world … [it is] a very meaningful way for them to engage in learning about Israel as well."
Finding ways to build connections to Israel is also a priority for BI. "We are always looking for opportunities to meet our goals of bringing Jews closer to God, Torah and Israel," Infeld said. Michelle Dodek has been hired to help teach the Hebrew school students about the ancient and enduring connection between Judaism and the land.
Demajo said work in the garden doesn't stop now that the plants are in the ground. There will still be room for more volunteers to get their hands dirty and participate in its maintenance.
"There will be a place to engage, whether it is with growing food, whether it is with programs that are more social or it's more related to education," Demajo said. Individuals who didn't have an opportunity to volunteer for the build-up of the garden can reach out to Maggie Wilson at [email protected] for more information and to register as a volunteer.
On May 28, 3-5 p.m., the garden, which is located adjacent to the synagogue, will open its doors to visitors for the first time. Organizers are asking those who would like to attend the open house and fundraiser to register using the link at talmudtorah.com/vjcg, so they have an idea of how many people will be attending.
Jan Lee is an award-winning editorial writer whose articles and op-eds have been published in B'nai B'rith Magazine, Voices of Conservative and Masorti Judaism and Baltimore Jewish Times, as well as a number of business, environmental and travel publications. Her blog can be found at multiculturaljew.polestarpassages.com.