Theatre critic, author and actor Jerry Wasserman is the winner of this year's Max Wyman Award in Critical Writing.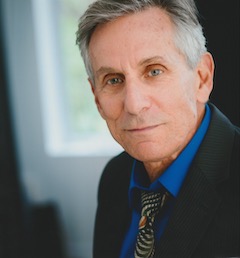 The annual award celebrates critical commentary on the visual, performing and literary arts in the province of British Columbia. It is intended to honour informed and compelling writing that stimulates critical thinking, fosters ongoing discussion about the role of arts and culture in contemporary society and demonstrates the value of creative commentary in our understanding of the world around us.
The winner receives a prize of $5,000 and a gold and emerald pin designed by Vancouver artist Robert Chaplin. A mentee, named by the laureate, receives a $1,000 prize. This year's mentee is Angie Rico, an emerging writer and media artist.
The award was established in 2017 by philanthropist Yosef Wosk to honour the career and lifetime contributions of the Vancouver author, arts critic and commentator Max Wyman. It recognizes writers who have amassed a significant body of work. Eligible subjects of criticism include the visual arts, architecture and design, theatre, literature, dance, music, film and television, as well as more general cultural commentary.
Wasserman began working as a theatre critic on CBC national radio in the mid-1980s and broadcast weekly reviews on Vancouver's The Afternoon Show from 1987 to 2003. He has since served as theatre critic for the Province and, currently, the Vancouver Sun. About 400 of his articles and reviews have appeared in those papers; since 2004, his website, vancouverplays.com, has received more than 1.6 million visits. He taught English and theatre at the University of British Columbia for more than four decades and served as head of the department of theatre and film from 2007 to 2012. His acting resumé includes stage appearances for the Arts Club, Playhouse, City Stage, Westcoast Actors, New Play Centre, United Players and Western Gold Theatre, and more than 200 film and TV appearances, from The X-Files, Look Who's Talking and Alive to I, Robot, Watchmen and The Last of Us.
The jury citation reads: "Jerry Wasserman's remarkable career in many ways embodies the aims of this award. His decades as a teacher and as a performer give his writing about the theatre a sympathetic and thoughtful understanding that is expressed in language that is lively, direct and deeply informed. The jury was unanimous in its appreciation of the way he has encouraged and enhanced a wider appreciation of the richness of the Vancouver arts scene and the talents of those who make that richness possible – both through his print and media reviews and through his website, which is a consistent source of information and critical context on all things theatre in Vancouver."
Wosk commented: "Jerry Wasserman's voice has been a steady and trusted source of information and context about the Vancouver theatre scene for decades. He treats criticism and commentary as an integral part of the cultural fabric, and sees the role of the critic not as an antagonist to the performer and creator but as a collaborator. I am delighted that he is to receive this award."
* * *
Brighton Feldman has been named to the U-18 Canadian National Rugby Team for a tour in the Netherlands this summer. At the school-based age group, however, team members have to pay all their own travel expenses, so Feldman has started a GoFundMe page.
"Ever since I started playing rugby, I've wanted to wear the leaf on my chest," he writes. "Now that I have that opportunity, I need a little help to get me there. I promise to work my butt off and come away with some wins. Any support is appreciated."
Feldman is the son of Steve Feldman and Kristen Sandborn of Victoria, and grandson of Pearl Feldman of South Surrey, B.C. He is a graduate of Congregation Emanu-El Hebrew School and is completing Grade 12 at Royal Bay Secondary School in Victoria. He plays basketball and rugby for his school teams, as well as playing rugby for the WestshoreFC and, now, for Team Canada. He has previously played and captained the B.C. Bears provincial rugby team.
Next year, Feldman will be attending the University of Victoria, working towards a degree in physical and health education. At UVic, he will compete as a member of the Vikes Rugby Team.
To help Feldman represent Canada in the Netherlands, make a donation at gofundme.com/f/brighton-play-for-team-canada.