Artist Anna Marszalkowska stands in front of "Levi," which is part of her Tribes series, which is on exhibit at the Zack Gallery until May 4. (photo from Anna Marszalkowska)
The challenge of visually depicting the tribes of Israel has attracted many famous artists over the centuries. For example, on the 25th anniversary of the state of Israel, Salvador Dali, inspired by descriptions in the Torah, created a series of watercolours, "The Twelve Tribes of Israel." Before that, in 1962, Marc Chagall made his famous stained-glass windows, "The Twelve Tribes," for a synagogue in Jerusalem. Anna Marszalkowska, a local Vancouver artist of Polish origins, fits easily into this august company. Her solo show, The Tribes, opened at the Zack Gallery on March 29.
Marszalkowska grew up in Poland, but studied graphic design and worked as a graphic designer in London, England. "Diversity is what made my design path exciting," she said in an interview with the Independent. "I started my career as a freelance web and graphic designer and then moved to video design and editing, as well as motion graphics and animation."
Five years ago, she and her husband moved to Canada, but they lived and worked in the eastern part of the country. They relocated to Vancouver two years ago.
"We came here during the pandemic," she said. "We wanted to try something different. For an outdoor person like myself, this is a great place. The nature is beautiful, and everyone is very friendly."
She also changed the direction of her professional life. "I work with artists in the movie industry, but not as an artist myself," she said. "I understand artists because of my past as a graphic designer, but I wanted less time at the computer screen. I wanted to free my creativity for more personal projects, which was hard to do while working as a graphic designer. Then, my creativity was fully engaged in my professional activity, but, on the other hand, I was limited by clients' requirements. After a full day of work … I was often tired, I wanted to relax. Now, my creativity is freed. I have more time for my artistic experiments. I started abstract painting and I love it. Just me and a painting – it calms me."
But even while working full time as a graphic designer, she still found energy to search for her individual style and themes. One of them was her Tribes series. "In 2010, I completed a print production course, and this series was the result."
The series consists of 12 large digital prints, each one corresponding to one of the tribes of Israel. Although Marszalkowska's version is an entirely modern take, it involves ancient symbolism, which originated in the Hebrew Bible. The artist conducted deep research for this project, and the end results are simultaneously stunningly simple and visually compelling.
"I had a blog before and, when I put the images online, many people expressed their interest. They wanted to buy one or several or all of the images."
For the artist, this body of work has meaning beyond its commercial success. "It was a personal journey. I was searching for my Jewish ancestry. My grandmother grew up in a town in Poland where most citizens were Jewish before the war. She might have been part Jewish herself, but after the Holocaust, I had no one to ask."
Instead, she studied the Bible and tried to interpret the narratives within a cultural context. "The symbols of the tribes are by no means fixed," she explained. "Every artist could have their own interpretation, as the biblical texts describe the sons of Jacob allegorically."
In her interpretation, the traditional symbols are given a contemporary, stylized appearance. "I explored the relationship between geometric shapes and lines," she said. "I used repetition and symmetry to keep balance in each individual design and all 12 together."
She also leaned towards a minimalistic approach, where a symbol of the tribe is centred on a one-colour background, with no other embellishments to attract a viewer's attention. "In the original design, I had an ornamental frame around each image, but I got rid of them. I think less is more," she said. "COVID made me realize that my focus should be the meaning, not the decorations."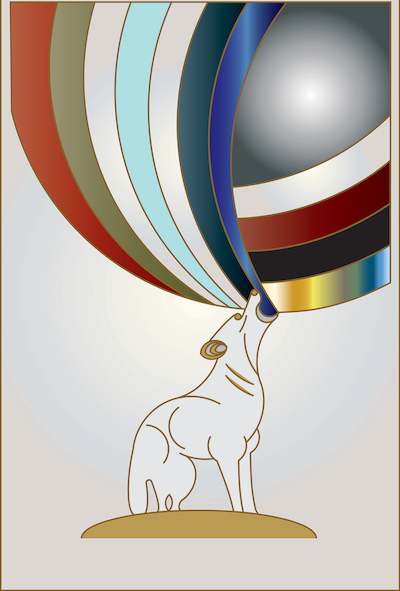 In most images, the background colour palette reflects that of the tribe, except for Benjamin, the youngest. "His symbol is a wolf," Marszalkowska said. "He represents all colours of all tribes. To reflect that, I placed a 'rainbow' above the wolf. I think it is his spirit or maybe his song, Or his breath. It would depend on your own interpretation."
In some of the designs, she incorporated photography for texture. "I used Adobe Illustrator to combine my photographs with my digital illustrations," she said. For Simeon, her symbol is a tower, and she put her photos of bricks to good use in her pictorial tower construction. For Zebulun, whose symbol is a ship, she employed photos of water. "Issachar's symbol is a donkey with a burden," she said. "I used my photos of wood for the donkey's load."
When different sources offered different visual symbolisms for a tribe, the artist's scholarly touch led her towards her own esthetic. For example, in the case of Levi, some documents don't count him as a tribe and don't offer any symbols for him. Historically, the Tribe of Levi wasn't given any land, but its men served as religious leaders and teachers. Maszalkowska decided that Levi's description as God's Chosen Tribe warranted its own image: a breastplate of a high priest. The breastplate is embedded with 12 gemstones, each inscribed with the name of one of the tribes in Hebrew.
"Overall, the series is an invitation for everyone to embark on their own journey, to reflect on their own purpose and fulfilment," said Maszalkowska. "Ultimately, I hope that my art will connect with the viewers and inspire them."
Tribes runs until May 4.
Olga Livshin is a Vancouver freelance writer. She can be reached at [email protected].