Residents of Prince George might be forgiven for thinking there is more than one person named Eli Klasner in their midst. Among his many concurrent pursuits, the Toronto native is directing the Community Arts Council of Prince George, leading a fundraising initiative for Ukrainian refugees and serving on the board of the Jewish Museum and Archives of British Columbia.
Living in Prince George is the fulfilment of a lifelong dream for Klasner. Since childhood, he had entertained the notion of living on the Canadian frontier or the Far North. When he was younger, he also made a commitment to himself that, by the time he celebrated his 40th birthday, he would do whatever it was that excited him.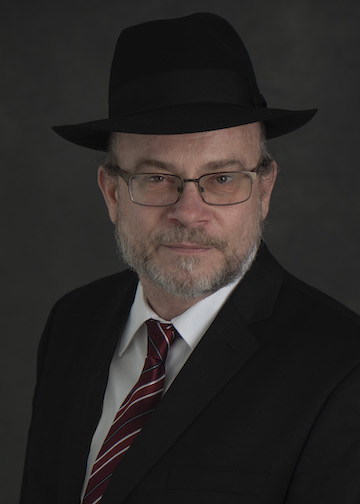 As events unfolded, he was able to do just that after running businesses in Toronto and Vancouver. In 2017, while Klasner was working for a nonprofit, the possibility of moving to Prince George presented itself.
"I was just charmed by the roughness and climate adversity and, significantly, by the opportunities I saw both as a participant in arts and culture but also to identify that there are Jewish people here and in this area," Klasner told the Independent.
The friendliness and accessibility of locals reaffirmed his desire to stay. "Soon after I was here, I visited City Hall and asked who is the mayor? 'Well, that's his office there. If you want to say hello, just go on in and introduce yourself.' I like that. Coming from Toronto, you don't just walk in and put your feet up on the mayor's table. I thought that was very appealing," Klasner recalled.
His executive director position with the arts council quickly transformed into a full-time schedule as he came to realize that the city could use support with its arts facilities. Klasner's role in Prince George's artistic rejuvenation includes working on a new creative hub, a new performing arts centre and, in March, the gala opening of a retired heritage church that was turned into a concert hall.
"Taking the executive director job here helped solidify that I need to settle down and find a place to live permanently. At that point in my life, I thought a lovely arts council with a lovely little gallery and gift shop would be a lot of fun," said Klasner, who during his youth studied music in various European capitals.
For two years of his stay in Prince George, Klasner lived in a cabin in the woods, along with two hound dogs and two cats. "I moved a little off the grid," he said. "That, for me, was the boyhood dream of living in the woods, chopping wood, growing a garden in the summer and being close to wildlife and nature. It was an amazing experience."
Then came 2020. Klasner contracted the coronavirus at the outset of the pandemic. "COVID is an interesting part of the journey of being up here in this odd, unusual place," he said. "It was certainly a challenge, but, also, when you live through something like that, you really come to appreciate life when you have good health, and the bounty that comes with good health."
From a Jewish cultural perspective, one of Klasner's recent projects has been the performance of Different Trains, a piece written for string quartet, with pre-recorded tape, by American Jewish composer Steve Reich that revolves around the Second World War and the Shoah. After being approached last year by the Prince George Symphony Orchestra, Klasner was able to arrange to have the work performed to mark Holocaust Remembrance Day this past January.
"I found it to be a remarkable process of respect and inclusion and terrifically ambitious for a small-town symphony to want to take on such a challenging and groundbreaking piece of music," Klasner said.
Afterwards, several members of the local Jewish community were invited on stage to say a few words. The crowd, according to Klasner, was very moved by the event. "People got to sit, ask questions and talk about Holocaust and persecution. I found it a unique thing to happen in a place like Prince George. Where else is something like this done in Canada that does not have a significant Jewish population?"
Prince George, like other parts of northern British Columbia, Klasner noted, used to have a thriving Jewish community, starting with the immigrants who arrived in the 1880s. Many of the first local businesses were started by Jews, and the first Jewish female elected to public office in Canada was in Prince George, when Hanna Director became chair of the city's school district.
From the Second World War to the 1970s, the community dwindled. The Sefer Torah that was in Prince George was sent down to Vancouver and is in storage.
However, there has been a resurgence in Jewish life, Klasner said. "What we started to do is hold community events around holidays and festivals, wanting to expose the young generation to the culture and history of Jewish celebrations and milestones, holidays and festivals. We are quite open to people who might want to come but who are not Jewish to see a Hannukah celebration and what kind of foods we eat around Rosh Hashanah, etc. There has been a lot interest in the community."
The Jewish Museum and Archives, Klasner said, helped him understand some of the history and heritage of the Jewish community in the area. This, in turn, helped Klasner get other members of the community involved to share stories about what life in Prince George was like at one time or another. For example, there were photos of a seder in Prince George just after the war, when so many Jews wanted to be involved that a community hall had to be used.
"When there was an opening on the board of the Jewish Museum and Archives, I thought it was an opportunity to help them have province-wide representation, rather than just the Lower Mainland, the Island and the Okanagan," he said.
Jewish values were integral in Klasner's recent efforts to assist Ukrainian refugees in his community. When a new endowment fund was created to help the newcomers, he reached out to the organizers to help propel their fundraising.
"I was overwhelmed at the possibilities of life when people open up their hearts to strangers in their land and by the idea of opening up one's heart and mind and wallet to people in the community – and what a Jewish attribute as well. Our families were once accepted here as refugees," he said. "Our life on earth depends on the fact that Canada accepted refugees."
From June 9 to 11, Prince George will host another of Klasner's ventures, the B.C. Gourmet Arts Festival. Now in its second year, the event features scores of local artisans and presents culinary delights of the region and country.
"I love life and the opportunity to be busy and creative and help people and get involved," Klasner said. "Life is awesome."
Sam Margolis has written for the Globe and Mail, the National Post, UPI and MSNBC.