"When I came to Galena Bay, I had been afraid of many things," writes Ellen Schwartz in Galena Bay Odyssey: Reflections on a Hippie Homesteader (Heritage House Publishing Company, 2023). "Of the physical work I would have to do. Of trying new things I have never done before, like gardening and building and raising animals. Of living in isolation. One by one, I had attempted these things, and I had survived. I had even mastered some of them. Those fears had fallen away."
This paragraph comes as Schwartz is atop a hill, "too scared to move," and her skis start sliding. She survives the "ungraceful and disastrous" run, even pushes through a second one. But she can't keep her vow to never to do that again because, in the 1970s, she lived in such a far-flung place that skiing was a necessary mode of transportation, not just a leisure activity.
It is easy to see why Schwartz chose to write a memoir about this period of her life. Born into a middle-class family – her father an internist-turned-cardiologist, her mother a teacher before becoming a stay-at-home mom to Schwartz, her younger sister and brother – and raised in New Jersey, Schwartz went to university in Chicago. There, she did all you might expect a young person with the new freedom of being on their own to do. And then some, as it was the late 1960s. She writes openly about her experiences with drugs and having sex for the first time: "I figured Ned was The One. I imagined that we'd go through our four years [at school] together and eventually marry." That didn't happen. Nor did Schwartz go on to lead the conventional life she imagined for herself at the time.
Instead, she went to join a close friend at a farming commune in Pennsylvania, the members of which ultimately wanted to move to British Columbia. Not intending to stay longer than summer break, Schwartz fell in love with one of the commune's founders and, well, ended up in British Columbia with Bill, who would become her husband. The group didn't last long, but the Schwartzes are still together, though no longer in Galena Bay, which is in the West Kootenays. They now live in Burnaby.
The young urban-raised couple faced many challenges homesteading, and Schwartz has many stories of taking on the unknown, whether it be camping along the route across the continent to British Columbia, building their own cabin (including chopping down their own trees), growing their own food, raising a child in a remote area (their second would be born in Vancouver), etc., etc. Not to mention finding work that would sustain them physically (keep them housed, clothed and fed), if not spiritually. She shares the details of her hippie days matter-of-factly, with humour and with the perspective of reflection. For example, after recounting her parents' muted reaction to her and Bill's homemade home, she offers potential reasons for their lack of enthusiasm.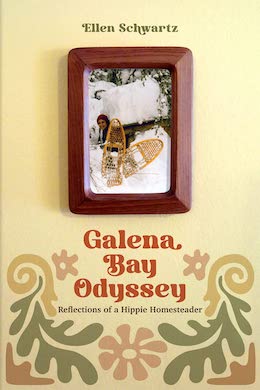 Schwartz's unique history encapsulates the overarching idealism of many in her generation. Her grandparents were "impoverished Jewish immigrants who had fled the hardships and pogroms of Lithuania and Poland" to give their kids a better life in the United States, so their grandchildren also were well set up for material success. The grandchildren – Schwartz and her peers – had an idea but no real understanding of the sacrifices that had been made to achieve the comfortable lifestyle they rejected, because of the racial and social inequality they saw around them, the environmental degradation and the war in Vietnam.
"Bill and I, part of the first wave of baby boomers, were in the privileged position of having enough education, enough wealth and enough leisure to be able to criticize our parents' lifestyle," she writes late in the memoir. "We were well-off enough to be able to turn our backs on materialism. We were prosperous enough to indulge in idealism and, idealistically, to define an entire new set of values. (At the time, I didn't appreciate the irony.)"
But her desire to make the world a better place was – and is – genuine and remains a guiding force. Schwartz, who was a teacher for many years, began her subsequent career writing educational material. We find out in her memoir that the first fiction story she sold was released in 1980. She is now a celebrated children's author, with almost 20 books to her credit directed towards younger readers, ranging from picture books to novels for teens to a couple of non-fiction publications. She is also a freelance writer and editor.
Galena Bay Odyssey is a wonderful glimpse into an integral part of Schwartz's life. It also offers insight into North American hippie culture and the strength and ingenuity required to live in an out-of-the-way place like Galena Bay. That the "action" takes place in British Columbia will make the memoir of even more interest to local readers.