B'nai Brith Canada has returned to Vancouver. This time with a local office headed by Aron Csaplaros, who was born and raised in Vancouver.
B'nai Brith and its now-defunct newspaper the Jewish Tribune last made their presence felt here in 2009. In an interview with the Jewish Independent, Csaplaros emphasized "that our organization is not the B'nai Brith of the 1960s or 1970s, or the 2000s. Mr. [Michael] Mostyn took over control of our organization in 2014 as CEO and has created a 'B'nai Brith 2.0.' We are still heavily involved in affordable housing, feeding the vulnerable and seniors and social programming (something we hope to bring to B.C. as well in the future), but our main focuses have been advocacy and combating antisemitism."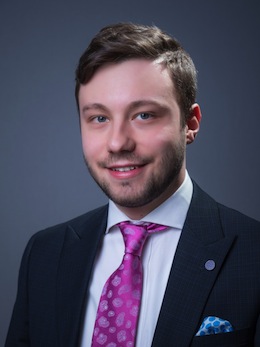 As regional manager, Csaplaros said, "My mandate is 100% focused on combating antisemitism in our province. This includes responding to incidents of antisemitic vandalism, liaising with Jewish organizations on university campuses regarding antisemitism, and also keeping tabs on antisemitic individuals and organizations active in B.C. and devising strategies, which can range from working with local police and Crown prosecutors on criminal charges, removal of their platform, which they use to spread hate, or other legal measures we can take. I am also working on having the provincial government and municipalities across B.C. adopt the crucial IHRA [International Holocaust Remembrance Alliance] definition of antisemitism."
Csaplaros acknowledged that there are already organizations based in British Columbia that deal with antisemitism and discrimination.
"B'nai Brith's goal, and my presence in B.C., is not to compete with, duplicate or replace the important work that other organizations do," he said. "On the contrary, we plan to work together with other organizations when we can establish a united front against antisemitism and Jew-hate.
"The value that B'nai Brith, and my presence here, adds is our laser focus on fighting antisemitism and the legal acumen that B'nai Brith possesses to aid us in this goal. We have several staff lawyers with expertise in criminal law and constitutional law, and many of our staff members (including myself and our CEO, Michael Mostyn) have legal backgrounds in litigation. This gives the ability to devise creative strategies when dealing with antisemitic organizations and individuals, and allows us to work closely with police departments and Crown prosecutors.
"We also have a Canada-wide network of volunteer Jewish lawyers called the Matas Law Society," he said. "These lawyers are available to assist us in anything from writing submissions for parliamentary committee hearings, to intervening in court cases that impact the Jewish community.
"We are also the only Jewish organization in Canada to have an anti-hate hotline and a mobile app with the same purpose, where people can report incidents of antisemitism or other forms of discrimination. In addition, we have produced an annual, comprehensive audit of antisemitic incidents in Canada, and this publication is used by, among other entities, Statistics Canada, the U.S. State Department and Tel Aviv University. B'nai Brith does not engage in Israel advocacy, and we only respond to issues concerning antisemitism in Canada affecting Canadian members of the Jewish community. We also have a lean but well-connected team working at our organization, which allows us to respond quickly to incidents as they arise."
Csaplaros started his position as the B.C. regional manager for B'nai Brith in January, and has met with local leaders in the Jewish community, politicians, and leaders of non-Jewish organizations that are also involved in combating hatred and discrimination, he said.
Csaplaros was born to a family of Hungarian immigrants, with his grandfather having been the first to arrive in Canada, in the 1950s. His parents arrived in 1995.
"I was brought up in a traditional Jewish household, and my paternal grandmother is a child survivor of the Holocaust," he said. "I grew up very close to Congregation Schara Tzedeck, the synagogue which I am a member of and still attend to this day with my wife. I sit in the same seat that my grandfather purchased over 30 years ago, and it gives me great pride to continue his legacy by sitting in his seat and regularly attending services and events at the synagogue.
"I attended Vancouver Talmud Torah all the way from preschool until graduating in seventh grade," he continued. "I then spent a year at King David High School, before transferring to Pacific Torah Institute (PTI) [which is no longer in Vancouver] and completing high school there. I then spent three years in their post-high school program, before attending Yeshivas Chofetz Chaim in New York for a year, where I received my bachelor's degree in rabbinical studies."
Throughout his time at PTI and at the yeshivah in New York, Csaplaros said, "I was engaged in learning with community members and teaching how to read Jewish source texts in their original format. I was also involved in community outreach, spending time and studying with elementary and high school-aged students from disadvantaged backgrounds. I also served on the board of directors of PTI."
After his bachelor's degree, Csaplaros attended law school at the University of Calgary, completing his articles at Kornfeld LLP.
"I've always had a passion for research, advocacy and governmental affairs, and I regularly participated in debates organized by Federation," he said. "Yeshivah studies also involve debate and plenty of research, so that is another reason I chose to pursue a yeshivah education for several years. I then decided that the best way for me to develop my advocacy skills and learn more about the structure of Canada's government was to attend law school…. I knew from the beginning of my legal studies that I wanted to be a litigator and, in the future, focus on human rights and civil liberties matters. Throughout law school, I was involved in initiatives to increase access to justice for members of the Indigenous community."
During his time at Kornfeld LLP, Csaplaros said, "I focused on litigation, including construction, real estate and general commercial litigation. I was fortunate to appear in court several times and run a small claims trial on my own.
"These experiences further strengthened my desire to be an advocate," he said, "and, as my time as an articling student at the firm was coming to a close, I learned that B'nai Brith Canada was looking for a regional manager for B.C. whose main mandate would be advocacy and fighting antisemitism and hatred in all forms. I knew that B'nai Brith Canada is a leader in fighting antisemitism in Canada, and I also knew that I could use my knowledge of the legal system to help me further this goal."
Csaplaros can be reached at [email protected].