Alan Twigg, author of Out of Hiding: Holocaust Literature of British Columbia, at the gravesite of Rudolf "Rudi" Vrba, who died in 2006. (photo from JCC Jewish Book Festival)
Fittingly for a man who has dedicated his life's work to the written word, Alan Twigg has compiled a fascinating bibliography. Out of Hiding: Holocaust Literature of British Columbia is one of two books to be launched in a JCC Jewish Book Festival epilogue event on April 5. The other is Sounds from Silence: Reflections of a Child Holocaust Survivor, Psychiatrist and Teacher by Dr. Robert Krell, to whom Twigg's book is dedicated.
"More than anyone in Canada, Robert Krell has continuously carried the torches of healing, investigation and discourse about the Shoah since the 1970s to counteract ever-encroaching racism, denial and wilful ignorance," writes Twigg, whose book is also dedicated to the late publisher and editor Ronald Hatch, who died last November. Hatch and his wife Veronica co-managed Ronsdale Press, which published Out of Hiding.
Among other things, Twigg is the founder of the BC BookWorld newspaper, The Ormsby Review (now called The British Columbia Review), the ABCBookWorld reference site, the Literary Map of BC and the Indigenous Literary Map of BC, as well as many of the province's literary prizes. He has published 20 books and made seven literary documentaries.
Twigg wrote Out of Hiding with the help of many, including, notably, Yosef Wosk, who wrote the book's afterword, in which Wosk discusses various kinds of hiding – from one's mission, from persecution, in dreams, in silence, from truth. Wosk notes that the perpetrators of the Holocaust also tried to hide: "The Nazis engaged in fraud, deception and secrecy on a massive scale," he writes.
"The secrecy was complete and, to a large extent, effective," he adds. "The very monstrosity of the crime made it unbelieveable. In fact, the Nazis speculated that the unimaginability of their Aktionen would work in their favour." But this expectation "was frustrated by the Allied victory. [What remained of] Nazi archives were opened, contemporary Jewish documents were discovered, and facts were ferreted out by courts and scholars. Moreover, by 1942, the Free World had gradually learned the truth, albeit not always complete and precise."
Wosk concludes, "There is much to remember and even more to know as the Holocaust comes out of hiding."
And this is one of the reasons Twigg compiled this collection.
"I am not a Jew. I am not a German. I simply believe it is the responsibility of everyone on the planet to know more than just a little about the Holocaust," begins Twigg in the foreword. "It is our collective responsibility to teach our children – with details – about why the Shoah is unique among the many genocides."
He points out: "No other political regime has ever systematically murdered at least 1.5 million babies and children."
As well: "Never before or after has a modern, industrial state mobilized all of its resources to systematically commit murder at least six million times in about eight years (from Kristallnacht in 1938 to 1945) and no other government has established a separate killing ground to murder approximately 50,000 women (at Ravensbruck, north of Berlin).
"No other regime has so thoroughly and consistently degraded its victims," writes Twigg. "Estimates vary but the United States Holocaust Memorial Museum claims Germans created 980 concentration camps, 30,000 slave labour camps, 1,150 Jewish ghettos, 1,000 prisoner-of-war camps and 500 brothels where women were sex slaves." And yet, Holocaust education surveys have shown that most people would struggle to name one or two camps, other than perhaps Auschwitz.
Twigg believes that, "if the most-heinous, most-planned and most extensive genocide can be deep-sixed by mankind, all genocides thereafter can be shrugged off as natural – as inevitable as forest fires, plagues, droughts, locusts or tidal waves." If that happens, he argues, then genocide becomes "someone else's problem." As for something the magnitude of the Holocaust, he writes, "Most certainly it can happen again."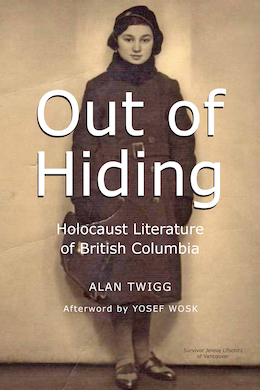 Out of Hiding is an intensely personal project for Twigg. He describes the book as "a roadmap back to places and experiences that must never be forgotten, offering a wide range of perspectives from the Holocaust-related books of British Columbian authors." In total, he covers some 160 books in four sections. Some authors have written, edited or otherwise helped bring into being more than one memoir, novel, report or study; some of the people discussed are the subjects of the publications, rather than the writer.
Part One features relatively long expositions on Rudolf Vrba, Robert (Robbie) Waisman and Krell.
Twigg considers Vrba – who lived in Vancouver for the last few decades of his life – the "most important author of British Columbia."
Writes Twigg in Out of Hiding, "Historian Ruth Linn estimates there were about 500-700 attempts to escape from Auschwitz-Birkenau, and most failed. Some 75 of these attempts were made by Jews; only five Jews made it successfully to freedom. The most significant of these five was Rudolf 'Rudi' Vrba, the main author of the most authoritative report on the true nature of the concentration camps, co-authored with co-escapee Alfred Wetzler."
The Vrba-Wetzler Report, dated April 25, 1944, "finally revealed to the Allies the true nature and extent of the Holocaust."
Twigg provides a biography of Vrba and some of what he learned from him as a friend. He also shares that Vrba, who died in 2006, was buried in a "seldom-visited cemetery, known to few people, where there is only a simple headstone."
The April 5 event will include a video of Wosk chanting a Jewish blessing for Vrba at the graveside – something that apparently has not been done before.
Both Waisman and Krell are discussed in as much depth as Vrba, from their brief childhoods before the Holocaust through to recent history, sharing some of their writings and accomplishments, giving readers a sense of who they are and why their contributions are so vital.
Part Two offers shorter personal summaries on dozens of authors and publications. This section includes Lillian Boraks-Nemetz, Claudia Cornwall, Peter Hay, David Lester, Robert Mermelstein, Heather Pringle, Peter Suedfeld, Mark Zuehlke and many others. It features survivors of the Holocaust, as well as researchers, educators, journalists, graphic artists and editors who have studied the Holocaust, members of the Second or Third Generation, and a few non-Jews.
Part Three features an eclectic mix of 26 writers/artists, including Olga Campbell, Esi Edugyan, Jean Gerber, Rabbi Marvin Hier, Nikolaus Martin, Isa Milman, Norman Ravvin, Colin Upton and others.
Part Four:  One Doctor, Two Rabbis comprises three essays. The first is on Dr. Tom Perry, who served with the U.S. Army Medical Corps in the Second World War, and "took a series of rarely seen photos that his widow Claire Perry donated to the Vancouver Holocaust Education Centre in 1994 along with a five-page letter he wrote to her from 'somewhere in Germany,' describing his feelings and impressions of Buchenwald." The letter is included in this section – and it is a powerful testament, though words don't capture the horror as much as do his photographs.
The second essay, "Lulek's Story," flows from a well-known photo taken by Tim Gidal on July 17, 1945, in a refugee compound near Haifa – front and centre is Israel Meir "Lulek" Lau, holding a Buchenwald banner. Rabbi Meir Lau, who became Ashkenazi chief rabbi of Israel, was the youngest survivor of Buchenwald and his story is moving and inspirational.
Wosk's afterword rounds out the collection with his thought-provoking reflections on hiding.
"Soon all witnesses will be gone," concludes Twigg in his author's statement. "The Holocaust must not be relegated to being merely the psychic preserve of Jews and Germans."
The double-book launch event is presented with the Vancouver Holocaust Education Centre and takes place at the Rothstein Theatre. Admission is free but registration via jccgv.com/jewish-book-festival/events or at eventbrite.ca is required. To read a discussion of Krell's Sounds from Silence, visit jewishindependent.ca/a-child-survivor-reflects.