Book designer Barbi Braude and filmmaker Cory Bretz, both experienced in family history preservation, have launched FamilyMovieStoryBooks.com, to help "do-it-yourself family historians in crafting and publishing compelling family storybooks and producing cherished family movies." (photo from Barbi Braude)
Irene Jacobson put the months of isolation during the COVID-19 pandemic to good use, researching and publishing the history of her Jewish family's long settlement in South Africa.
With that ambitious project completed, the retired schoolteacher thought it was time she put together her own story, which began in South Africa and carried on in the United States, where she raised three children and continued her career, after immigrating in 1977.
But, like many people, Jacobson did not feel she could write an autobiography on her own – all that ordering of memories, distinguishing between fact and anecdote, and selecting from photos and documents amassed over the years seemed overwhelming. The technological tools now available to make that task easier and the finished product more professional-looking are not widely known or may seem intimidating to the amateur.
So, Jacobson, who lives in the Chicago area, turned to a new online platform created for people like her by book designer Barbi Braude and filmmaker Cory Bretz of Vancouver, both experienced in family history preservation.
The website FamilyMovieStoryBooks.com, which they launched after a year's development, is intended to enable anyone to craft an heirloom that they can feel proud to hand down to future generations, say Braude and Bretz.
They believe that telling stories in an appealing and lasting format, whether book, film or both, provides a sense of fulfillment to the author and can inspire their descendants.
The platform can serve as a step-by-step guide for those who want to work independently, or Braude and Bretz can arrange to have clients accompanied as much or as little as they want throughout the process.
If someone already has written a draft or taken home videos, they can be polished into a finished product, or the pair will take on the project from the very beginning, doing interviews online and going through possible imagery, shaping the material for the client.
"This innovative website aids do-it-yourself family historians in crafting and publishing compelling family storybooks and producing cherished family movies," said Bretz. "The platform offers an array of valuable resources, including unwavering support, educational courses, interactive workshops led by experts, and professional design services." Prospective users can take a free trial, and initial consultation is available without charge.
Jacobson had worked with Braude on her first book. "It's fabulous. It is about my great-grandparents who went to South Africa with their four adult children, of whom one was my grandmother. We could not go further back than the great-grandparents, so we went forward and did a history book of the four siblings, their lives and descendants."
The book about the Mierowsky family on her mother's side, who were from Lithuania, is more than 400 pages long, with numerous photos. A copy was deposited with the Jewish Museum and Archives of British Columbia.
"The book I'm doing now through FamilyMovieStoryBooks is much less complicated and much smaller," said Jacobson. "It is basically my biography, which I had written over a few years. As I'm older I felt I needed to get it done soon and in a simpler fashion. It's my memories in chronological order."
Jacobson (née Albert) was born in Port Elizabeth, a fifth-generation South African on her paternal side. She was a high school teacher there.
She and her husband came to the United States in 1977, where her children were born. Jacobson taught middle-school math and science at Jewish day schools.
"As my mother's family is in my first book, I am going to have a small chapter, as an addendum, on my father's family in my biography," Jacobson said. After her autobiography is finished, she hopes to do a more comprehensive story of her Albert ancestors.
"I'm doing this book for me and my children and grandchildren. I will give copies to two friends I grew up with, as their children might find it interesting," Jacobson said. "My first book is about how my parents' generation grew up in South Africa. Mine is about how I grew up in South Africa and then my life in the US. I think everyone should do something for their family, especially if they have an interesting story to tell. Stories should be told, not lost."
Jacobson chose FamilyMovieStoryBooks because it's easy and affordable. "Barbi brainstormed a theme, so that helped me organize my thoughts. She also told me how to organize my photos to help me make choosing them easier," said Jacobson.
"I am not particularly computer literate, but getting everything online has been easy to do. I could not find another place that did the same quality work. I wanted photos and more design. My brother-in-law worked on his memoirs with a ghost writer and it's very dull with no design or photos. I'm looking forward to seeing the finished product, which is still a few months away, as I do what I can between traveling.
Braude said all communications with Jacobson are done remotely using Zoom for conversations and Google Drive for sharing chapters and images.
"At first I had to tutor Irene on how to use Google Drive. We are always happy to meet clients where their skill sets are computer-wise. We have the patience to empower our clients to use the internet."
Working on the design remotely is fairly straightforward, said Braude, who employs the user-friendly Adobe Cloud for proofing feedback. FamilyMovieStoryBooks aims to serve people worldwide.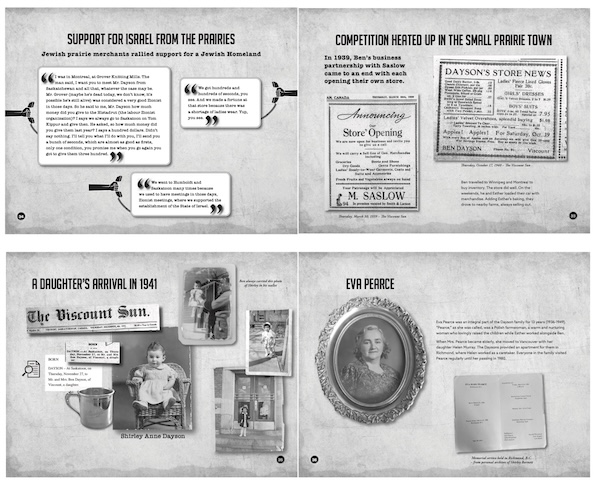 Clients receive a high-quality hardcover book with glossy pages that reproduce photos and documents like birth certificates, immigration papers and letters in the best definition.
The movies directed by Bretz have the advantage of preserving the living presence and voice of the storyteller, he said. "It's surprising how little people at shivas know about their deceased relative."
Distance has not precluded close collaboration, both Jacobson and Braude attest. "A wonderful relationship does form between FamilyMovieStoryBooks and our clients," said Braude, who is also currently designing a book for a Vancouver family. "The story is a collaboration between a 90-year-old Holocaust survivor and her daughter. The daughter said to me the other day, 'What am I going to do when we complete this project? I have so enjoyed working with you as much as seeing my mom's story come to life.'"
Asked if the platform can be especially valuable to Jewish families in general, Braude replied, "Absolutely! I'm reminded of a quote by Sue Monk Kidd from her book The Secret Life of Bees. It goes like this: 'Stories have to be told or they die, and when they die, we can't remember who we are or why we're here.'
"Jews have lived in challenging times. We are the sum of our family legacy and life's experiences. What better gift to give to future generations than the stories that made their families who they are," said Braude.
Bretz commented that such a meaningful experience is "a testament to the power of bridging generations through the art of storytelling." The FamilyMovieStoryBooks platform shares publishing and cinematic know-how with the general public that can transform what might be soon-forgotten family lore into a cherished artifact, he said. Along the way, family members wherever they are can bond and share a laugh or tear while exploring their common heritage, made possible through an innovative digital environment.
Janice Arnold is a freelance writer living in Summerland, BC.