At the Nov. 9 Kristallnacht commemorative event, left to right: Dr. Janus Møller Jensen, Nina Krieger, Prof. Chris Friedrichs and Abby Wener Herlin. (photo by Rhonda Dent)
The rescue of Danish Jews during the Holocaust – an operation that mobilized almost the entire strata of Denmark's population – is one of the bright lights in the history of that dark era. That extraordinary event, which took place 80 years ago last month, is one of the reasons Denmark had one of the highest survival rates of any country during the Shoah. Even this uplifting story, though, has its "shadows," according to an expert who spoke in Vancouver Nov. 9.
Dr. Janus Møller Jensen, an historian and director of the Danish Jewish Museum, was the keynote speaker at the annual community-wide Kristallnacht Commemoration, presented by the Vancouver Holocaust Education Centre and held at Beth Israel Synagogue.
Denmark has an unusual history in the context of Nazi occupation. After the Nazis invaded the country with minimal opposition, in April 1940, politicians and the king, Christian X, surrendered, but managed to negotiate terms that allowed the Danish democratic system of government to continue in a so-called "peace occupation." Importantly, one of the Danish demands was that no Dane be singled out according to their race or faith, said Møller Jensen.
This status quo fell apart in 1943, after a series of strikes and uprisings around the country. Amid the Nazi crackdown came rumours at the end of September that an action against Danish Jews was imminent. At the same time, word spread that Sweden was prepared to accept Danish Jews as refugees. A mobilization of fishing boats began – as did the Nazi mobilization – in early October. Up and down the coast of Denmark, small and larger boats carried their cargo of Jewish Danes across the straight to neutral Sweden. In all, an estimated 7,220 Jews and 686 non-Jewish spouses were transported. Of all Danish Jews, 472 were captured by the Nazis and transported to Theresienstadt, in present-day Chechia, a waystation to the extermination camps. Of these, all but 53 survived the war, in part because the Danish government persuaded the Nazis to allow food and medicine packages to be delivered to the Danish inmates.
Another stunning reality was that, when the Danish Jews who survived – estimates of survival range from 95% to 99% – returned to Denmark, almost all found their homes and possessions intact – a stark difference from what Jews elsewhere in Europe discovered if they returned to their places or origin.
Not all of Danish history is so bright for Jews, said Møller Jensen. A long history of Catholic and Lutheran theological antisemitism permeates Denmark, and immigration policies before the Second World War prevented many Jews from elsewhere from reaching refuge.
"We have letters of refusal in our collection, of people who we know later died in the camps," said Møller Jensen.
In addition, Danish companies and agricultural producers provided materials to the German war effort, although this was required of all occupied countries, he noted.
Not all rescuers acted on altruistic motives, either, Møller Jensen added. Some fishers took money to transport Danish Jews, but he also noted that, while hindsight suggests the Nazi occupiers turned something of a blind eye to the rescue operation, those involved at the time did not know this and would likely have assumed they were risking their lives.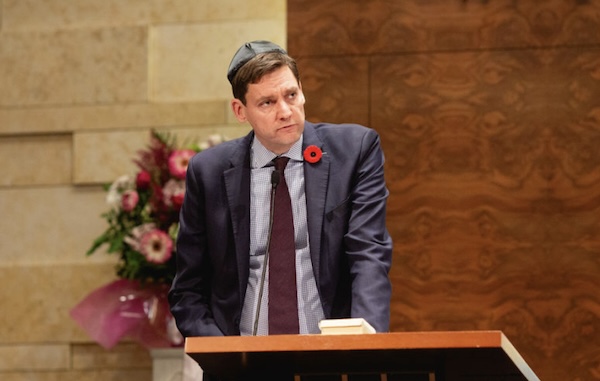 In addition to the hands-on rescue, Danish society rose up against the Nazis' action. "Organizations from the entire strata of society – doctors, professors, students, lawyers, industries, working unions – protested," he said. "The Danish church promulgated a so-called 'Shepherd's Letter' to be read aloud in all of the churches in Denmark the following Sunday, stating that this was an unchristian act, that all people were the same in the eyes of God and that this was wrong and the congregation should assist and protect their fellow human beings…. One of the priests remembered, having read the letter aloud, that the entire congregation spontaneously rose to its feet and shouted 'Yes!'"
Beth Israel's Rabbi Jonathan Infeld thanked Møller Jensen and reflected on his words.
"The Danish people," he said, "did exactly the opposite of what happened in Poland. When the Jews came back to Poland, they were murdered and their property was stolen, and when the Jews came back to Denmark, dinner was waiting for them on their tables. That is righteousness."
BC Premier David Eby spoke at the Kristallnacht event, saying he wanted to provide assurances that all parties in the Legislature are committed to ensuring that the Jewish community in British Columbia is protected from antisemitism and feels safe. He acknowledged the proximate anniversaries of Kristallnacht and Remembrance Day, and noted that his government had just announced that Holocaust education will become mandatory in the BC school system.
"The thing about remembering is you can't remember something you've never learned, you can't remember something you were never taught," Eby told the audience. "I'm proud to stand with you, to support your community, to stand against antisemitism, to stand against Islamophobia, to stand against all forms of hate, for British Columbia to be a beacon of hope in the world of what is possible at a time when those who want to promote division and hate seem to be on the rise just about everywhere. We have lots to be proud of in this province and part of what I'm incredibly proud of is the strength of our Jewish community here and I'm very honoured to be with you here this evening."
Before the keynote address, Prof. Chris Friedrichs, emeritus professor of history at the University of British Columbia, contextualized Kristallnacht and called the Danish rescue "the most spectacular episode of rescue in the entire history of the Shoah."
The Kristallnacht gathering was presented in conjunction with Congregation Beth Israel and funded by the Jewish Federation of Greater Vancouver, with support from the Robert and Marilyn Krell Endowment Fund of the VHEC. Møller Jensen's visit was facilitated by Norman Gladstone and Birgit Westergaard.
Corinne Zimmerman, president of the board of the VHEC, introduced a procession of Holocaust survivors, who carried memorial candles. Nina Krieger, executive director of the VHEC, opened the event and read greetings from Prime Minister Justin Trudeau. Cantor Yaacov Orzech recited El Moleh Rachamim. Councilor Sarah Kirby-Yung read a proclamation from the City of Vancouver. Taleeb Noormohamad, member of Parliament for Vancouver Granville, sent video-recorded greetings from Ottawa. BC cabinet ministers Selina Robinson and George Heyman were in attendance, as was Michael Lee, member of the Legislative Assembly for Vancouver-Langara.
The event drew a record crowd, according to organizers, of 420 in-person attendees and an additional 120 watching via livestream, including groups at the Louis Brier Home and Hospital and the Weinberg Residence.