Lithuania's ambassador to Canada, Darius Skusevičius, greets participants in pre-recorded video. (photo from Lithuanian Community of BC)
As a young teen growing up in Vancouver in the 1960s, I used to be puzzled by Remembrance Day. We were given red poppies at school to honour the soldiers who served Canada during the First and Second World Wars. But I knew my parents had also experienced war, and their families – my grandmothers, aunts, uncles, cousins, even my half-brother and stepsister – had been horribly murdered. Why were there no red poppies for them and the six million others who had died in the Holocaust? Where were their memorial parades, their wreaths?
In Vancouver's Peretz School, which I attended a couple of afternoons a week to learn about Jewish culture, we commemorated Yom Hashoah, which was established by the Israeli government in 1959. Our commemoration was a small event, important to staff, students and families, but ignored by Canadian society in general. It was not until 2005, when the United Nations General Assembly established Jan. 27 as International Holocaust Remembrance Day, that non-Jews as well as Jews began to join in collective memorialization – or so I thought until quite recently.
In 1994, the Lithuanian Parliament established Sept. 23 as National Memorial Day for the Genocide of Lithuanian Jews. Every Sept. 23, the anniversary of the liquidation of the Vilna (Vilnius) Ghetto, commemorative activities are held at Lithuanian memorial sites, in schools and in other educational institutions. Government institutions, with the support and involvement of local Jewish communities and survivors' groups, shape the content of these activities, and Jewish and non-Jewish Lithuanians regularly participate in them.
A few years ago, I joined the Lithuanian Community of British Columbia (LCBC), where I currently serve on the board of directors. This year, on Sept. 22, with the support of the Vancouver Holocaust Education Centre (VHEC) and generous volunteers from Lithuanian and Jewish communities, LCBC and its partners, National Memorial Day for the Genocide of Lithuanian Jews was commemorated. The event, which took place at the Peretz Centre for Secular Jewish Culture in Vancouver, was held for the first time in Canada.
Participants were welcomed by Algis Jaugelis, president of the LCBC, followed by opening remarks by Nina Krieger, the executive director of the VHEC. The ambassador of Lithuania to Canada, Darius Skusevičius, kindly provided a recorded welcome to the event, followed by a written statement from Christopher Juras, the honorary consul of Lithuania in Vancouver.
LCBC member and historian Dr. Gene Homel presented an overview of Jewish life in Lithuania from the 1300s to the present day. I gave an illustrated presentation on the Jewish community in my father's ancestral town in Lithuania, using photos and information found in my research.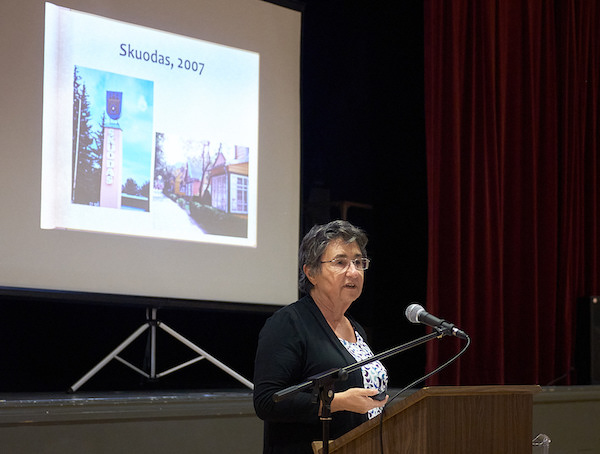 Helen Mintz, a Yiddish translator, read a selection from one of her translations of Abraham Karpinowitz's short stories. Karpinowitz, the son of a theatrical family in Vilna, survived the Holocaust and later wrote several volumes of stories memorializing prewar Jewish life in Vilna.
The ceremony ended with the singing of the "Partisans' Song" / "Zog Nit Keynmol," written by Hirsh Glick in the Vilna Ghetto, which was followed by a recording of Glick's words translated into Lithuanian and read by high school student Giedrius Galvanauskas under the auspices of Eli Rabinowitz's We Are Here! international educational project.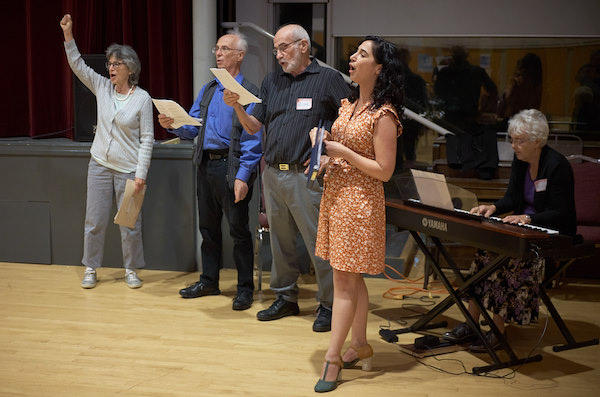 Lithuanian and non-Lithuanian participants found the remembrance ceremony both educational and emotional, and emphasized the importance of dialogue and reconciliation. According to Jaugelis, it was "an important and moving event, an opening of doors and minds, with great potential for future intercultural and bridge-building events." Andrea Berneckas, another LCBC director, wrote, "It was such a privilege to be part of this solemn, yet beautiful and hopeful event. I look forward to being part of the Lithuanian community's strengthening of ties by the sharing of stories and experiences."
"I look forward to more opportunities to bring the communities together," said Krieger. And Celia Brauer, a local Yiddishist whose parents survived the Holocaust in Latvia and Poland, summed up the general feeling: "We are far away from the original homeland, yet this event brought people closer together – which is incredibly important."
National Memorial Day for the Genocide of Lithuanian Jews is now on LCBC's yearly calendar of events and the next memorial will take place in September 2023.
More information about the Lithuanian Community of British Columbia can be found at lithuaniansofbc.com.
Rachel Mines, the daughter of Holocaust survivors, was born and raised in Vancouver. As a child, she attended classes at the Peretz School (now the Peretz Centre for Secular Jewish Culture) and served on Peretz's board of directors 2015-2016. Mines, whose Lithuanian citizenship was reinstated in 2022, now serves on the board of directors of the Lithuanian Community of British Columbia.