Several hundred people gathered for a second night of vigils, as elected officials, diplomats and allies convened in support of Israel and Jewish community. (photo by Pat Johnson)
For the second night in a row, Jewish Vancouverites and allies came together Tuesday for a vigil to mourn those murdered in the worst terror attacks in Israeli history, and to demonstrate solidarity with survivors, families of the victims, and all the people of Israel. The grief that was inevitable at the powerfully emotional event was made additionally anguished by the news several hours earlier that Ben Mizrachi, a young Vancouver man, was confirmed dead, one of about 260 victims murdered at a concert for peace in southern Israel Saturday morning.
In moderate rain at Jack Poole Plaza on Vancouver's Coal Harbour waterfront, several hundred people gathered to hear from friends of Mizrachi, as well as from elected officials of all government levels, rabbis, a Holocaust survivors, and others.
Ben Mizrachi remembered in friends' emotional testimony
Maytar and Rachel, who graduated alongside Mizrachi in 2018 from King David High School, shared memories of the young man they called "the life of the party" and "a true hero," who died helping an injured friend at the scene of the attack.
Mizrachi had served as a medic in the Israel Defence Forces, having volunteered as a lone soldier.
"We understand that, during the attack, Ben stayed back with a wounded friend, keeping himself in danger to care for another," said Maytar. "He used the training that he learned from his time as a medic with the IDF to tend to wounded people at the festival before he died. That was who Ben was. He was a true hero."
She spoke of Mizrachi's contributions to the King David community, to his friends and family.
"He was adored by everyone and known to students much younger and older than he was," she said. "Everyone knew and loved Ben Mizrachi. Ben was a role model to his three younger siblings and valued his close and loving relationship with his family."
She shared the memories of a fellow student, Eduardo, for whom young Ben became his first friend after moving here from Mexico City.
"Ben welcomed him, befriended him and taught him how to speak English," Maytar said. "He told us that 'Ben was much more than a friend, he was my brother and the type of personality that will cheer you up and make you smile.' He had such a huge heart and you knew you could always count on Ben."
She continued: "In school, Ben was always the first one dancing at any assembly and the last one cleaning up at the end, even when he cooked — and he loved to cook."
He could be found in the kitchen at Beth Hamidrash on Shabbat helping to prepare the kiddush, Maytar said. "His kindness extended to every part of his life from such a young age. We all remember that, if we ever had a gathering on Saturday, the party wouldn't really start until after Shabbat, when Ben would arrive. He was always the life of the party. This past weekend, that's what he was doing. He was at a party with his friends. He was doing nothing wrong."
Their friend Rachel spoke of Mizrachi's commitment to his identity.
"Ben was always extremely proud of his Jewish identity and of being an Israeli citizen," she said. "He loved to share his love of Judaism and he often invited friends to join him and his family for Shabbat services and meals. As a teammate of Ben, we played on multiple sports teams together and he proudly wore his kippah at every game. In Grade 12, Ben was the president of our NCSY [the youth wing of the Orthodox Union] chapter. He was involved in student council, he led weekly prayer services at our school. After high school, he was proud to join the IDF as a lone soldier. He was so proud to be a soldier in the army and to continue living in Israel after his service."
Rachel then read a message from one of Mizrachi's teachers at King David, Irit Uzan.
"Ben always stood out from the crowd," Uzan wrote. "His happy disposition was infectious. He lit up a room with his positive energy and amazing sense of humour. When things got hard for the students, he always found a way to lighten the mood. He encouraged his peers by sharing his own struggles, but it was what he did beyond his studies that always impressed me. He reached out and offered a helping hand wherever it was needed, be it with a peer, a teacher, a staff member or his own family. He wasn't asked, he just always knew what to do. Ben's visits to school to catch me up on his life events were visits I always looked forward to. On his last visit, he seemed more eager than usual and I learned this was because he wanted me to know that he had decided to study engineering in Israel. He was so proud of this."
In tears, Rachel concluded: "Ben, we are so proud of you and we will always miss you. Please pray for Ben's family, for all the families who have lost their loved ones, as well as those wounded. Keep believing in the state of Israel and continue to be proud of our Judaism, like Ben always was. May Ben's memory be a blessing."
Rabbi Shlomo Gabay, spiritual leader of Mizrachi's shul, Beth Hamidrash, led the vigil in El Maleh Rachamim, the prayer for the soul of the departed.
Reflections from a survivor
Marie Doduck, a child survivor of the Holocaust who was born in Brussels and came to Canada as a war orphan in 1947, reflected on the terrible echoes of the past the current news brings. She and 30 other Vancouverites who survived as Jewish children during the Second World War gather and, Doduck said, speak about their pasts and the present.
"For all the years we have been sharing our stories, for all the years we've been teaching tolerance, we know the worst that can happen," she said. "But it always seems to happen to us. I spend my life as an educator, I share my story and the stories of the Holocaust so that people know and so that the world will remember, so that never again will children lose their childhood to hatred and to violence. And now, this week, I see children being taken from their parents in Israel. I'm reliving what I experienced as a child and it is horrible. I'm watching the news and hearing the sounds that were so terrifying when I was young, the sirens, the bombs falling. I'm seeing warplanes and bomb shelters and I cannot sleep at night.
"I'm seeing it all happen again," Doduck said. "I see people who do not want peace treating us as if we are not human. I see the children captured. I cannot understand how they use children, how they use women and men like we are nothing. It is unthinkable. It is impossible to believe that humans can do this to other humans. The one place where we are safe they want to destroy. They want to do what the Gestapo did to us in the Second World War."
With emotion, Doduck posed the question, "Does the world stand for us?"
"I don't see them standing for us," she said. "I see it happening again. I am reliving what I went through as a child and all we want, and all we have ever wanted, was peace."
Support from Ottawa
Harjit Sajjan, president of the privy council and minister of emergency preparedness, spoke on behalf of the federal government.
"I know that everyone's heart is broken because of this brutal terrorist attack, a targeted attack on the Israeli people," said Sajjan, who is member of Parliament for Vancouver South. "All of you have witnessed and have seen the news and the atrocity that has taken place. Myself and my colleagues here … stand here with you. But I don't speak here just as a minister but [I am] also speaking to you as a Canadian, as a human being. It hurts so much when we see images from what has just taken place. Your community has gone through this far too often. When we say enough is enough, sometimes those words seem like they have no meaning. But when we come together like this, it gives me hope that we can get through this."
Across Canada and elsewhere, rallies, public statements and social media comments have celebrated the terror attacks, some, like the president of the Ontario wing of the Canadian Union of Public Employees, lauding them as "the power of resistance around the globe." Hours before a Jewish community vigil Monday, a rally celebrating the violence was held in the same Vancouver Art Gallery location. Along with many speakers at the Tuesday event, Sajjan condemned the expressions of support for the terror attacks.
"Anybody who glorifies what has just taken place, the atrocities that Hamas has committed, I'm here to say that we denounce you and I denounce you," he said.
Sajjan referenced his military career, from which he retired with the rank of lieutenant-colonel.
"Over the last two decades, whether in politics or even before, [in] my other job in the military, I've seen atrocities committed all over the world," he said. "And your heart breaks every single time. And you think, what can we do? One thing that always gives me hope is that I look back and remember where I live, in Canada, that we come together, we support one another. That's how we get through this.
"I remember visiting Entebbe [Uganda] where, you know all too well, when Israeli citizens were taken captive and they were rescued at that time, I went to go pay my respects and remember what took place then. To see the atrocities committed over and over again is something that we all feel today. One thing I'm here to tell you: that we stand by you, we call for the captives to be released, we want humanitarian aid to be flown into all those people who are caught in the middle. But one thing is for sure: our government is with you."
Other federal officials present were Joyce Murray, member of Parliament for Vancouver Quadra, and Parm Bains, member of Parliament for Steveston-Richmond East.
Message from the province
Selena Robinson, British Columbia's minister of post-secondary education and future skills, brought greetings from Premier David Eby and the provincial government. She also emphasized the presence of officials from both sides of the legislature.
"All of government and all members of the Legislative Assembly stand with me, they stand with all of you, against the horrific violence that was perpetrated by Hamas, a terrorist organization, an organization committed to indiscriminately killing and indiscriminately wiping out the Jewish people," she said. "As a Jew, I have never in my life experienced a more frightening time. To see and bear witness to the carnage, to the babies, to the children, to young people at a concert.
"The stories that Jewish families have been telling for generations all come swarming back," Robinson continued, her voice breaking. "The stories of pogroms in Russia and Poland at the turn of the 20th century, the Einsatzgruppen, the Nazi mobile death squads, going house to house killing everyone in their sights during the Holocaust. That is what happened this weekend. This is not a path to peace and it's not the path to freedom. The Palestinians and the Israelis deserve to raise their families without fear, to grow old with dignity, but this vicious depravity is not the answer. It is not a path for peace for anyone. These last days have been so difficult and there are more hard days to come. So, we ask all of you to please be kind, be thoughtful, be supportive and to take care of each other."
Opposition leader stands with community
Kevin Falcon, BC United party leader and the province's leader of the opposition, was scheduled to hold a townhall in Kamloops Tuesday night but he cancelled the event and drove to Vancouver to be present for the solidarity gathering, he said, "Because I think it is important that all public officials stand united in saying … without equivocation, without moral equivocation, to be very, very clear, that we stand with you."
Condemning terrorist brutality is "something that ought to be really easy," he told the crowd. "But, unfortunately, in this day and age, it doesn't seem to be easy for some people to come together and denounce unequivocally the violence and slaughter of innocent civilians in Israel, and to remember the right of that country and those individuals to defend themselves as a fundamental right because we cannot forget.
"We stand with the community and we want you to know that," he said.
In addition to the government cabinet minister and opposition leader, other provincial officials present were cabinet ministers Brenda Bailey, Murray Rankin, Sheila Malcolmson and George Chow, parliamentary secretaries Mable Elmore and Susie Chant and members of the Legislative Assembly Henry Yao and Michael Lee.
Mayor condemns antisemitism
Vancouver Mayor Ken Sim was flanked by city councilors Sarah Kirby-Yung, Peter Meisner, Lisa Dominato, Mike Klassen and Rebecca Bligh as he expressed solidarity with the Jewish community and promised zero-tolerance for antisemitism.
"What happened this weekend in Israel was absolutely horrific," said Sim. "Our hearts are broken, just like yours…. Vancouver is a city of love, Vancouver is a city of peace, Vancouver is a city of inclusion. This is a place where we celebrate our differences in culture and religion. So, it's absolutely disturbing and incredibly disgusting, in the city that we live in, the city that we are so proud of, that people were actually celebrating what happened. They are celebrating Hamas. That's not right. Israel has a right to exist. Israel has a right to protect itself. At the City of Vancouver, we stand for all communities, including the Jewish community — especially the Jewish community, during this incredibly brutal time. You are our brothers and sisters, you are our neighbours, you are our friends, you are our family. Let me be very clear — let us be very, very clear — we will not stand for any antisemitic acts or acts of hatred in the city of Vancouver. We mourn with you, we stand with you, we love you and we will always be here for you."
Dylan Kruger, a Delta city councilor was also present.
Gathered together as one
Tuesday's vigil was organized by the Rabbinical Assembly of Vancouver, the Jewish Federation of Greater Vancouver and the Centre for Israel and Jewish Affairs.
Rabbi Jonathan Infeld of Congregation Beth Israel, and the head of the rabbinical assembly, spoke of the relentlessness of antisemitism.
"I am standing here as a neighbour of Ben Mizrachi and his family, in sadness and in grief," said Infeld. "I am standing here today as the father of a young man who is currently in Jerusalem. I am standing here today as the child of Holocaust survivors who never met his grandparents or aunts or uncles because they were murdered as children because of antisemitism. Never would I have imagined again in my life that we would see 40 children, 40 babies in one day, discovered, who were murdered in cold blood because of antisemitism. Never would I have imagined in my life that we would see almost a thousand Jews in one day murdered because of antisemitism. Throughout the day, I've been asked, what is this moment about? This moment today, together, as one people, one community, Jews and non-Jews gathered together for solidarity, gathered together to mourn and gathered together to give strength to one another. We are so grateful to our politicians and to our leaders who really, truly, are leaders. All of you sitting here today, you are the leaders. You are sending the message that there is no similarity in morality, there is no equivalence in morality, between those who celebrate murder and those who are gathered together for peace."
Federation leader sends message from Egypt
Jason Murray, vice-chair of the board of the Jewish Federation of Greater Vancouver, read a message from the board's chair, Lana Marks Pulver, who, with her husband Doug, is in Egypt, leading a group of almost 100 Canadian business leaders in a mission that was slated to travel to Israel in the coming days.
"I share this with you so you know how close I am to the situation both physically and emotionally," wrote Marks Pulver. "There were two Israeli tourists murdered by a police officer in Alexandria [Egypt]. We continued on with our tour of Egypt much to the chagrin of family and friends. We continued because we will not allow them to win. Never again.
"As for emotion, our 21-year-old niece and 19-year-old nephew are serving in the IDF and are stationed near Gaza. We are feeling sick about what's happening in Israel and we are feeling sick about the celebratory rallies happening in Canada, rubbing salt in our fresh wounds. How can Canadian citizens possibly justify the celebration of rape, killing and kidnapping of innocent Jews, online and in public rallies? It's both horrifying and heartbreaking that this is happening in our own backyard. Jews throughout history have consistently proven that we are resilient. This time is no different. Israel will prevail. We as a people will not allow evil to win. Despite thousands of years of antisemitism and countless attempts to annihilate our people, we always come back stronger and more unified as a community.
"I am confident that this time is no different," she continued. "Let us pray this all ends soon, that Israelis move forward with their lives in safety and that we as a Jewish people proudly stand in our fight against hatred and our desire to live in peace. Am Yisrael chai."
Gratitude for allies
Ezra Shanken, chief executive officer of the Jewish Federation of Greater Vancouver, praised the elected officials who attended and the police who provided security at the event.
"Often, we see public officials at our events and it's special then," he said. "But it's even more special now. To have this incredible representation of folks behind us and around us in this moment is not something that I take for granted, not these days."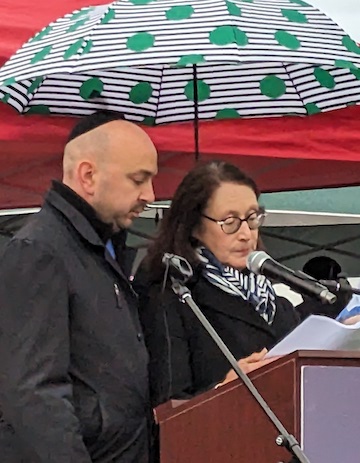 In addition to elected officials, Shanken noted the presence of consuls general from France, Germany and Italy, as well as representation from the consulate of the United States.
Karen James, chair of the local partnership council for the Centre for Israel and Jewish affairs, Pacific region, lauded the unity of the Jewish community.
"I have always known that we are family, but I've never felt it so strongly as I do now," she said. "Tonight, we are hurting. Our hearts are broken but our resolve has never been stronger."
Severe audio problems plagued the event, which came a night after an earlier vigil, at the Vancouver Art Gallery, planned by Daphna Kedem, who is the lead organizer of UnXeptable Vancouver, though the event was not affiliated with any group. ( To read more about the Monday night vigil, click here.) At that event, a small group of provocateurs were kept apart from the main vigil by a phalanx of police. Police were also omnipresent at the Tuesday event, while protesters were nowhere to be seen.
Speakers at the event urged people to contribute to the emergency fund for victims and to access available mental health supports as needed. Federation's website, jewishvancouver.com, is the access point for all relevant local resources.