The steps of the Vancouver Art Gallery were illuminated by lights representing those murdered by Hamas on Oct. 7, as the community gathered Nov. 7 to mark shloshim, 30 days of mourning. Here, Ohad Arazi addresses the crowd. (photo by Pat Johnson)
The steps of the Vancouver Art Gallery were illuminated by hundreds of lights representing lost lives, as the community gathered Nov. 7 to mark shloshim, 30 days of mourning, after the unprecedented terror attacks in Israel.
Among the lives lost on that single day was Ben Mizrahi, a 22-year-old Vancouverite, for whom Rabbi Shlomo Gabay of Congregation Beth Hamidrash recited El Moleh Rachamim.
"The past 30 days have been some of the most difficult of our lives," said Ohad Arazi, who spoke at the gathering. "They have been difficult for some of us as Jews, for others as Israelis. They have been difficult for all of us as humans.
"There are not two sides here. It is not about politics, history, land, religion or anything in between," Arazi continued. "This is about one thing and one thing only. This is about humanity. Nothing, absolutely nothing, justifies the horrific crimes that were committed 30 days ago. I do not know what comes next from the region as Israel and its allies must now fight to end Hamas's regime…. But one thing I do know is that we here in Vancouver, here in Canada and elsewhere, we have a voice. We have a voice to stand up for humanity and to cry out against the senseless massacres that were carried out a month ago.
"For now, we need you, all of you, to stand up for Israel. Speak up. Your voice matters. Call them terrorists, not militants, for crying out loud. Do not give up hope that we will bring home all 242 hostages. These are dark days for Israel, but it's an even darker time for the world, as many choose to side with evil or to not take a stand unequivocally in support of humanity."
Another speaker, Moti Kotik, is an Israeli who has lived in Vancouver for 20 years. His friend's daughter, Agam Berger, was kidnapped to Gaza on Oct. 7.
"Tonight, I don't want to talk about the barbaric atrocities committed by Hamas," Kotik said. "Nor do I want to speak about those crimes against humanity that so many failed to condemn. Instead, I'd like to share some personal thoughts and realizations that I've had in the last 30 days about what it means to be an Israeli Jew in the diaspora."
For Israelis abroad, he said, it's challenging to witness events from afar. He cited the Yom Kippur War, which began 50 years to the day before the October pogrom, calling it "a war that changed the lives of our parents."
"This is our Yom Kippur and it's already changing us," he said. "For the first time, I was able to look from the outside and imagine what life for Jews would have been if there was not the state of Israel."
Kotik said there has traditionally been a division between Israelis and other Jews in the community.
"Many times, we don't mix with the local community," he said. "For me, that is done. There is no more duality. I realize that I cannot escape from what I am, from what we are, which is one people, Jewish people, one community that supports each other, that makes us stronger."
Kotik said the soldiers defending Israel on the frontlines today carry a burden of history.
"They are not there for their families and friends or neighbours, they are not even there just for the people of Israel or even for all of us," he said. "They are there right now, risking their lives, in the name of every Jew that ever lived. Every Jew throughout history who did not have someone to protect him, who did not have someone to defend him, for every Jew throughout history, they are risking their life and putting it on the line. But they feel us and they feel our warmth and our support and our unconditional trust and they know, while they are on the front, we have their back and it helps them carrying that weight."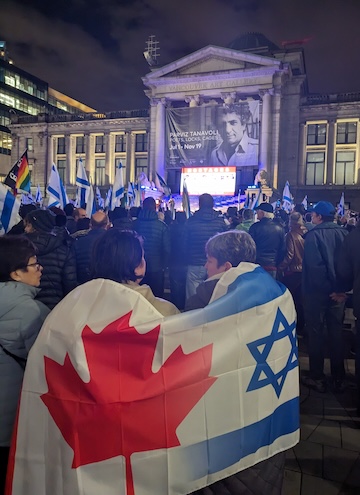 Ezra Shanken, chief executive officer of the Jewish Federation of Greater Vancouver, welcomed elected representatives and said he does not take for granted the presence and support of government officials and police.
Michael Lee, member of the Legislature for Vancouver-Langara, said he has been hearing from parents whose children in public schools and at universities are experiencing antisemitic taunts and bullying. He commended the City of Vancouver and the Government of Canada for adopting the International Holocaust Remembrance Alliance Working Definition of Antisemitism and said he has been advocating for years that the province of British Columbia likewise adopt it, so that Crown counsel and law enforcement have that tool to aid in prosecuting hate crimes.
John Rustad, leader of the B.C. Conservative party, said he was disgusted that Canada has allowed pro-Hamas rallies to take place.
"It should never, never happen in this country," he said. "I will do everything I can to stand with you, to stand for peace and to make sure that people understand history."
Lenny Zhou, a Vancouver councilor, brought greetings from city hall.
"This is not about Israel and Palestine," Zhou said. "It is not about Jewish or Muslim. It is about Israel and Hamas. It is about civilization and terrorists."
Rabbi Susan Tendler of Beth Tikvah Congregation read a prayer written for the shloshim and spoke of the anxieties felt by Jews worldwide.
Rev. Doug Longstaffe, a United Church minister and a founding member of the Multi-Faith Summit Council of BC, but speaking on his own behalf, said he believes it is a mistake that more non-Jews are not stepping up in solidarity.
"No group has had power used against them for so long, systemically and lethally, in such a variety of ways and places and it is staggering," he said. "While I am not arguing that it is harder to be a Jew than to be Black or Brown or Asian – how would I know? I'm white – but it is different. I see that. And it is different mostly because of the history of antisemitism, which I have been privileged to learn about and horrified by.
"There are more hate crimes today against Jews in Canada each year than [against] any other group," Longstaffe said. "I think our first responsibility as gentiles to Jews is to understand that, considering their unique history, the right of every group to protection under the law needs to be applied most rigorously to Jews.
"Second, considering this unique history of the Jewish people, we need to lose our naivety, so that we do not unconsciously jeopardize Jewish safety by thinking they should simply assume goodwill," he said. "Third, we need to be especially understanding, as gentiles, of Israel's need and right to self-defence when surrounded by terrorist groups who wish to destroy all Jewish citizens."
Regular weekly rallies to free the hostages continued Sunday. That vigil, which emphasized the approximately 40 children held hostage – including an infant born in captivity last week – recognized United Nations World Children's Day Nov. 20. Four Vancouverites whose cousin, 17-year-old Ofir Engel, is a hostage in Gaza, attended, with one giving a moving sketch of the youth, who was visiting his girlfriend at Kibbutz Be'eri when the attacks occurred. Attendees then marched down Robson Street to Denman, where they amassed outside the restaurant Ofra's Kitchen, whose proprietor, Ofra Sixto, has been subjected to hateful anti-Israel harassment.