When white supremacists converged on Charlottesville, Va., four years ago chanting "Jews will not replace us," it was the first encounter most of us had had with the conspiracy theory known as "the Great Replacement."
In the pretzel logic of racists, immigration and multiculturalism are products of the Jewish imagination, with Jews perpetrating, through behind-the-curtains jiggery-pokery, what the tiny number of actual Jews in the world cannot do demographically: replace Aryan culture with alien races and cultures. The absurdity of the "theory" makes a lot more sense as one delves deeper into the trends and characteristics of antisemitism. Three wildly different but related books show that the projection of all that is wrong in society onto an empty vessel that happens to be Jewish recurs repeatedly. As ludicrous as the Great Replacement is, it dovetails magnificently with thousands of years of anti-Jewish prejudice and propaganda.
In Jews Don't Count: How Identity Politics Failed One Particular Identity (TLS Books, 2021), author David Baddiel explores how the treatment of Jews is the exception to effectively everything today's progressives espouse.
"It is a progressive article of faith – much heightened during the Black Lives Matter protests following the murder of George Floyd in 2020 – that those who do not experience racism need to listen, to learn, to accept and not challenge when others speak about their experiences," he writes. "Except, it seems, when Jews do. Non-Jews, including progressive non-Jews, are still very happy to tell Jews whether or not the utterance about them was in fact racist."
Baddiel discusses how racism and antisemitism are disentwined to disadvantage Jews, placing antisemitism lower on a "hierarchy of racisms" than other forms.
"Jews are stereotyped, by the racists, in all the same ways as the other minorities are – as lying, thieving, dirty, vile, stinking – but also as moneyed, privileged, powerful and secretly in control of the world," he says. "And, if you believe, even a little bit, that Jews are moneyed, privileged, powerful and secretly in control of the world … well, you can't put them into the sacred circle of the oppressed. Some might even say they belong in the damned circle of the oppressors."
Baddiel confronts the canard that Jews can't be victims of racism because they represent a religion, not a race – an audacious defining of an entire people by others who do not belong to the group, itself an example of something progressives would deign to do with no group other than Jews. By pushing antisemitism down the victimization scale, perpetrators can then accuse people who call out antisemitism as diminishing the experiences of minorities with legitimate claims to oppression.
When Baddiel called out one prominent antisemite, saying he had rarely heard so blatant a statement from someone with so large an audience, the perpetrator replied: "'Cos everyone was scared, that's why."
By alleging that a cabal of powerful Jews is policing the language of critics, the perpetrator, Baddiel writes, "isn't a racist, he's a hero, finally standing up and saying the things that need to be said even though it will bring down the wrath of this all-powerful Jewstablishment on his head."
Similarly, when an article in the New York Times seemed like an attempt to rehabilitate the notorious antisemite Louis Farrakhan, the author replied to a critic who mooted the negative impact this could have on Jews: "Somehow, among the million concerns, you believe that yours are supposed to rise to the top.… That is called privilege."
A recurring theme is that, unlike other minorities, Jews are not "innocent victims." Baddiel (and the other authors mentioned here) do not explicitly say it, but it is understood that, for antisemites, Jews are not victims because, whatever the calamity, they bring it on themselves.
Another recent book, Israel: A Simple Guide to the Most Misunderstood Country on Earth by Noa Tishby (Free Press, 2021), picks up on some of Baddiel's themes.
Tishby is an Israeli-American actor with a strong Zionist lineage. Her grandmother was a founder of the first kibbutz in Israel. Her grandfather was Israel's first ambassador to West African countries and served on the Israeli delegation to the United Nations. Her great-grandfather was the founder of Israel's ministry of industry and trade. Tishby served in the Israel Defence Forces entertainment troops, which she describes as, basically, "a nightly USO [United Service Organizations] tour." She starred in an Israeli prime time soap opera – Ramat Aviv Gimmel, a sort of Israeli Melrose Place – then made the move to Hollywood.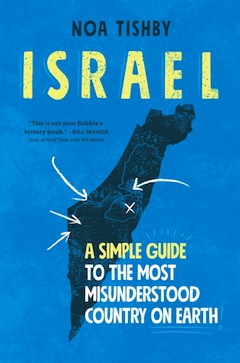 Her book is aimed at people of her demographic – young, hip, leftist (though presumably non-Jewish) readers – and she presents, through biography and history, a tidy Zionist narrative that hits the bases. She does what pro-Israel writers rarely do: she uses emotion and personal stories, rather than dogged reliance on facts, chronology and empiricism. This is not to diminish the fact-based foundation of the book, but her first-person narrative connects the reader to the land and people of Israel in a way that cold facts do not.
Tishby provides a simple but thorough overview of regional history and the development of Israel, as well as the parallel history of the Palestinian and Arab peoples in the area. She dissects the claims of the BDS movement one by one, debunking the prevailing leftist narrative in the West. She pillories the obsession of the United Nations with anything Israeli and rebuts allegations of colonialism, apartheid, ethnic cleansing, unequal warfare and occupation quite effectively.
She recounts how, in the years after the Second World War, there were roughly 11 million refugees worldwide, 700,000 of whom were Palestinian.
"The 10,300,000 non-Palestinian refugees were funneled into UNHCR (United Nations High Commissioner for refugees, created in 1951), the UN agency dedicated to resettling and integrating refugees and/or stateless peoples," she writes. The Palestinians got their own unique refugee agency: the UN Relief and Works Agency for Palestine Refugees in the Near East (UNRWA).
"While UNHCR is constantly working on getting the global number of refugees down, with UNRWA the numbers go up, up, up," Tishby writes. "After the 1948 war, there were approximately 700,000 displaced people. Now UNRWA has 5.6 million 'refugees' registered in their books. How is that possible?"
Even Palestinians living in Gaza and the West Bank are counted as refugees by UNRWA, she notes, asking: "Can you be a refugee from Palestine when you currently live in … Palestine?"
Near the end of the book, Tishby throws some questions at the reader: "How would you handle a wannabe Sharia state 30 miles from your house? How should Israel retaliate when Hamas fires thousands of rockets into southern Israeli towns? Why haven't the Palestinians agreed to make a final peace deal? Will the PA unite with Hamas and, if so, will Hamas denounce violence, like, ever? Why is Israel singled out? What about other countries that actually do systematically abuse human rights? Why aren't activists focused on their freedoms of religion, speech, and assembly, which Israel grants all her citizens? Where are the boycott movements of neighbouring countries that literally kill people for their beliefs, desire for freedoms and democracy, or sexual orientation?"
Tishby's Israel is an engaging, entertaining read and an ideal primer for newbies to the subject. For those more immersed academically or through lived experience with this topic, there is little new information, but it is largely an enjoyable read although, in an effort to be hip and approachable, she routinely employs gratuitous profanities, which might grate on some readers.
Far from these two volumes on the scale of page-turning readability is the monumental tome Anti-Judaism: The Western Tradition by David Nirenberg (W.W. Norton & Co., 2013). Published eight years ago, it had somehow escaped my eye and, when I did get my hands on it, it sat for some time on my pile. Cracking the spine was daunting because the thesis is dark and unnerving.
Nirenberg undermines the received wisdom that antisemitism is characteristic of ideological extremes in Western civilization. Instead, he depicts "anti-Judaism" as absolutely central and foundational to the very identity of Western civilization. (He differentiates "antisemitism," which is discrimination against Jews, and "anti-Judaism," which is perhaps a more pernicious, guileful thing, attributing "Judaism" and "Jewishness" to anything undesirable, whether the object is Jewish or not.) Applying Nirenberg's thesis to Charlottesville is a simple way of understanding it. In the eye of the racists, immigration and multiculturalism are bad, ergo, by definition, they are "Jewish," whether actual Jews have any hand in them or not.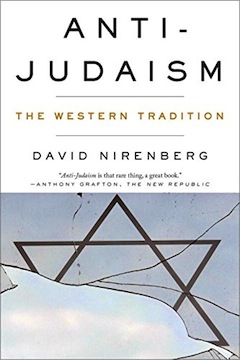 Nirenberg provides a sadly compendious recital of civilizations for whom "Jews," "Jewishness" and "Judaism" were used as a prism through (and against) which non-Jews defined their own identities.
"Why did so many diverse cultures – even many cultures with no Jews living among them – think so much about Judaism? What work did thinking about Judaism do for them in their efforts to make sense of their world?" he asks.
In Christianity, Jews are viewed as "materialist" and earthly, which is juxtaposed with Christians' self-image as being concerned with the spiritual and the divine. In a theology where things terrestrial are equated with all things evil, the corollary is predictable.
Nirenberg quotes Jean-Paul Sartre, who said: "if the Jew did not exist, the antisemite would invent him." The subtext of Nirenberg's book, one could say, is that both things are true: the Jew does exist and the antisemite invented him. There are, in effect, two different "Jews": real Jews and the image antisemites have created and refined for millennia.
It is this latter imaginary "Jew" that has been used not only to torment generations of actual Jews, but also to contrive the self-identities of civilizations. Nirenberg includes both Christianity and Islam under the rubric of Western civilization when he writes: "anti-Judaism should not be understood as some archaic or irrational closet in the vast edifices of Western thought. It was rather one of the basic tools with which that edifice was constructed."
Since Christianity and Islam were both founded as supercessionary religions to Judaism, juxtaposing that theological parentage with an antipathy to the descendants of the parent religion creates a cognitive dissonance that Nirenberg describes as the "truth of Jewish scripture and the falsity of the Jews."
Somehow, adherents of both religions have intrepidly managed to accommodate the dissonance.
"The simultaneous inclusion and exclusion of Judaism became for Islam – as it had been for Christianity – a structuring principle of the world, one through which Islamic truth was explored, discovered and articulated," he writes. Jews were "both necessary and noxious, prophetic and pernicious."
The religious bigotry permeates Western civilization, not just its religion, he argues. Nirenberg discusses how Marx employed typical Christian perceptions of Jews as materialistic to fit his atheistic ideology. He also analyzes how it influenced the Enlightenment and the French Revolution. For example, while the Declaration of the Rights of Man and of the Citizen, the great document of the French Revolution, does not mention Jews or Judaism, "it was famously presented and represented to the people – in a painting and in print – as two new tablets of law, replacing those handed Moses on Mount Sinai." Never mind Christianity and Islam, when it came time for what was probably the most progressive, liberal society yet in modern history to define itself, the revolutionaries took Jewish imagery and firmly demarcated themselves as "not that."
What is striking when immersing oneself in volumes about antisemitism is the stark certainty of today's "critics of Israel" that they are untainted with antisemitic bias. They apparently have given little, if any, thought or effort to learn the history of antisemitism and its myriad permutations.
While Nirenberg speaks very little about Israel, he packs a powerful punch when, after hundreds of dense pages excruciatingly dissecting how civilizations for thousands of years have understood their identities and their most significant beliefs in direct opposition to Judaism, he declares: "We live in an age in which millions of people are exposed daily to some variant of the argument that the challenges of the world they live in are best explained in terms of 'Israel.'"
Coincidence? It doesn't seem so to those have studied the history and malleability of anti-Jewish ideas.