Leah Garrett has pieced together the most comprehensive story yet of a little-known but fascinating footnote to the Second World War, and she shares her findings in her new book, X Troop. (photo by Deb Caponera / Hunter College)
Using recently declassified military records and interviewing family members, author Leah Garrett has pieced together the most comprehensive story yet of a little-known but fascinating footnote to Second World War history – and the role that a few score of Jewish men played at pivotal moments in the conflict.
Garrett is a professor at Hunter College, in New York City. As part of the Cherie Smith JCC Jewish Book Festival, she will speak about her new book, X Troop: The Secret Jewish Commandos of World War Two, in a virtual event on Feb. 6.
X Troop tells of the 87 men – 83 of them Jewish – who made up the No. 10 (Inter-Allied) Commando, 3 Troop. The secret weapon X Troop members shared was that most of them were from German-speaking parts of Europe, had escaped occupied countries and, as Jews, had a deeply personal drive to defeat the Nazis.
Formed officially on July 2, 1942, the unique commando unit would, among other things, allow British forces to expedite interrogation of captured Axis soldiers.
"X Troop would be Britain's secret shock troop in the war against Germany," Garrett writes. "They would kill and capture Nazis on the battlefield. But that would not be all. They would also immediately interrogate captured Germans, be it in the heat of battle or right afterward. The men's fluency in German would enable them to get essential intelligence that would guide the next moment's choices rather than having to wait to interview prisoners until they were back at headquarters."
No less than Winston Churchill himself gave the group their nickname.
"Because they will be unknown warriors … they must perforce be considered an unknown quantity. Since the algebraic symbol for the unknown is X, let us call them X Troop," declared the then-prime minister of the United Kingdom.
One of the many consequential incidents, which could have turned disastrous, was when two troop members, whose anglicized noms de guerre were Roy Wooldridge and George Lane, were captured by the Germans and taken to a command post. The next day, they were driven to the French countryside and, instead of being summarily executed as they had feared, found themselves in the château that was serving as headquarters for field marshal Erwin Rommel.
"During his training … Lane had been taught to give only his (fake) name, rank and serial number if he was captured," writes Garrett. "But instead he found himself having an extended conversation with the field marshal over tea. Lane fortunately recovered his composure and didn't say anything that would give him and his comrade away."
Later, when they were transferred to a POW camp in central Germany, which was filled with 300 British officers, the pair was able to share their knowledge of Rommel's location – information that was surreptitiously conveyed back to London through a hidden homemade wireless radio.
"A few months later … during the Normandy campaign, Rommel's staff car was strafed by RAF Spitfires as he drove from Château de La Roche-Guyon to the front near Saint-Lô. The attack left Rommel, one of Germany's best and most creative generals, with serious injuries, and from that moment on his participation in the war was effectively over," notes Garrett.
The irony was that some of the members of X Troop suddenly transformed from prisoners of war – Jews of German or Austrian origin, who were viewed as "enemy aliens" – to members of an elite British military troop.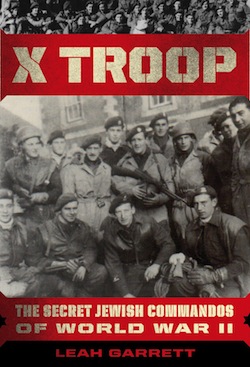 "I found it rather odd that one day I could not be trusted with anything more lethal than a broomstick and the next I was told that I was going to be a spy for the British," said one member, Tony Firth. "But who said that the English are logical?"
The men faced a fourfold risk if captured. Hitler had ordered Allied commandos to be shot on sight. As refugees from Europe who may have still had family in Nazi-occupied areas, they risked not only their own lives, but those of their families. As Jews, they were the explicit target of state-sanctioned murder and, as German or Austrian nationals, they would be considered traitors to their homelands if captured.
The commandos were trained in a Welsh village and, though each had each created a false persona, it took wilful blindness for the village folk to not realize there was something odd about these particular British soldiers. Recalled one townswoman, "… when we would ask them what nationality they were, they would say: 'Vee are English.'" (A memorial to X Troop in that Welsh village today ostentatiously omits the fact that almost all of them were Jewish.)
Though trained together and with a tight-knit sense of camaraderie, the troop was deployed not as a group but across the British military. The book follows members of the troop through heroics and horrors at Normandy and in Egypt, Italy, Greece and Yugoslavia. In the end, half of the men would be killed, wounded or forever missing in action.
Some reviewers have drawn parallels between the real-life exploits of X Troop and a 2009 Hollywood blockbuster, but Garrett contrasts the facts and fictions. "Whenever possible, the X Troopers used their intelligence to outmanoeuvre the Nazis and to capture them before a shot was fired," she writes. "In this regard, the X Troopers were the opposite of Quentin Tarantino's vengeful Jews in his film Inglourious Basterds. Rather than wreaking personal revenge on the Germans, they followed the rules of war. They coolly collected battlefield intelligence from the enemy and outwitted them using their intellect rather than brute force. And even in extreme instances, such as when Colin Anson confronted the man who had been responsible for his own father's death, they refused to compromise their own moral standards."
Among the lessons the author aims to convey is the heroism of Jews in the fight against Nazism, adding a new layer to a growing literature on resistance of various forms.
"Through their exemplary and courageous service," Garrett writes, "their story challenges the idea that only in Israel did the Jews become armed warriors who fought to try to establish a safe life for themselves and their families."
Garrett's Feb. 6 book festival event starts at 3:30 p.m. For tickets, visit jccgv.com/jewish-book-festival.