Jeffrey Shandler's informative, fascinating and richly detailed Yiddish: Biography of a Language (Oxford University Press, 2020) takes a unique and innovative approach to a discussion of this old Jewish language, which has been spoken and written for centuries. Since a biography of a person entails categories like date and place of birth, family, name and other personal traits, including life expectancy, Shandler deals imaginatively with all these topics, and more.
The author begins, of course, with birth. But the chapter does not contain what you would expect if you were to read a biography, let's say, of Sholem Aleichem (born 1859, died 1916). Instead, the author gives a captivating array of scholars' assessments. Not all agree, but one gathers from the varying opinions that, around the late ninth and in the 10th centuries, a language that was spoken by Ashkenazi Jews from northern Italy, France and Germany began to grow and developed into what today is known as Yiddish.
This language had various names, including loshn ashkenaz, the language of Ashkenaz, the Hebrew name for Germany; mame loshn, mother tongue; taitsh, stemming from Daitsh, German, and also meaning translation, i.e. translated from the German, from which most of the Yiddish vocabulary stemmed; and also zhargon, jargon.
No old Yiddish texts survive, but, discovered not too long ago, in the binding of a holiday prayerbook, or machzor, is the oldest written sentence in Yiddish (and in rhyme, too), dating to 1282: "Gut tag im betage se veyr dis makhazor in beys hakneses betrage." ("A good day comes to the one who carries this prayer book to the synagogue.")
Out of the 12 words, three are in Hebrew: machzor, beys and hakneses. This reflects the age-old infusion of Hebrew with the Germanic portion of Yiddish, which exists to this day, where the language has roughly an 18% to 20% Hebrew component.
Shandler informs us that books in Yiddish varied from religious texts aimed at pious readers to secular texts that were often translations of heroic epics recorded in German and Italian. The first printed Yiddish book, in 1541, by Elijah Levita, was Bovo of Antona, the title of which evolved into the famous Yiddish byword "a bovo (bobbe) mayse," an exaggerated or fantastic grandma's tale.
The Yiddish and Italy connection is always a surprise to people learning about Yiddish. But, in fact, one of the most popular collections of folk fables was the Ku-Bukh (Cow-Book) by Abraham ben Mattathias, which appeared in Verona, Italy, in 1594.
By the 1590s, many Yiddish books were being printed (the printers were often Christians) both for observant and secular Jewish readers. There were even occasions in the early 1600s when sacred texts, like the widely used Code of Laws (Shulkhan Arukh), were translated into Yiddish so that women could more readily read them. These books were banned by the rabbis, who feared that the women themselves would make halakhic(legal) decisions independently, instead of consulting the religious authorities.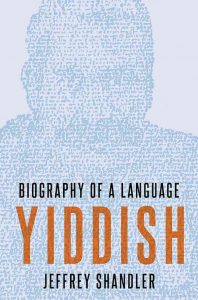 In a chapter of Yiddish: Biography of a Language, Shandler discusses the hybridization of Yiddish; i.e., the incursion of English words into Yiddish. For instance, shul-going American Jews take the Yiddish word daven, anglicize it according to English grammar and say davening for the present tense and davened for the past. In other words, conjugating it as though it were a standard English word.
Shandler also writes that, in the Chassidic community, since the men engage with the outside world more often than the women, they use English to a greater extent than the women who, with raising children, speak Yiddish to the little ones in the house.
Such outside influences upon Yiddish brings to mind a memorable personal experience with how English "invades" Yiddish. Once, when I was visiting a Chassidic summer colony in New York State's Borscht Belt, I saw a 7-year-old boy crossing the lawn. I asked him in Yiddish, "Do you have a library here?" In doing so, I used the Yiddish word bibliotheque, which comes to Yiddish via French and Russian.
Noticing his puzzled look, I said: "You don't know what bibliotheque is?"
The boy shook his head, so I told him in Yiddish: "A bibliotheque is a place where you have books."
The boy perked up and said, in Yiddish, "Oh, you mean a library?"
He pronounced the two r's in library not as if it were a Yiddish word, but in Yiddish, with rolled r's: "lib-rrr-Eh-rrry."
There were even manuals of self-instruction for Yiddish, directed to non-Jews in Germany who did business with Jews. Of course, this was easier for Germans than it was for people of other nationalities, as the Germanic component of Yiddish is quite strong.
Starting in the mid-19th century, many Yiddish dictionaries began to be issued, comprising languages like Russian, Spanish, French, Polish and even Esperanto and Japanese. The most frequently issued and revised dictionaries, by various lexicographers up to the mid-20th century and beyond, were English-Yiddish, Yiddish-English dictionaries. The most widely used is the one compiled by the late professor of Yiddish at Columbia, my beloved teacher, Uriel Weinreich.
Since there is lots of talk about the life expectancy of Yiddish, Shandler concludes his book with views from various authorities, many of whom deny that Yiddish is a dying language. Some, like the great Yiddish linguist Max Weinreich (father of Uriel), take a mystical approach. He said, "Yiddish has magic. It will outwit history."
And Isaac Bashevis Singer, in his 1978 Nobel address in Stockholm, Sweden, also took a surreal stance. He famously stated that he "likes to write ghost stories, and nothing fits a ghost better than a dying language. The deader the language, the more alive is the ghost. Ghosts love Yiddish … they all speak it." Singer concluded by saying: "Yiddish has not spoken its last word. It contains treasures that have not been revealed to the eyes of the world." And, in an interview about a decade later, he said: "What is true about Yiddish is true in a way about the Jewish people. While we die, we keep on being born again."
With a revival of Yiddish theatre; with the teaching of Yiddish in universities in the United States, Israel, South Africa and various countries in Europe; and with enthusiasts all over the world, Max Weinreich may very well be right about Yiddish outwitting history.
Shandler's Yiddish: Biography of a Language, with illustrations, photographs of pages from early editions of classic works, and occasional vocabulary lists, fulfils its biographic mission and makes us feel as if we have met Yiddish in person.
Curt Leviant's most recent novels are King of Yiddish, Kafka's Son and Katz or Cats; or, How Jesus Became My Rival in Love.