Arash Khakpour and Alexis Fletcher première All my being is a dark verse (working title) Nov. 9-10 at the Rothstein Theatre. (photo by Peter Smida)
This year's Chutzpah! Festival, which takes place Nov. 3-24, highlights Persian culture. The decision to feature Persian artists and stories – which was made well before the protests that erupted in Iran after the death of 22-year-old Mahsa Amini in the custody of the country's morality police last month – seems even more important and relevant now.
"When the festival was offered the opportunity to support the creation of a new dance work by Alexis Fletcher in collaboration with Arash Khakpour, two Vancouver artists I admire and enjoy working with, I began to explore the resonances between Persian artists and stories of both Jewish and Muslim background," Jessica Gutteridge, Chutzpah! artistic managing director, told the Independent. "These communities are culturally rich and have been intertwined for a very long time, while at the same time in lesser and greater political tension over the course of history. The festival's mandate includes exploring what Jewish culture has in common with non-Jewish communities, and bringing artists of different backgrounds into conversation, so I thought it would be interesting to pull on this thread and bring Jewish and non-Jewish artists and culture into a themed programming thread."
The two main programs of the thread are the Nov. 9-10 world première of Fletcher and Khakpour's All my being is a dark verse (working title), which was developed through an artistic residency at the Norman and Annette Rothstein Theatre, and the Nov. 23 concert by Israeli singer, songwriter and actress Liraz Charhi.
Two digitally streamed programs round out the offerings. On Nov. 14, Jacqueline Saper, author of From Miniskirt to Hijab: A Girl in Revolutionary Iran, will speak and answer questions about Jewish life in Iran pre- and post-Revolution. And, on Nov. 21, Israeli chef Ayelet Latovich will present "a menu drawn from the Persian Jewish heritage of her mother's family, which includes her grandmother, Kohrshid Hoshmand, a well-known and beloved figure in the Iranian community in Tel Aviv."
"The festival has always provided public outreach opportunities, ranging from master classes to workshops to public conversations with artists," said Gutteridge about these events. In addition to the Persian-themed outreach, Chutzpah! is partnering with rice & beans theatre's DBLSPK program to offer a public workshop of Tamara Micner's new Yiddish panto-in-progress, Yankl & Der Beanstalk.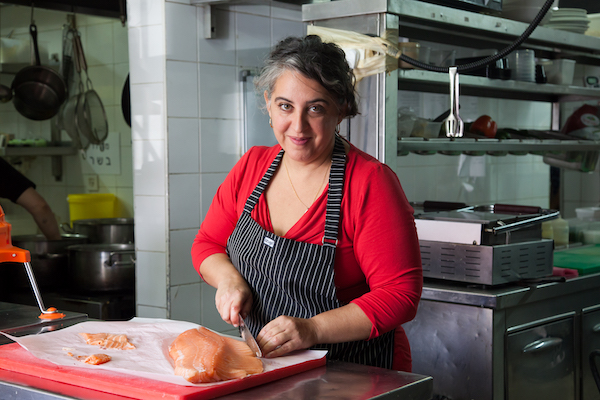 "We have a broad array of workshops to choose from as well," Gutteridge continued. "David Buchbinder, Mark Rubin and Michael Ward-Bergeman will lead a creative workshop focused on making intercultural connections. Edith Tankus will bring clowning techniques for self-expression in a workshop tailored to parents and caregivers. Liz Glazer will lead a workshop on how to tap into your funny side and create comedy for the stage. And Maya Ciarrocchi will lead a series of workshops sharing the practice of Yizkor books as a means of remembering and mourning the lost people and places of our lives, that will lead into the final performance of the Site: Yizkor project."
Life, love, longing, death
All my being is a dark verse is inspired by the poems of Forugh Farrokhzad (1934-1967), whose poetry was controversial enough in its expression of personal freedom to have been banned for almost a decade after the establishment of the Islamic republic in 1979. The project combines Farrokhzad's poetry, the work of local artist Nargess Jalali Delia and the dance choreographed and performed by Fletcher and Khakpour. The shows will include a program of Persian storytelling curated by the Flame.
"I discovered Forugh's poetry through Nargess, when I was helping her prepare for a visual art exhibit in 2020," said Fletcher. "Nargess had a painting that captivated me, which I learned was inspired by Forugh's beautiful poem, 'Inaugurating the Garden.' When I read the poem for the first time, I was moved to tears and felt so much of my own life inside Forugh's words. From there, I started to research the work of this poet and felt viscerally connected to her work. When I began dreaming of creating a response through movement, I approached Arash – an artist I greatly admire and have always wanted to work with. We decided to create and perform together, and to bring together a mix of Persian and non-Persian artists to complete our team, including costume design, original music composition, lighting design, and translation work between Farsi and English.
"Both Arash and Nargess have welcomed me into their culture, language and their very personal connection with Forugh in the most generous of ways," said Fletcher.
"I am excited to connect with an artist who comes from a completely different movement background from my own, and yet who shares so many of the same interests and curiosities about the place that dance holds in the world, what it can offer and how it can bring people together in unique ways," said Khakpour.
"Growing up in Iran," he continued, "I was reading Forugh's poems at the young age of 11, even though I knew I wasn't supposed to because her open-minded and dark-natured poems were not seen as 'appropriate,' and this experience had a profound effect on me. Forugh's words were a revelation to read, something that someone wrote so many years ago and yet which seemed to speak directly to my fears and desires as if the words were both coming from me, and as if they were meant only for me.
"After moving to Canada at the age of 15," he said, "I lost that connection to Forugh's poetry, but now I am at a place that I feel the need to reconnect to her work again and integrate my love for her work, the knowledge and the sentiment it awakens in my dance practice."
Currently, the pair are working with four of Farrokhzad's poems: "The Wall," "Reborn," "Inaugurating the Garden" and "Window."
"Forugh's work is full of life, love and longing, yet full of death," explained Khakpour. "I know from growing up in Iran that many people around me talked about her work as a forbidden reality, too forward, or too much – and the ways in which we should be talking, and the ways in which we should not be talking, as men and women. Forugh defied all of these binaries and all of this drew me to her magical poetry and body of work.
"As I was growing up, I have felt that similar feeling of defying the norms about myself, in terms of pursuing a dance career at all, as a man, which has many stigmas attached to it in my culture. I feel the same now as an artist at times.
"Forugh awakens the courage in us to be courageous," he added. "This has always drawn me to Forugh's work; her rigorous, rebellious nature has inspired many generations of artists since her death. Her writing, although being specific, is also timeless, transcends across cultures, and is full of humanity and love that goes beyond borders and ideologies. She longed for a world that could address and heal humanity's pain.
"I think Alexis and I are drawn to Forugh and her work for these unapologetic tendencies and yet her humble nature of being, writing and expressing on the page. We strive for the same things in dance and choreography and long for a world that can address and heal its pain."
"We both see dance as poetry in motion; a universal way of channeling poetry into the body and sharing that with the audience," said Fletcher. "We believe this universality, along with the multidisciplinary and cross-cultural nature of this project, is a fertile ground that can draw new audiences to dance and connect different audiences to each other."
Fletcher quoted from Rosanna Warren's The Art of Translation: "The psychic health of an individual resides in the capacity to recognize and welcome the 'Other.'" She explained that she and Khakpour "will use the act of translation as a practice of empathy; a way for artists and audiences to come together and lift the multiple veils of language, culture and ways of being that can obscure 'the other,' revealing the universality of our shared human experience, with language, visual art, dance and live performance as ways of 'lifting the veil.'
"Expanding on the above," she said, "we are curious about how we can use the practice of duet, including our partnership as performers, as a vehicle of exploration of 'self' and 'other,' and how this project can be a platform for this resonant conversation. This sparks our interest because, to execute duet skilfully and on an emotional level, one must delve into the other's perspective more deeply…. We have the unique privilege of sharing this type of intimacy and connection with others as dancers because our bodies, especially in duet, are our physical and literal instruments: we must literally soften and yield our bodies and minds to give or receive the weight of another. We must take time to look into each other's eyes and allow the other's body to enter our private, personal space, learning what the impulses, dynamics, instincts and thought processes of that other person are. We must give each other patience and care for the relationship and choreography to work. We must acknowledge different subjective opinions and points of view. We feel that duet is a direct practice platform through which to investigate the myriad ways one can be in an empathic relationship with another."
A dream come true
"Music in my life is the most important thing," Charhi told the Independent. "When I started to create, to sing and to songwrite in Farsi, I knew that I had a message to be a little voice for the Iranian muted women. I knew that would be a continuation to the women from my family who are muted themselves. It wasn't a question that I would do that. It's not about me – I deeply feel I'm the pipe to tell a story."
On Oct. 7, Charhi releases her third album in Farsi. Called Roya – a vision, a fantasy, a dream – she recorded it with Iranian musicians in Istanbul. "It was an extremely emotional journey I cannot even express with words," she said, "but we made a wonderful album with wonderful meaning and we all share the same dreams together."
Charhi collaborated secretly with several Iranian artists – singers, writers, instrumentalists – on her second album in Farsi. Secrecy was necessary because of the political situation.
"Recording my album Zan (woman in Farsi) and collaborating with Iranian musicians was a dream come true," she said. "I felt that I can give and be artistically freed, especially because I felt that we needed to meet and to create together. [That] we love each other with no boundaries is a fact we wanted to spread to the world. There are bridges we can build despite this crazy situation and we have the power to make a change."
Charhi chose the name Zan for that album, she said, "because it's all about women's freedom I sing about. Struggling and, on the other hand, rejoicing, singing and dancing, making little by little resolution, which is very, very relevant to what's going on today in Iran."
Charhi's first Iranian album was Naz, which, she said means "coquettish manners." It has been described as a "rebellious soundtrack."
"It's about being a good Iranian woman, using all her charm and politeness to get what she wants from her man and still stay determined," she explained.
Charhi's parents emigrated to Israel in the 1970s, before the Islamic Revolution, and Israel is where Charhi was born, in Ramla, in 1978.
"My music is built out of layers of my heritage, Israeli and Iranian," she said, "and so I knew always I wanted to use traditional Iranian instruments and to mix them with my psychedelic music that I love so much [from] the Iranian '70s."
She also has released two albums in Hebrew, one self-titled, the other Rak Lecha Mutar (Only You're Allowed).
As an actress, Charhi garnered a nomination for best actress from the Israeli Film Academy for her role in the 2004 Israeli film Turn Left at the End of the World. She has acted in theatre, television and film, including playing the love interest of Phillip Seymour Hoffman in the movie A Late Quartet (2012), the role of Frida Kahlo in a production by the national theatre of Israel (2017) and an Israeli Mossad agent in the Israeli TV series Tehran (2020).
For the full Chutzpah! schedule and tickets, visit chutzpahfestival.com or call 604-257-5145.