Ande Axelrod has developed a partnership with artisans in the village of Sosote, Ecuador, as her source for tagua beads. (photo from Zack Gallery)
The current show at the Zack Gallery, Affordable, opened on Nov. 17. It delivers on its name's promise. Every item on display is less than $250 and thus in the realm of affordability for many people, not just art connoisseurs.
"That's what I wanted for the Zack Gallery from the beginning," said gallery director Hope Forstenzer. "I wanted to deepen the involvement of the JCC community in the gallery, wanted the art within people's reach."
Accordingly, this show looks more like a holiday craft fair than a high art exhibition.
"I don't believe in the separation of art versus craft," said Forstenzer. "For me, craft is another word for art, but art that is functional and affordable, designed for enhancing your life and your home rather than a wall of a museum. I hope we can make such a show an annual event."
To achieve the artisan market feel, Forstenzer invited 10 artists in different media to participate. "They are all local B.C. artists," she said. "Some Jewish, some not. I wanted to cater to different tastes, to represent different artistic fields. I wanted the show to be fun."
The atmosphere of the show is jazzy and welcoming. The giclée prints of well-known Vancouver artist Linda Frimer glow with greens and blues. The glass and jewelry twinkle. The ceramics by Hitomi McKenzie stand proud and bright. Mariana Frochtengarten's colourful shawls in Shibori patterns add a touch of elegance.
Frochtengarten teaches textile art at the Jewish Community Centre of Greater Vancouver. "This is a great opportunity for me to show the community my personal work," she said. "My work is based on the principles of Shibori – a Japanese manual tie-dye technique. I combine the ancient Japanese tradition with a contemporary approach."
She works with natural fibres, mostly cotton and linen, and has been working as a textile artist for more than 25 years. "My way into textile art was a bit accidental," she told the Independent. "I was born in Brazil. When I was in high school, I took a batik class for a hobby, but I fell in love with it."
After graduating from high school, she studied at Fine Arts and Education University in Brazil and later completed her master's in fine arts (textiles) at Nova Scotia College of Art and Design, in Halifax. "For 17 years, I worked with batik," she said. "I had a business in Brazil and sold my works in stores, galleries, shows and fairs. I also experimented with some Shibori. I slowly moved on to my own form and interpretation of Japanese Shibori after moving to Canada in 2006. I love the elements of surprise involved in the process of Shibori and I am fascinated by the idea of creating different designs by blocking areas of the fabric before dyeing it."
Another artist who works with an unusual material and technique is Ande Axelrod. Her company, Treats Designs, produces whimsical and sophisticated tagua jewelry: necklaces, earrings, pendants, and bracelets. Axelrod is very enthusiastic about her artistic creations. "Tagua is known as 'vegetable ivory,'" she explained. "The tagua palms are native to the rainforests of Ecuador and other South American countries. The nuts grow and harden inside their seedpods. Some tagua nuts can grow up to six centimetres. Once the seedpods are ripe, they're picked, and the seeds are dried in the sun, peeled and polished."
The creamy white substance of the nuts is incredibly hard, similar to elephant ivory, hence the name. According to Wikipedia, a mature tagua palm can produce up to 20 pounds of vegetable ivory a year.
"Tagua nuts have been used as a substitute for ivory since the early 20th century," Axelrod said. "The local masters carve the nuts into a variety of beads and buttons and dye them using bright natural colours."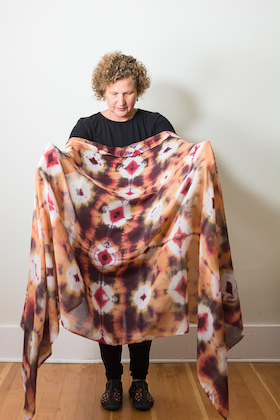 She is thrilled to use tagua nuts as the base for her jewelry. "I worked as a graphic designer for more than 25 years. In 2011, a friend and I took some jewelry making classes and I explored a variety of media and techniques. The next year, I discovered tagua while traveling in South America. I was dazzled by the colours, and I loved how light and comfortable the pieces were. You could wear a bigger statement necklace or a pair of earrings and not have a sore neck or headache at the end of the day."
The sustainability and eco-friendliness of tagua sealed the deal for her. "I wanted to save elephants and I was truly inspired by the vast creative potential of this versatile natural material. It also provides an economic incentive for the local communities to protect the rainforests," she said.
Since then, Axelrod has developed a partnership with artisans in the village of Sosote, Ecuador, as her source for tagua beads. "Before COVID, I'd made annual visits to Ecuador each February. It gave me the opportunity to work with tagua throughout the process, from seed to bead. Of course, like everyone else, I've had to improvise these past two years. Zoom, WhatsApp, FedEx and Western Union have enabled me to stay in touch with my South American partners and get tagua here for me to create my jewelry."
While Shibori scarves and tagua jewelry may more easily be thought of as unique artwork in the Vancouver context than photography perhaps, Michael Shevloff proves that he is an unquestionable master of the camera, producing his own singular creations. His images, both in colour and in black and white, are statements of his love for British Columbia: its forests, its mountains, its waterways, its streets.
"I do predominantly nature photography," he said. "However, I also shoot street photography, portraits, and many other genres, both digital and film."
For this show, Shevloff offers framed and matted photos and photo coasters. "In the past, I also produced books of my photos, collages, cushions and more. I even put one of my images on my phone cover. The choices are many, and there are online firms, as well as local places, that specialize in putting images on almost any surface."
He has been taking photographs since he was a teenager. "That was a long time ago," he joked. "I have albums filled with photographs from places I have worked and traveled throughout the years."
For Shevloff, photography has always been a hobby, while he worked in information technology. It remains a hobby in his retirement, although he obviously has more time now to immerse in his artistic endeavours.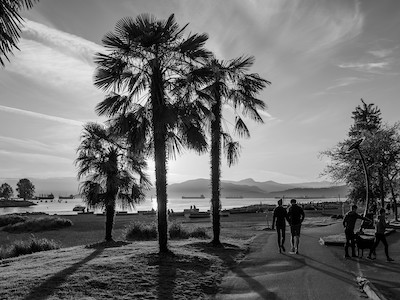 "I have taken classes with professional photographers to hone my craft. And I belong to two photo clubs in Vancouver," he said. "Vancouver PhotoClub is a well-organized group with monthly meetings and outings. I enjoy being a part of that club because they have assignments, which gives me a challenge and focus each month. They also organize exhibits, which gives me an opportunity to show my work."
He belongs to the West End Photographic Society, as well. "That one is dedicated to film work and darkroom processing," he explained. "They also organize exhibits. I enjoy the challenge of working with film and working with prints."
The 10 artists of this show incorporate different art forms, different artistic philosophies, different ethnic roots and different price ranges. But one fact unites them all – every piece of art in the gallery for the next month is affordable.
The exhibit continues until Dec. 31.
Olga Livshin is a Vancouver freelance writer. She can be reached at [email protected].