Artist Anna Marszalkowska stands in front of "Levi," which is part of her Tribes series, which is on exhibit at the Zack Gallery until May 4. (photo from Anna Marszalkowska)
The challenge of visually depicting the tribes of Israel has attracted many famous artists over the centuries. For example, on the 25th anniversary of the state of Israel, Salvador Dali, inspired by descriptions in the Torah, created a series of watercolours, "The Twelve Tribes of Israel." Before that, in 1962, Marc Chagall made his famous stained-glass windows, "The Twelve Tribes," for a synagogue in Jerusalem. Anna Marszalkowska, a local Vancouver artist of Polish origins, fits easily into this august company. Her solo show, The Tribes, opened at the Zack Gallery on March 29.
Marszalkowska grew up in Poland, but studied graphic design and worked as a graphic designer in London, England. "Diversity is what made my design path exciting," she said in an interview with the Independent. "I started my career as a freelance web and graphic designer and then moved to video design and editing, as well as motion graphics and animation."
Five years ago, she and her husband moved to Canada, but they lived and worked in the eastern part of the country. They relocated to Vancouver two years ago.
"We came here during the pandemic," she said. "We wanted to try something different. For an outdoor person like myself, this is a great place. The nature is beautiful, and everyone is very friendly."
She also changed the direction of her professional life. "I work with artists in the movie industry, but not as an artist myself," she said. "I understand artists because of my past as a graphic designer, but I wanted less time at the computer screen. I wanted to free my creativity for more personal projects, which was hard to do while working as a graphic designer. Then, my creativity was fully engaged in my professional activity, but, on the other hand, I was limited by clients' requirements. After a full day of work … I was often tired, I wanted to relax. Now, my creativity is freed. I have more time for my artistic experiments. I started abstract painting and I love it. Just me and a painting – it calms me."
But even while working full time as a graphic designer, she still found energy to search for her individual style and themes. One of them was her Tribes series. "In 2010, I completed a print production course, and this series was the result."
The series consists of 12 large digital prints, each one corresponding to one of the tribes of Israel. Although Marszalkowska's version is an entirely modern take, it involves ancient symbolism, which originated in the Hebrew Bible. The artist conducted deep research for this project, and the end results are simultaneously stunningly simple and visually compelling.
"I had a blog before and, when I put the images online, many people expressed their interest. They wanted to buy one or several or all of the images."
For the artist, this body of work has meaning beyond its commercial success. "It was a personal journey. I was searching for my Jewish ancestry. My grandmother grew up in a town in Poland where most citizens were Jewish before the war. She might have been part Jewish herself, but after the Holocaust, I had no one to ask."
Instead, she studied the Bible and tried to interpret the narratives within a cultural context. "The symbols of the tribes are by no means fixed," she explained. "Every artist could have their own interpretation, as the biblical texts describe the sons of Jacob allegorically."
In her interpretation, the traditional symbols are given a contemporary, stylized appearance. "I explored the relationship between geometric shapes and lines," she said. "I used repetition and symmetry to keep balance in each individual design and all 12 together."
She also leaned towards a minimalistic approach, where a symbol of the tribe is centred on a one-colour background, with no other embellishments to attract a viewer's attention. "In the original design, I had an ornamental frame around each image, but I got rid of them. I think less is more," she said. "COVID made me realize that my focus should be the meaning, not the decorations."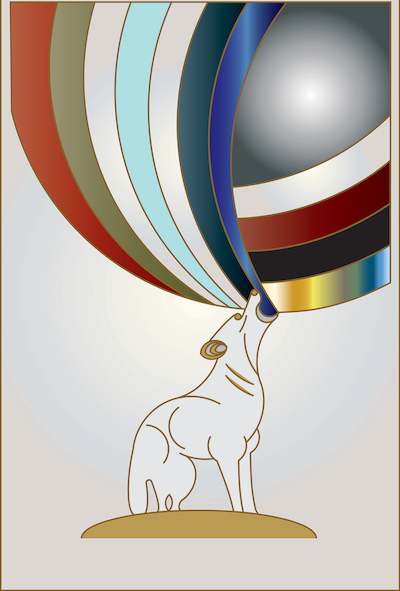 In most images, the background colour palette reflects that of the tribe, except for Benjamin, the youngest. "His symbol is a wolf," Marszalkowska said. "He represents all colours of all tribes. To reflect that, I placed a 'rainbow' above the wolf. I think it is his spirit or maybe his song, Or his breath. It would depend on your own interpretation."
In some of the designs, she incorporated photography for texture. "I used Adobe Illustrator to combine my photographs with my digital illustrations," she said. For Simeon, her symbol is a tower, and she put her photos of bricks to good use in her pictorial tower construction. For Zebulun, whose symbol is a ship, she employed photos of water. "Issachar's symbol is a donkey with a burden," she said. "I used my photos of wood for the donkey's load."
When different sources offered different visual symbolisms for a tribe, the artist's scholarly touch led her towards her own esthetic. For example, in the case of Levi, some documents don't count him as a tribe and don't offer any symbols for him. Historically, the Tribe of Levi wasn't given any land, but its men served as religious leaders and teachers. Maszalkowska decided that Levi's description as God's Chosen Tribe warranted its own image: a breastplate of a high priest. The breastplate is embedded with 12 gemstones, each inscribed with the name of one of the tribes in Hebrew.
"Overall, the series is an invitation for everyone to embark on their own journey, to reflect on their own purpose and fulfilment," said Maszalkowska. "Ultimately, I hope that my art will connect with the viewers and inspire them."
Tribes runs until May 4.
Olga Livshin is a Vancouver freelance writer. She can be reached at [email protected].
To find out more about the history of Made in BC – Dance on Tour and its network of artists, visitors to madeinbc.org/history-project just have to hover over one of the images displayed and click on it. (screenshot)
It is easy, in Metro Vancouver, to take certain things for granted, such as access to live theatre, music and dance. But the pandemic, with its limits on social gatherings, has given urbanites an inkling of what smaller communities regularly experience. The relative scarcity of live performance in places like Prince George and Revelstoke is one reason that Made in BC – Dance on Tour was created in 2006. It is unfortunate, then, that Made in BC's 15th anniversary falls in a time of travel and other restrictions. But that hasn't stopped the organization from celebrating, and innovatively so.
Made in BC (MiBC) has collaborated with artist and graphic recorder Adriana Contreras to create an interactive online illustrated map "offering viewers the opportunity to take a visual and audio trip through the last 15 years of work, celebrating the numerous artists, presenters and community members that have been a part of this history." Among these artists are Jewish community members Tara Cheyenne Friedenberg (Tara Cheyenne Performance), Amber Funk Barton (the.response), Naomi Brand (All Bodies Dance Project) and Vanessa Goodman (Action at a Distance).
"Especially in an art form that is so ephemeral, documentation is important not only for our personal memories, but for the history of the organizations and communities that we work with," Brand told the Independent. "These kinds of records are really valuable for us to learn from what has happened before and to remember the accomplishments and discoveries that came before us. The map is a beautiful and creative way to write our history in the present while it is still relatively fresh in the bodies and memories of those who participated in it.
She added, "The field of contemporary dance in Canada is small enough that most of us are connected through a few degrees of separation that can be traced through our lineage of teachers, mentors and collaborators…. The map project represents all of that visually across the geography of this province."
Cheyenne Friedenberg also spoke about the ephemeral, or temporary, nature of dance, making it hard to keep track of accomplishments.
"We spend much of our time and energy justifying and fighting for our art and art-making, it's no wonder many of us don't take time to reflect or celebrate the wake behind the boat," she said. "It's also very important to take note of what artists have brought to communities around the province and how these communities have influenced the art and the art makers. We are an ecosystem and it benefits all of us to appreciate how we have grown and developed as an artistic community. I know my work has been greatly influenced by my relationships across the province. I know folks who started making their own work after seeing a show or taking a workshop. I think part of the reason I'm still making work is because I feel part of this artistic ecosystem that is ever-evolving."
Made in BC statistics show that, over the past 15 years, MiBC "has provided opportunities for over 50 dance companies incorporating over 200 dance artists to tour their work, reaching over 20,000 people around the province. And over 30,000 people have participated in and experienced the joy of other community-engaged dance activities, beyond the theatre."
"MiBC as a network is about fostering relationships between artists, presenters, audiences and new communities," said Brand. "As dance artists, we work with living, breathing, feeling people as our material (as opposed to clay, or an instrument, or paint brushes). This human-to-human, personal interaction is so important to what we do in the studio, as well as through emails and Zoom these days. We're lucky to have an organization like MiBC that supports artists and has brought so many incredible experiences to communities across the province."
Brand recalled one experience in particular. "In 2017," she said, "my colleague Sarah Lapp and I did a residency through Made in BC at the Rotary Centre for the Arts (RCA) in Kelowna. It was our first experience touring with our company All Bodies Dance Project and bringing our artistic practice to a new community. We met such beautiful, courageous and lovely participants in the weeklong workshop and learned a lot about ourselves through sharing what we do with a new community. That residency had a huge impact on Sarah, who actually ended up relocating to Kelowna a year or so later, and beginning an integrated dance project in partnership with RCA with a collaborator that she met during that residency."
Cheyenne Friedenberg first toured with MiBC in 2009, when the organization selected her first full-length solo work, bANGER, to tour along with Day Helesic's piece Surge.
"I had toured a lot in the U.S., across Canada and Europe, but this was my first real experience taking my own work around the province," said Cheyenne Friedenberg. "I was, and continue to be, very interested in connecting with the land and the people closer to home. Why have we as a culture believed touring Europe is more prestigious than touring the West Coast? It's not. Since that first tour in 2009, I have toured, taught, created and learned around B.C. over half a dozen times and I can't wait to get back out here!"
She said it was hard to pick just one MiBC experience that was especially impactful or memorable, so she offered two:
"1) Smithers, 2012: after seeing my solo Goggles, a couple (who are now my friends) were so taken by seeing me and my family (who I tour with) taking questions and, probably, breast-feeding after the show, that they decided to have a baby and continue to make art.
"2) Dolly Alfredson, a Wet'suwet'en language speaker and teacher shared many post-show thoughts with me, all in Wet'suwet'en. It felt very special. This was after my show I can't remember the word for ' I can't remember,' in 2018."
Contreras, who collaborated with MiBC in collecting and communicating these types of recollections from the dance artists, said her favourite part of the process was listening to all the stories, "getting a glimpse at a special moment in time from the many artists I had the pleasure to work with in part."
It was Jane Gabriels, executive director of MiBC, who invited Contreras – in spring of 2020 – to be part of the 15th anniversary history project.
"I had just left my full-time job as director of programming and communications with New Performance Works Society to work as an independent graphic recorder, illustrator and designer," Contreras told the Independent. "This was also around the time that COVID-19 was declared a pandemic and the province went on lockdown. Needless to say, this project was a bright light in a very uncertain moment."
On the project, she worked closely with Gabriels, as well as Debora Gordon, MiBC manager of community dance connectors, statistics and promotions, and Zahra Shahab, a dance artist and choreographer who was the 2019 creative residency artist at MiBC.
"The process was one of collective discovery and experimentation," said Contreras. "I knew that MiBC has a vast archive documenting the work of all the artists that have been part of its programs, but I wanted to go back to the essence, the aspect that makes MiBC so unique, the unifying element of supporting B.C.-based artists to present their work and connect with communities throughout the province; bring contemporary dance to audiences that don't often get to experience it.
"During my time as an arts administrator supporting dance artists," she continued, "I had heard many anecdotes and memorable stories that happened during MiBC tours. Many of these occurred in the theatre, others in the liminal space, on the road. Many others in everyday occurrences that nurtured community. We decided that these were the stories we wanted to highlight.
"MiBC reached out to artists and asked if they wanted to share their stories, which were audio-recorded to be featured on the website. We then chose an object to represent each of the stories, and those are the elements you see in the drawing, one for each artist or collective."
She added, "Creating this work reminded me why I love the performing arts so much, and I can't wait to sit in a theatre and experience live dance, theatre and music again."
In the meantime, dance enthusiasts can take a virtual audiovisual trip through the province at madeinbc.org/history-project.