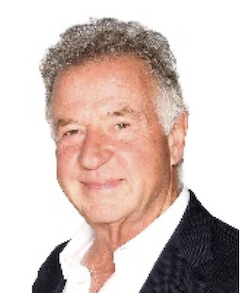 Fourteen people who have made an outstanding provincial, national or international impact will be appointed to the Order of British Columbia, the province's highest form of recognition and an official part of the Canadian Honours System. Among the recipients is Jewish community member Samuel Leon Feldman.
The Order of B.C. investiture ceremony will be at Government House in Victoria in the late fall. This year's honourees bring the total membership of the Order of British Columbia to 503. Members have been appointed from all parts of the province and biographies of all the 2023 recipients can be found at news.gov.bc.ca/files/biographiesobc2023.pdf.
Feldman's biography notes that he might have lived anywhere. Born in Shanghai, China, of Jewish parents whose ancestors had been persecuted in Russia, he and his family moved to the first place a visa was acceptable – Vancouver – in the 1950s.
The Feldmans loved the peace they found in this sleepy Commonwealth outpost. Although young Sam Feldman experienced some degree of antisemitism growing up, this paled in comparison to the positive experience of growing up in Vancouver and the many lifelong friends he has made.
In the early 1970s, Vancouver's entertainment scene was booming. It was very early in Feldman's business career that he identified an opportunity and a desire to be part of that musical environment. He established himself by representing and booking musical artists for what became a launch pad for many iconic artists.
Feldman continues to turn that humble start into an international juggernaut, primarily through artist representation by building an internationally known talent agency and management firm that has been responsible for more than 250 million records and countless tickets sold from past and present clients, such as Joni Mitchell, Sarah McLachlan, Diana Krall, Elvis Costello, James Taylor, Tracy Chapman, Bette Midler and Norah Jones. While the numbers are impressive, Feldman measures success through long-standing relationships and the positive musical influence his clients have brought to the community and beyond.
After 50-plus years, Feldman's involvement in various aspects of the entertainment business is still growing and his legacy is intact. Uniquely, at a time when Los Angeles, New York and London were the epicentres of the music industry, he chose to stay in Vancouver. He has been quoted as saying: "I wouldn't move elsewhere, as there is no better place than British Columbia to bring up your family."
Contributing to the culture of this community and beyond is another part of Feldman's legacy. From Expo '86 and the 2010 Olympics to countless sold-out stadiums, he's brought some of the biggest musical acts in the world here to record and perform, and he's sent some of British Columbia's biggest stars into the world. He's proud to have contributed to the excellence of culture here, sharing values he learned from his mother, a high-level concert pianist, and his father, an amateur actor and salesman. His parents were a huge influence on him, and their mid-life immigrant status framed tough times. They urged him to work harder and shine brighter. Having watched their struggles, the lesson was not lost.
In an era when it was difficult for female artists to succeed, Feldman helped female clients through the headwinds of what can only be characterized as a sexist industry, to access what their male counterparts were already achieving.
Having been born in Shanghai in 1949, immigrating to Canada, having a Russian Jewish heritage and building an entertainment empire in a province most people had never visited, Feldman knows firsthand what it feels like to have to work twice as hard to succeed.
To be a successful music business entrepreneur, one must straddle the divide between art and commerce, and treat both with equal respect. Feldman is an interpreter – he has bridged those worlds. This is a skill set he has been able to bring to many good causes, using his connections and resources to support the revitalization of Chinatown, plus many health initiatives particularly targeted at youth.
Feldman has been recognized repeatedly, garnering awards such as the Walt Grealis Special Achievement Award for extraordinary contributions to the Canadian music industry, and the SOCAN Special Achievement Award for contributions to Canada's music industry and heritage. He has been inducted into the Music Managers Forum Honour Roll, the B.C. Entertainment Hall of Fame and the Canadian Music Industry Hall of Fame.
Feldman is a huge believer in the positive change music can bring to people's lives. It's in the mission statement of his business and it's key to his support of the Sarah McLachlan School of Music, Odd Squad Production Society, Zajac Ranch for Children, music therapy for children on the autism spectrum, and many others.
It's all part of giving back to the province he committed to so many years ago. Celebrity can be exciting, but it can also disappear overnight, unless you build a solid platform through exceptional relationships and hard work. Feldman has demonstrated that by building something honest and sustainable, you can literally change the world.
– from orderofbc.gov.bc.ca
* * *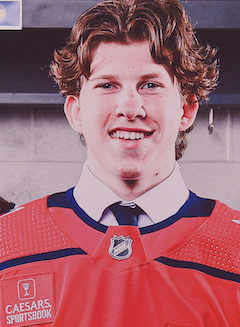 The Washington Capitals have signed forward Andrew Cristall to a three-year entry-level contract.
The Capitals selected Cristall, 18, in the second round (40th overall) of the 2023 NHL Draft. Cristall was ranked fifth among North American left wings and 15th among all North American skaters by NHL Central Scouting.
The 5'10", 175-pound forward spent the 2022-23 season with the Kelowna Rockets of the Western Hockey League (WHL), leading the team in goals (39), assists (56) and points (95). Cristall's 1.76 points-per-game rate ranked fourth in the WHL, while his 95 points ranked tied for sixth. Cristall was named Kelowna's team MVP and was selected to the WHL B.C. Division First All-Star Team.
During the 2021-22 season, Cristall set a Kelowna Rockets franchise record for goals by a 16-year-old (28) and tied the franchise record for points by a 16-year-old (69). In 129 career WHL games with Kelowna, Cristall has recorded 169 points (69 goals, 100 assists).
The Vancouver, B.C., native won a gold medal with Canada at the 2022 Hlinka Gretzky Cup, finishing the tournament with six points (1 goal, 5 assists) in five games. In addition, Cristall served as an alternate captain at the 2023 Under-18 World Championship, where he registered six points (2 goals, 4 assists) in seven games and helped Canada to the bronze medal.
– from nhl.com
* * *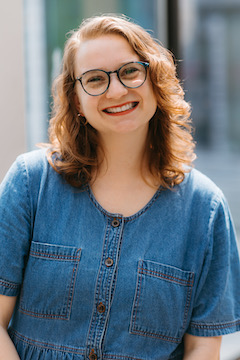 Or Shalom Synagogue's new children's programs teacher is Sammy Fogel, a creative, curious and community-driven educator and facilitator passionate about Jewish education, social justice and mental health. Having grown up at Camp Miriam, and having been a Saturday childminder at Or Shalom as a teenager – and 10 years later as an adult! – Fogel's connection to the Vancouver Jewish community is longstanding.
Fogel was raised in North Vancouver, had her bat mitzvah at the Peretz Centre for Secular Jewish Culture, and has held several roles working with youth at synagogues including Congregation Har-El in West Vancouver and Temple Emanu-El-Beth Sholom in Montreal. She has a bachelor's in liberal arts and women's studies from Concordia University and a master's in social justice and community engagement from Wilfrid Laurier University. She currently works full-time as the administration and facilities coordinator at the Crisis Intervention and Suicide Prevention Centre of British Columbia and, in her spare time, you can find her swimming in the ocean, reading her book in the sunshine or enjoying a London fog at her local café.
– from Or Shalom
* * *
The Israel office of FINN Partners, a global integrated marketing and communications agency, has launched an environmental innovation group. FINN Israel will play a communications role on behalf of Israeli companies in the environmental innovation sector.
Vancouverite Nicole Grubner, partner at FINN Partners, will lead the innovation group. Named "PR Guru" in the 2019 PM360 ELITE Awards as a rising communications leader, Grubner has a decade of experience working with Israeli clients. She will spearhead strategic communications programs for Israeli companies making an impact within the environmental innovation sphere.
"Our goal is to effectively communicate Israel's groundbreaking, market-ready offerings in the environmental innovation sector, accelerate their growth, and foster meaningful connections with key stakeholders worldwide," she said. "With more than 100 Israeli companies attending this year's COP28 in Dubai, we are witnessing Israel's expanding role in implementing solutions for both climate change mitigation and planetary adaptation to the impacts of our changing climate. Implementation begins with creating awareness that these solutions exist today."
According to Start-Up Nation Central, there are more than 850 companies in the environmental innovation ecosystem, developing solutions for clean energy, food and agricultural systems, industry, mobility, nature and carbon, water and construction. According to Israel's climate tech industry group, PLANETech, investments in Israeli climate tech companies between 2018 and the first half of 2022 totaled $6.67 billion.
– from FINN Partners