Hand in Hand was started in 1997, with the goal of creating integrated schools wherein both Arab and Jewish kids could study together in a bilingual (Hebrew and Arabic) framework within the public school system. (photo from Hand in Hand)
Starting with just two classes in 1998 – a kindergarten and a Grade 1 class – Hand in Hand now has five schools throughout Israel, serving 1,200 students.
Hand in Hand is the brainchild of Lee Gordon and Amin Kalaf. Gordon grew up in Portland, Ore., before making aliyah; he lived in Israel for 20 years, returning to the United States a few years ago. Kalaf grew up in a small village near Afula and now lives in Jerusalem. They founded Hand in Hand in 1997, with the goal of creating integrated schools wherein both Arab and Jewish kids could study together in a bilingual (Hebrew and Arabic) framework within the public school system. The concept involves both improving the quality of education and being a model for partnership between Jewish and Arab citizens, as well as the public and private sectors.
"We have mayors in the various towns supporting our projects and giving us buildings to use and some funding … so, it's a public-private partnership," said Gordon. "There is public funding from Israel and also a lot of private philanthropic support [from] around the world," he said, referring to the United States, Canada, Europe and, of course, Israel. When Gordon moved back to the United States, he created (and heads) American Friends of Hand in Hand, a nonprofit fundraising organization.
Kalaf's oldest child graduated from Hand in Hand's first class of Grade 12 graduates. "We've had four high school graduating classes now at our only high school in Jerusalem," said Gordon. "That's our biggest school, with 600 students from pre-k to 12th grade."
Two years ago, Hand in Hand added another component to the organization. "We've been doing a community initiative, which we call Shared Communities, in which we're working to build relationships between Jewish and Arab adults, not just kids," said Gordon.
Today, there is a whole range of programs for adults, including language classes, holiday celebrations, discussion groups and a men's basketball team. "We probably have about 3,000 adults in programs around each of our schools," said Gordon. "Sometimes, the programs are at the schools in the evenings, or in other places.
"They really stood out this past summer when there was all the violence – the kidnappings, the revenge murder of the Palestinian teen, and the two-month-long war in Gaza."
Shared Communities was active throughout Operation Protective Edge. Despite the tensions and differing views, participants found common ground. One example of this was the program organizing Jerusalem adults and kids going on evening walks together, wearing T-shirts that read, "We refuse to be enemies."
"They weren't really protests, but they were saying not everything about Jews and Arabs is about war and conflict," said Gordon. "Here, we are working together in our school … and, in a little town, people came out onto the side of the roads with signs that read, 'We are neighbors in peace,' which is more than just saying, 'We are peaceful neighbors.'"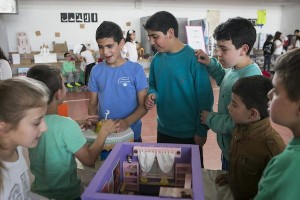 At the schools, Hand in Hand works toward keeping the numbers balanced between Arabs and Jews, and between boys and girls.
"These are the main prerequisites," said Gordon. "Earlier on, we had more Arabs than Jews. Now, we have waiting lists on both sides, though there's a larger waiting list on the Arab side.
"Most importantly, they are growing fast. For example, in the new school in Tel Aviv (which is a preschool and kindergarten for now), last year, we had one class of 30 students. This year, we have three classes with 100 students in total. And, there was enough interest that we could've had 150 kids if we'd have had enough room."
Gordon added, "There are great teachers and a wonderful curriculum. It looks at multiculturalism, backgrounds and narratives of different religions, because we have Christians, Muslims, Arabs and Jews…. In the younger grades, they have two full-time teachers in each class, one Arab and one Jewish."
Gordon spoke of the schools' broad reach.
"You can have an Arab friend the same way you can have a Jewish friend," he said. "It can help you in the workplace, academia or your social life, and I think that's a direct impact of Hand in Hand…. From the very beginning, when a Jewish child was invited to an Arab's home for a birthday party, this involved the parents taking that child in and they'd meet each other. So, there are a lot of friendships happening beyond the walls of the schools … and sometimes the parents' friendships were long-lasting, even if the children changed friends…. And the families aren't just the parents. They are uncles, aunts, sister, brothers, cousins…. People hear about it and are impacted.
"We want to be visible because we want the rest of Israel to know about this and to be an example, as an alternative. Things can be different. Jews and Arabs can get along."
Canadians can make a tax-deductible donation to Hand in Hand via the Jerusalem Foundation of Canada, with which it has a partnership.
"Our goal is to bring this model to as many places as there is interest and to work with populations to help them build a model school in the community," said Gordon.
For more information, visit handinhandk12.org.
Rebeca Kuropatwa is a Winnipeg freelance writer.