Avishai Infeld speaking during a mock question period at CJPAC's Generation: Student Leaders Program. (photo from CJPAC)
When it comes to making a mark in Canadian politics, waiting for elections is a thing of the past. The Canadian Jewish Political Affairs Committee (CJPAC) is a bridge to meaningful political engagement, and the year 5784 is a perfect opportunity to jump in.
For Vancouverite Avishai Infeld, CJPAC kindled his political curiosity. "CJPAC ignited the spark of political interest that I long had," he said.
Drawing from his participation in several CJPAC programs, Infeld added, "It showed me just how accessible yet valuable political engagement can be."
CJPAC is a national, independent, multi-partisan organization with offices in British Columbia, Ontario and Quebec. It is committed to involving Jewish and pro-Israel Canadians in the democratic process.
"When you think 'CJPAC,' think volunteering and campaigning," said Kara Mintzberg, CJPAC's director for the B.C. region. "During elections, we're like a political concierge. We help connect community members to candidates and campaigns of their choice."
Yet, CJPAC's role extends beyond elections, building relationships between politicians and the community year-round. The nonprofit also molds Canada's future political leaders through innovative, hands-on programs.
Sarah Warsh, a product of CJPAC's national Generation: Student Leaders Program, speaks highly of its transformative impact. "Growing up in Nanaimo, B.C., connecting with CJPAC was an invaluable experience," she said.
Tailored for Jewish students in grades 10 through 12, the program features regular virtual and in-person sessions, cultivating political knowledge and skills. "Generation was the turnkey that immersed me into politics, multi-partisanship and the Jewish community," said Warsh, who went on to participate in CJPAC's flagship Fellowship Program for post-secondary students, where, each year, CJPAC equips 50 of Canada's top, pro-Israel, politically engaged students with the tools to win campaigns.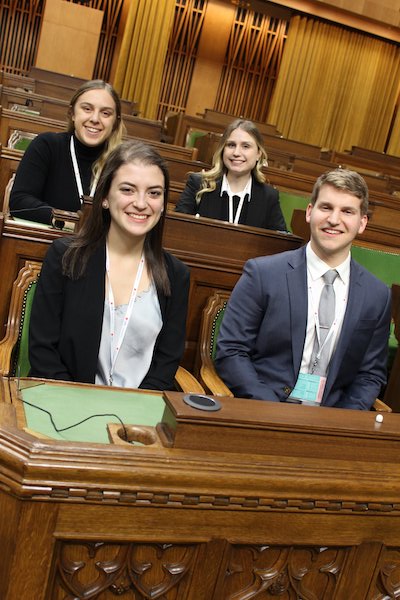 Since 2006, more than 500 of Canada's brightest have graduated from the Fellowship Program, with more than one-third assuming roles in political offices across the country, including Warsh. She credited CJPAC for jumpstarting her career in a national political party, a federal political leader's office and a premier's office. "The decision to get involved with CJPAC was one of the best I've made," she said.
Both programs send participants to Ottawa for multiple days to meet with politicians, strategists and staffers.
"Thanks to everything I gained from CJPAC," said Infeld, "I have volunteered on campaigns in Canada, served on an MP's youth council, and now work as the Hillel Montreal advocacy coordinator."
For those acquainted with politically inclined students in high school or post-secondary education, applications for CJPAC's Fellowship Program close Sept. 12, while the Generation program applications are due by Oct. 6.
But, even if you're not a student or don't know one, there's still a chance to engage – attend CJPAC's inaugural B.C. ACTION Party. Save the date for May 16, 2024, and get ready to celebrate political engagement with Jewish and political communities.
To learn more, visit cjpac.ca. For specific inquires, reach out to Mintzberg by email ([email protected]) or phone (604-343-4126).
– Courtesy CJPAC