This past summer at Camp Hatikvah, the 13-year-old campers were asked to re-create a camp photo from the 1960s. (photo from Camp Hatikvah)
If any Camp Hatikvah alumni stepped onto the property for the first time since the early 2000s, they would be in awe. With the exception of the chadar (dining hall), every single building on site has been rebuilt over the years thanks to the generosity of the community. The facilities are safe, modern and thoughtfully planned to ensure the best program possible can be delivered to the close to 700 participants Hatikvah hosts each summer. 
However, even more impressive than what has changed at Camp Hatikvah over the years, is what hasn't.
"Our site has certainly improved a lot over time and the new facilities have led to exciting program 
opportunities for our campers but, with great pride, our program remains deeply steeped in the same traditions that existed when the camp was founded some 75 years ago," shared executive director Liza Rozen-Delman.
Rozen-Delman went on to say that, while  alumni from any previous era who visited the camp may not recognize the buildings, they would feel immediately at home.
"Everything would be familiar to them. The mifkad (flag raising/lowering) ceremony is performed verbatim to how it was done in the '40s. We still start every meal by singing 'Anachnu od lo achalnu shum davar …' followed by the blessings. The Kochot campers still try to sneak past shmira (night watch) after bedtime and final banquet is still the most special night of the summer," she said with a smile.
It's hard not to smile with her, as you can see the passion for Jewish camping all over her face as she speaks about the generations of children who have been impacted by Hatikvah. 
"It's a place like no other," Rozen-Delman said. "It is where thousands of kids had the chance to experience a fully Jewish environment for the first time in their lives. It's beautiful and I am grateful to be able to be a part of it."
Joanna Wasel, board president, couldn't agree more. She said Jewish camp is one of the most impactful ways to help children form a strong and proud Jewish identity. It works, she said, "specifically because the learning at camp is informal. It doesn't come from lectures but from immersive Jewish experiences that are shared amongst a community of peers. It's powerful and effective. Quite frankly, it's brilliant."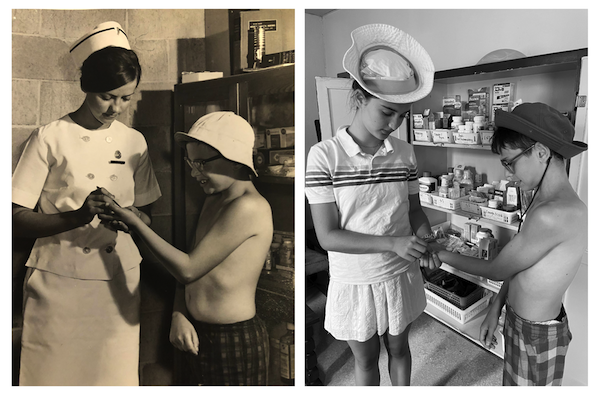 During these complicated times, when youth are experiencing mental health issues at an unprecedented rate, Hatikvah's focus on tradition is also helping campers go back to a simpler time. "We are a technology-free zone," noted Rozen-Delman, who went on to say that camp offers children a much-needed respite from social media. "Being unplugged is freeing," she said. "It's one of the greatest gifts we can give the children of today."
Rozen-Delman spoke about the joy she feels when kids engage in the type of back-to-basics fun that the camp environment can provide. She recalled a program the 13-year-old campers did this past summer, where they were given an historical camp photo from the early 1960s and asked to re-create it.
"It's not always easy to get a 13-year-old excited about a program, so I was unsure what the reaction would be," she said. "But these kids reveled in the opportunity to do something creative and different. They went to their cabins, got dressed up and had the most amazing time giggling with each other as they performed their task. It was so pure. And I loved the photos they took, as it connected them with the past and reminded them that they are a part of a community of people who have been touched by this special camp."
– Courtesy Camp Hatikvah