Interfaith Youth BC participants gather at Or Shalom Synagogue on Dec. 8. (photo from Pamela Evans)
Being stewards of the earth, performing acts of kindness: it's not just Judaism that promotes these principles, and it's for this reason that three faith groups in Metro Vancouver have brought youth together to explore shared values while participating in community service projects.
The Ismaili Centre of British Columbia, Or Shalom Synagogue and the United Church of Canada began working together in 2019 under the moniker Interfaith Youth BC to deliver programs for youth ages 11 and up. Participants learn about tenets of Islam, Judaism and Christianity while giving back to the community at large.
"You have kids, especially the ones in high school, they're getting together and some of them have preconceived ideas of the [different faiths]," said Harriet Frost of Or Shalom Synagogue. "Sure, they get along in what they have in common in terms of their interests, ages and what they're all going through as teenagers, but we're addressing the elephant in the room. We're addressing their faith traditions…. It's an opening to see that they have a lot more in common than they might have realized before."
Pamela Evans, a regional minister for youth and young adults for the United Church, said the guiding principle behind the collaboration is relationship building. "We make assumptions about others that aren't based on reality," she said. "If we're able to build relationships, it's less comfortable for us to do that and it affects the way we think about things. I love that sense that [the program] is an open place for curiosity and it's grounded in this respect for one another."
In May 2019, youth were given texts from the Torah, Qur'an and Bible that focused on stewardship and caring for the land, and had to determine which holy book each quote was from.
"The fascinating thing is no one could get it quite right because it was quite similar," said Frost. "It's a powerful exercise for anyone to see that."
Later, the youth cleaned up English Bay beach in partnership with the Great Canadian Shoreline Cleanup.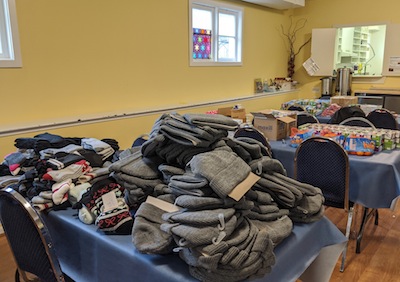 On Dec. 8, 45 young people gathered in the social hall at Or Shalom to once again dive into pieces of scripture, this time focused on acts of kindness. They assembled 150 care packages that included warm clothing, toiletries, sandwiches and snacks to distribute in the Downtown Eastside with support from the Lookout Housing and Health Society. The teens composed handwritten notes to include in each package. Several businesses donated items for the packages.
Through the nexus of study and action, "we are able to … provide a greater understanding of how faith and service are connected," said Alina Daya, a secondary teacher at Ismaili Tariqah and Religious Education Board. "Through these events, youth are able to actually live out the guidance of their respective faiths and appreciate the similarities in values, guidance and practice within all of our traditions."
Gabriel, one of the youth who attended the Dec. 8 event, was moved by the opportunity to make a difference. "I thought it was great how all the teens from different religious backgrounds could come together to help provide some small comforts to those less fortunate in Oppenheimer Park," he said. "I was surprised at how similar our values were, especially of human kindness and compassion."
Frost believes the exposure to different faiths and cultures can, in the long run, have the potential to break down political barriers. "It's a bridge to sitting down and talking about it…. It's a pathway towards peace and reconciliation in a broader sense," she said. "If you develop a personal relationship, you realize the commonalities between everything."
While the program is for youth, Evans sees it has ripple effects for adults as well. "I learn from my colleagues about things I didn't know about and it feels like a blessing and a privilege to be a part of those conversations. I think sometimes adults are afraid to be in those conversations, or their privilege clouds their understanding. Youth don't do that, so what would it look like if we shaped this generation of youth to think differently?"
The organizers plan to hold another event this year, a "festival of faiths," at which they hope to invite other faith communities to participate.
Shelley Stein-Wotten is a freelance journalist and comedy writer. She has won awards for her creative non-fiction and screenwriting and enjoys writing about the arts and environmental issues. She is based on Vancouver Island.