Adi Shapira brought home a silver medal for British Columbia in the 2019 Canada Winter Games. (photo by Peter Fuzessery Moonlight Canada)
From Feb. 15 to March 3, Red Deer and central Alberta hosted the 2019 Canada Winter Games. Among those taking home a medal was Adi Shapira.
Winning the silver in the archery recurve, individual female event, Shapira said in a Team BC article, "It is an amazing reward for all the training I have been doing and it is just an amazing accomplishment."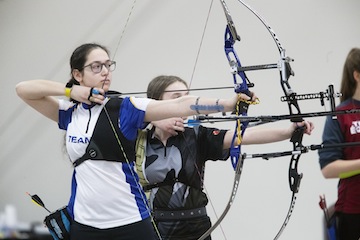 According to the Canada Winter Games website, Shapira, "who had taken up archery following a school retreat in grades 8 and 9, fought hard in the gold medal match, but Marie-Ève Gélinas, came back to win the gold for Quebec."
Shapira, 16, is part of the SPARTS program at Magee Secondary School, which is open to students competing in high-performance athletics at the provincial, national or international level, as well as students in the arts who are performing at a high level of excellence. Last November, she won the qualifying tournaments against other female archers ages 15 to 20 to represent the province of British Columbia in the February national games.
* * *
Stylin' Or Shalom on Feb. 20 was not just a beautiful evening: the event raised $1,600 for Battered Women's Support Services so that they can continue their important work.
Models for the fashion-show fundraiser were Ross Andelman, Avi Dolgin, Val Dolgin, Carol Ann Fried, Michal Fox, Dalia Margalit-Faircloth, Helen Mintz, Ana Peralta, Avril Orloff and Leora Zalik. About 50 people attended and, between cash donations and purchases from the My Sister's Closet eco-thrift store, this year's show raised about $600 more than did the inaugural Stylin' Or Shalom event held in 2017. In addition, many people brought clothing donations, which will be sold at the store, generating further funds for the organization.
* * *
The Association for Canadian Jewish Studies has announced that Dr. Norma Baumel Joseph is the 2019 recipient of the Louis Rosenberg Canadian Jewish Studies Distinguished Service Award. Joseph brings together the highest standards of scholarship, creative and effective dissemination of research, and activism in a manner without rival in the field of Canadian Jewish studies, as well as being a respected voice in Jewish feminist studies more broadly.
Joseph's scholarship is remarkable for her mastery of both traditional rabbinic sources and anthropological methods. Her work on the responsa of Rabbi Moses Feinstein, including an award-winning article published in American Jewish History 83,2 (1995), is based on a close reading of some of the most technical and difficult halachic texts. Her mastery of these sources is also apparent in articles on women and prayer, the mechitzah, and the bat mitzvah. She has used her knowledge of halachah in her academic work on Jewish divorce in Canada, including an article in Studies in Religion (2011) and is a collaborator in a recently awarded grant project, Troubling Orthopraxies: A Study of Jewish Divorce in Canada.
As a trained anthropologist and as a feminist, she realizes that food is also a text and she has made important contributions to both the history of Iraqi Jews in Canada and to our understanding of the history of food in the Jewish community. Her Social Sciences and Humanities Research Council of Canada (SSHRC)-funded research has resulted in recent essays such as "From Baghdad to Montreal: Food, Gender and Identity." Her ongoing reflections on Jewish women in Canada, first appearing as early as 1981 in the volume Canadian Jewish Mosaic, are foundational texts in the study of Jewish women in Canada.
Joseph has chosen to disseminate her research and wisdom in a variety of ways. Her undergraduate and graduate students at Concordia praise her innovative student-centred teaching. Recently, she instituted a for-credit internship at the Alex Dworkin Canadian Jewish archives, which has been beneficial to both the student and the archive. She is in demand as a lecturer in both professional and lay settings. Her work in film has reached a wide audience. In Half the Kingdom, a 1989 NFB documentary on Jewish women and Judaism, she explores with sensitivity the challenges – and rewards – of being both a feminist and an Orthodox Jew. She served as consultant to the film, and was a co-author of the accompanying guidebook.
Since 2002, Joseph has also committed herself to public education by taking on the task of writing a regular column on Jewish life for the Canadian Jewish News. Her views are based on a deep understanding of Judaism and contemporary Jewish life and are worthy of anthologizing.
Joseph is a founding member of the Canadian Coalition of Jewish Women for the Get and worked for the creation of a Canadian law to aid and protect agunot. As part of her Women for the Get work, she participated in the educational film Untying the Bonds: Jewish Divorce, produced by the Coalition of Jewish Women for the Get in 1997. She has also worked on the issue of agunot, as well as advocated for the creation of a prayer space for women at the Western Wall among international Jewish organizations.
Joseph helped in the founding of the Institute for Canadian Jewish Studies at Concordia, and convened the institute from 1994 to 1997, when a chair was hired. She was also a founder and co-director of Concordia University's Azrieli Institute for Israel Studies. In 1998, she was appointed chair of the Canadian Jewish Congress National Archives Committee, and has remained in the position since then, under the new designation of chair of the advisory committee for the Alex Dworkin Canadian Jewish Archives (CJA). In this capacity, Joseph has been a forceful and effective advocate for protecting and promoting the preservation of Canadian Jewish archival material and for appreciating the professionalism of the staff. She has lent her time and experience to multiple meetings and interventions at various crucial junctures in the recent history of the CJA, during which she has balanced and countered arguments that would have led to the dissolution or extreme diminishing of the archives as we know it. Her work on behalf of the archives has drawn her into diverse committees and consultations. Notably, she contributed her expertise to the chairing of a sub-committee convened by Parks Canada when their Commemorative Places section was in search of Canadian Jewish women-related content. Her suggestions made during the 2005 meetings have resulted in several site designations over the course of the past 12 years.
Joseph has had a unique role in Canadian Jewish studies and Canadian Jewish life, and is richly deserving of the Louis Rosenberg Award.
* * *
In February, Janie Respitz of Montreal won the prize for best interpretation of an existing Yiddish song at the final Der Idisher Idol contest in Mexico City. She performed "Kotsk," a song about a small town in Poland, which was the seat of the Kotsker rebbe, the founder of a Chassidic dynasty in the 18th century. The win included $500 US.
Respitz holds a master's degree in Yiddish language and literature and, for the past 25 years, has performed concerts around the world. She has lectured and taught the subject, including at Queen's University and McGill University, and is on the faculty of KlezKanada, the annual retreat in the Laurentians.
Respitz was among nine finalists, both local and foreign, who were invited to perform at Mexico City's 600-seat Teatro del Parque Interlomas before a panel of judges and a live audience.
The competition is in its fourth edition, but Respitz only heard about it last year. She submitted a video of her performing "Kotsk" in September and received word in December that she was in the running.
A Yiddish song contest in Mexico City may seem odd, but the city has a large Jewish community, many with roots in eastern Europe, much like Montreal. The winner for best original song was Louisa Lyne of Malmo, Sweden, who's also a well-established performer of Yiddish works.
– Excerpted from CJN; for the full article, visit cjnews.com
* * *
On March 14, at the New School in New York, the National Book Critics Circle (NBCC) announced the recipients of its book awards for publishing year 2018. The winners include Nora Krug, who was given the prize in autobiography for Belonging: A German Reckons With History and Home (Scribner). "Krug creates a stunningly effective, often moving portrait of Krug's memories and her exploration of the people who came before her," said NBCC president Kate Tuttle.
Krug's drawings and visual narratives have appeared in the New York Times, Guardian and Le Monde diplomatique. Her short-form graphic biography Kamikaze, about a surviving Japanese Second World War pilot, was included in the 2012 editions of Best American Comics and Best American Nonrequired Reading. She is the recipient of fellowships from the Maurice Sendak Foundation, Fulbright, the John Simon Guggenheim Memorial Foundation, the Pollock-Krasner Foundation, and of medals from the Society of Illustrators and the New York Art Directors Club. She is an associate professor at Parsons School of Design in New York and lives in Brooklyn with her family.
The National Book Critics Circle was founded in 1974 at New York's legendary Algonquin Hotel by a group of the most influential critics of the day. It currently comprises 750 working critics and book-review editors throughout the United States. For more information about the awards and NBCC, visit bookcritics.org.