Congregation Beth Israel, children in costume, 1965. (photo from JMABC L.09778)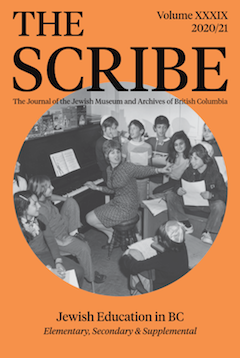 The launch of the Jewish Museum and Archives of British Columbia's latest edition of The Scribe will be held virtually on Aug. 26, at 7 p.m.  This year's book features stories, photos and some almost-forgotten details about Jewish education in British Columbia. Join the Zoom to hear from local leaders in Jewish education both past and present who will give context to this significant subject.
Anne Andrew, past principal of Temple Sholom Hebrew School, and Emily Greenberg, current head of school at Vancouver Talmud Torah, will lead the discussion. Andrew will focus on her long involvement with the Jewish education scene in Vancouver and Greenberg will share her perspectives on where Jewish education is headed. Considering the impact teachers, educational institutions and curricula have on the continuity and cohesion of a community, both this panel discussion and this issue of The Scribe speak to important issues.
The 2020/21 Scribe features information from the community archives about Jewish education around the province, spanning some 100 years. In addition, there are oral history excerpts from dozens of community members about various programs that have been offered over those years. Even in the very early days of the Jewish community in British Columbia, no matter where Jews settled in the province, there were all kinds of arrangements for the transmission of Jewish knowledge, culture and identity.
Zoom attendees will hear about iconic educators who instilled a love of Judaism and community spirit. Those who attended Jewish school here will take a trip down memory lane, being reintroduced to teachers from their past.
For more information or to register for the free online book launch event or to get your own copy of The Scribe, visit jewishmuseum.ca/publications/the-scribe or call the museum office at 604-257-5199.
– Courtesy Jewish Museum and Archives of British Columbia