Actor Tovah Feldshuh talks about her new book, Lilyville, on April 15, in an event held in partnership with the JCC Jewish Book Festival. (PR photo)
The long-awaited Cherie Smith JCC Jewish Book Festival closing night event – Tovah Feldshuh talking about her new book, Lilyville: Mother, Daughter, and Other Roles I've Played – finally takes place on April 15.
The event was postponed to piggyback on the Book Festival of the Marcus JCC of Atlanta and JCC National Literary Consortium In Your Living Room Live series. It will feature Feldshuh in conversation with CNN correspondent Holly Firfer, and promises to be an entertaining evening with many laughs and lots of good advice, if Lilyville is any indication.
Feldshuh's first book is a unique memoir in that it is framed in terms of her relationship with her mother – the longest and most important of Feldshuh's roles having been the one she didn't audition for, being the daughter of Lillian (Lily) Kaplan Feldshuh. The memoir is structured as a theatre piece, starting with the Program Note and ending with Exit Music, with three acts, many scenes and more in between.
Strong women characters, from the fictional Yentl (from the mind of Sholem Aleichem) to the very real U.S. Supreme Court Justice Ruth Bader Ginsburg, dominate Feldshuh's career. She has performed in theatre, film and television, winning numerous awards and nominations for the excellence of her work. She also has been recognized for her charity work. And, it seems, through it all, family has been a priority.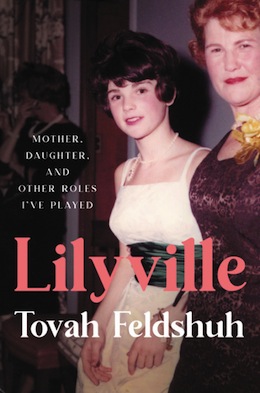 In Lilyville, Feldshuh writes about her upbringing, how and why she became an actor, some of the people and incidents that have influenced her, her marriage (to a lawyer, like her beloved father was, and which she considered becoming at one point) and being a mother herself. Given her successes, readers may be surprised at the professional challenges she has overcome along the way, including being told outright by a director that she'd never make a good actress, she should become an accountant. But the biggest obstacle for her was coming to understand that her mother, who seemed cold and shy throughout Feldshuh's (and her older brother's) upbringing, loved them. While hypercritical and emotionally closed throughout their growing-up years, their mother was always there for them. It was only after their father died that their mother – who had been raised to be what was considered a good woman back then, ie. a woman who dedicated herself to her husband and kids, her own aspirations be damned – blossomed.
In an interview with the Detroit Jewish Book Fair, Feldshuh said about writing Lilyville that she "felt compelled to tell her [mother's] story and mine and how the two of us had a lifelong journey toward each other. In essence, I dig down into the primal relationship between parent and child, with the specifics between mother and daughter."
Luckily for the women, they had the time to repair and build their relationship, as Feldshuh's mother lived to 103. Through that century-plus, Lily Kaplan Feldshuh, who was born before women were given the vote in the United States, witnessed countless social, cultural and technological changes, and Lilyville is partly a history of women's rights in that country.
General admission to Feldshuh's book talk is free. Admittance to the pre-event meet-and-greet portion of the event comes when, in addition to registering, you purchase the book; the $36US includes shipping and you will receive a copy with a signed bookplate. Visit jccgv.com/jewish-book-festival.