Seu Jorge, left, and Noah Schnapp in a still from Abe. (image from Reel 2 Real)
The upcoming Reel 2 Real International Film Festival for Youth is not just for youth, though younger viewers are its target audience. There are entertaining and engaging films for all ages among the 18 features and 45 shorts that will be available for streaming online April 14-23.
The focus of this year's festival is "films that explore the impact of social media, racism and discrimination, with a focus on Germany." While many of the offerings will interest Jewish community members, at least four cover topics of specific relevance.
The American feature Abe was part of the recent Vancouver Jewish Film Festival. It is carried by the impressive acting of Noah Schnapp as 12-year-old Abe and that of Seu Jorge as Chico, the Brazilian-American chef that Abe idolizes. The food, glorious food, is an added bonus.
While the writing of Abe's family dynamics is clunky and without nuance – his father's side is Muslim, his mother's Jewish, and never the twain shall meet on religion or the Palestinian-Israeli conflict – Abe himself is charming. He puts his heart into trying to bring everyone together, in part, by creating a fancy dinner that comprises several of his grandmothers' traditional recipes. The grumpy but caring Chico helps, having reluctantly taken Abe in, first as a dishwasher then as one of his prep cooks.
Food doesn't turn out to be the way to his family members' hearts but the disastrous fusion meal, which ends in a big fight and Abe running away, does push his family to at least reconsider their priorities.
***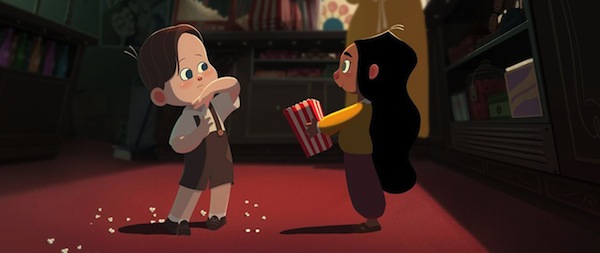 In another charming film, the young also show the adults the possible way to some form of peace. In the Israeli animated short Cinema Rex, the Jewish boy Mouize and the Arab girl Ranin become friends over popcorn and a shared love of cinema.
Set in Jerusalem in 1938, a new movie theatre opens, "In the heart of the city, on the seam line between the Jewish side and the Arab side, and adjacent to the British police." It is "co-owned by partners from both sides of [the] divided city" and Mouize's dad is the projectionist. When Mouize catches a glimpse of someone peeking into the projection room, he follows the trail of popcorn to Ranin, who shares it with him in exchange for a seat beside him in the best seats in the house. The two imagine themselves as the heroes in Robin Hood, as actors in a Laurel and Hardy film, dancers in a Fred Astaire and Ginger Rogers movie, and more.
Ranin's mother is non-plused to find her daughter hanging out with Mouize, and Mouize's dad tries to tell him, "Someday, you'll understand why you and she can't be friends." But the kids have none of it.
Beautifully drawn and a story simply told – in Arabic, English and Hebrew with English subtitles – this short is highly recommended viewing.
***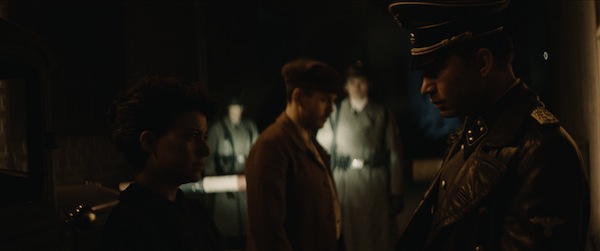 A more serious and nerve-wracking short is the tension-filled American film Alina. For 25 minutes, breathing will be more difficult, as the fate of a three-month-old baby lies in the hands of Alina (played by Alia Shawkat). The non-Jewish woman is part of a group of women (and men, as her brother helps) who are smuggling Jewish children out of the Warsaw Ghetto during the Holocaust.
Inspired by factual events, but fictional, the film opens as Nazi soldiers kick their way into a building and make their way up each floor, searching every room for children, with orders to seize them. Alina must escape from an upper-level apartment with the baby through the bathroom window, using a makeshift rope of tied sheets. She must then meet her brother, make it through a checkpoint and even face Nazi soldiers in her own home, as a Nazi captain accompanies her there from the checkpoint, so convinced is he that she is hiding something from him.
Alina is a multiple-award-winning film for many reasons. And it precedes the fascinating feature-length documentary The Lesson, which sees its Canadian première at Reel 2 Real.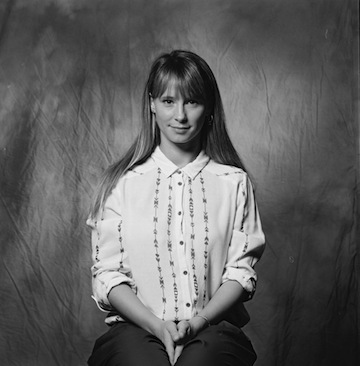 Through the lens of German filmmaker Elena Horn, who herself grew up in Fröndenberg and went to Fröndenberg Comprehensive School, The Lesson is a personal look at how students in Germany are taught about the Holocaust. Over a five-year period, Horn followed a handful of students through their classes on the topic, their projects and field trips. She juxtaposes this perspective with archival footage from the 1930s, showing children doing paramilitary exercises, learning about what makes a good German and other propaganda. She also includes current-day nationalism and how some of the students deal with the differences between what they're being taught in school about the Holocaust and what their families have told them about that period in time.
Horn frames the content in the context of overarching questions such as, could the Holocaust have been initiated by other countries just as easily as in Germany, or is there something inherent about Germany that allowed it to start there? She wonders if history is repeating itself, and she continues to struggle with the question, "What would I have done?" She highlights some of the efforts of those who refused to be bystanders to genocide, and she hopes to inspire some viewers to be courageous if, God forbid, they ever face such a choice.
***
For the full festival schedule and tickets, as well as information on Reel 2 Real's several youth programs and workshops, visit r2rfestival.org.