The falafel plate at Ofra's Kitchen. (photo from Ofra's)
Ask Ofra Sixto what makes her Israeli-Moroccan restaurant successful and she'll unabashedly tell you: it's keeping a positive attitude. But it takes a whole lot of moxie, too.
After all, it isn't easy to launch a new restaurant in the midst of an unexpected economic shutdown and to create enough name recognition that patrons are willing to line up at your door for takeout. But that all speaks to the allure of Ofra's Kitchen, which opened this past December, just as the holiday season was coming into full swing. Sixto, who owned a Moroccan restaurant on Hastings Street with her brother years ago, said it's been her dream to open another restaurant – this time centring on vegetarian and vegan dishes.
Her previous restaurant was called Jacqueline Moroccan Food and was named after her late sister. When her brother was forced to return to Israel, the two siblings realized they would have no choice but to close the restaurant.
Jacqueline's "was very successful. Very," Sixto acknowledged.
It was the venue's eclectic Israeli-Moroccan cuisine that later gave her the idea for a vegetarian follow-up focusing on classic Israeli dishes and flavourful specialties from around the Middle East.
"There is a great need, I think, for good vegetarian cuisine," she said.
As a "flexible vegan," Sixto said she often has trouble finding truly appealing food when she eats out. "When I go to a restaurant and I ask, 'Do you have anything vegetarian?' they push a salad. I'm not a rabbit, I want something substantial, right? So, when you come to my restaurant, you actually eat food. You eat really, really good and healthy and fresh and made-on-the-spot food that makes you feel good."
The choices run the gamut from iconic falafel and pita, shakshuka and Israeli salad to lesser-known Iraqi kube and delicately spiced Moroccan beet salad. Diners can also enjoy an array of traditionally made desserts and Turkish coffee.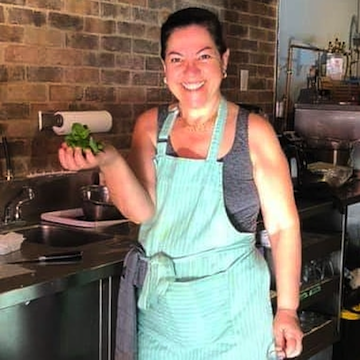 Asked about her favourite dish, Sixto admitted she is partial to eggplant, which plays a starring role in several of her popular dishes. Her sabih – a Tel Aviv specialty that consists of fried eggplant, hard-boiled egg, tahina and an Israeli chutney – can be ordered as a pita sandwich or as a platter. She also serves homemade babaganoush and eggplant salad, early pioneer dishes that are still popular in Israel today.
"And, of course, my falafel is the best in town," she said. "Not only by what I say but everybody else who eats it. It's fresh, it's crunchy outside, it's moist and soft inside. It's beautiful."
But cooking isn't the only exceptional quality that she brings to Denman Street. A big heart and an innate sense of civic responsibility are helping mobilize a small movement to ensure that those who can't afford to eat at Denman's restaurants also have food to eat.
Earlier this year, Sixto noticed that the number of individuals on Denman who were homeless was growing. She said the economic shutdown, which closed many establishments and sections of streets in downtown Vancouver, exacerbated the homeless problem, forcing many people onto Denman from Robson and Granville. Rather than ignoring the issue, Sixto decided to do something to help.
"When I would walk [to work] I would see so many homeless people. I decided, you know, I need to do something about it. I have the means and I could help – whatever my capacity is, right? So, I started feeding the homeless by giving away soup and falafels."
And her reputation began to grow. "I mean, they are hungry," said Sixto. "They get drinks, they get food, whatever they need."
In time, she decided she could do even more. "I decided to make it a social thing and make people be a part of the solution."
She began letting customers know that each $5 they donated would go toward feeding an individual who was homeless. Sixto said the idea is catching on. "It's amazingly successful," she said.
So far, Sixto estimates she has given out in excess of 1,300 meals. She admitted that the donations she receives don't fully cover the out-of-pocket expenses. "But it doesn't matter to me," she said. "It's not about that $5 that people give. It's about the acknowledgment of the situation.
"You know, I speak with [the people living on the street]," Sixto said. "I stop and say, how are you today? Did you eat anything? How are you feeling? They are people. They were babies. Somebody loved them or not when they were babies, you know? Something happened to these people along their lives [before they got to where] they are. Nobody chooses to live on the street because it's fun, right?"
In June, the province of British Columbia issued a revised health order to guide restaurants in how they can operate safely during the coronavirus pandemic. Sixto has taken those rules to heart. Her seating is about half-capacity, with tables situated two metres apart. And she has some gentle ground rules: patrons must agree to sanitize (either with hand sanitizer or by handwashing) when entering the restaurant and wear a mask when walking to and from the table.
Sixto also supports the province's request to record the contact information of at least one customer per table. According to the province's health office, the information is retained only in case COVID-19 contact tracing is necessary. Sixto said most people appreciate the effort that restaurant owners are making to keep their venues safe and comfortable.
When it came to navigating the recent shutdown, Sixto said her landlord played a big role. "My landlord is amazing," she said. The temporary rent reduction allowed her to keep operating – "I never closed, not even for one day."
Ofra's Kitchen, located at 1088 Denman St., in Vancouver (604-688-2444, ofraskitchen.com), is open Israeli hours, starting at 11:30 a.m. and closing at "8ish" in the evening.
"As long as there are people, I'm feeding them. If you come by and I am there, I will open the door and seat you," Sixto said. "Just like Israeli hours."
Jan Lee's articles and blog posts have been published in B'nai B'rith Magazine, Voices of Conservative and Masorti Judaism, Times of Israel, as well as a number of business, environmental and travel publications. Her blog can be found at multiculturaljew.polestarpassages.com.