The Hungry Jew, one of the signature sandwiches at Buzzy's Luncheonette. (photo by Adam Bogoch)
My friend, Adam Bogoch, pitched it as the "Smoked Meat Story." Soon after that email, he would write his own review, for narcity.com, titled, "This smoked meat sandwich on Salt Spring Island in B.C. will actually change your life." His friend and colleague, Howard Busgang, had opened a deli on the island, and not only did I need to meet Busgang, but I needed to get on a ferry and taste The Hungry Jew, one of the signature sandwiches at Buzzy's Luncheonette.
Between the Independent's annual summer publishing hiatus and the High Holidays, it was November before Adam and I headed to Salt Spring. The travel ran like clockwork and we were pulling up to 122-149 Fulford Ganges Rd. right in time for lunch. We shared a Hungry Jew – a Montreal smoked meat sandwich with homemade horseradish sauce, coleslaw and, I kid you not, two latkes – and the Rabinowitz, Buzzy's take on a Reuben. They were both incredibly good, and the only reason I've waited this long to share the news is because I wanted to wait until better weather, when people would be more likely to take a day or weekend getaway.
Even in winter, Buzzy's was busy. Having arrived at prime feeding time, it was hard to get Busgang to sit down and, as we talked, he was constantly distracted – in a good way – by customers.
"Tell me, I'll get you another sandwich before you go," he said as he finally was able to join me at a table outside for the interview.
Born and raised in Montreal, stand-up comedy took Busgang first to Toronto and then to Los Angeles, where he met his wife, Melanie Weaver, and where he lived for 28 years, before returning to Canada.
"She's Jewish-adjacent," joked Busgang. "She was working for a rabbi when I met her."
The two met on a blind date, he said, brought together by a Jewish comic who knew both of them.
When he started in comedy in the early 1980s, Busgang said, "There were not a lot of comics around. It wasn't like today where every second person does stand-up, so it wasn't that OK a profession," as far as his parents were concerned. "It was kind of an oddity, like maybe he'll grow out of this kind of thing."
Busgang attended Jewish high school, then went to McGill University before heading to Toronto.
"You know where I started?" he said. "United Synagogue Youth, USY, that's where I started. I was emceeing all their events and that led me to go professional."
He recalled the first time he performed at amateur night in Toronto. "They packed the place with all these people from USY who knew me. It was packed, and it was great."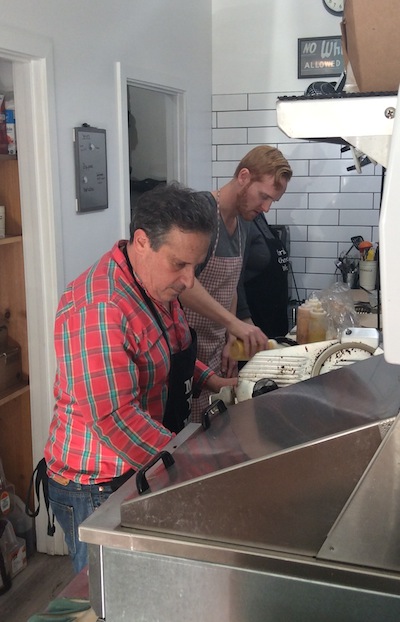 So great, he said, that he was put into regular comedy shows right away, "which wasn't so easy, by the way, because it wasn't my friends anymore in the audience."
When he was a stand-up comedian, Busgang did a lot of Jewish material. "I was a very Jewish comic," he said.
In Los Angeles, he moved from stand-up to comedy writing. "I just was a little tired of the road," he said, and performing caused him some anxiety.
"Listen, I had a respectable career, I did well, but I would constantly punish myself by asking, why am I doing this? But I think I do that with everything. I do that with this place [Buzzy's], I do that as a writer."
As Busgang was in the middle of saying he might just be a miserable guy, he was called back into the deli to help make a sandwich.
Weaver took his place. Her recollection was that a woman from the synagogue set up that first date.
"I was the only non-Jew in the whole place," she said. However, Weaver was raised Jewishly, with her family observing some of the holidays, hosting seders, for example, and she taught at a Jewish camp. Born and raised in New York, she moved to Los Angeles some 30 years ago. She and Busgang have been married for about half that time.
"Howard had this property on Salt Spring our entire marriage," she said. "And so, our entire marriage, I kept hearing 'Salt Spring,' 'Salt Spring,' and all I kept seeing was this property tax bill every month. I was, like, how good could it be? Then the elections and everything started to happen in the U.S. and it just got bad. We took a trip up here in September [2016], I fell in love and then we came in July [2017]."
A blended family, the couple has three daughters: Alexandra, 30, in Toronto; Emma, 20, in Seattle; and Hannah, 10, who was dividing her attention between helping in the deli and playing with a local dog while her mother was being interviewed.
Neither Busgang nor Weaver had any restaurant experience before opening Buzzy's. "It's funny," she said. "The night before we were open, we had to learn the cash and I was almost in tears."
The ignorance was a kind of blessing, she said. "I don't think we knew what could go wrong, so ignorance was bliss, in this case."
Their first day, there were lineups out the door.
"We got thrown into it, which was great," she said. "I think if we had opened in the winter, when it was slow, it would have been a different experience."
Busgang's love of cooking seemed to have come out of nowhere, said Weaver. "And then he started to smoke his own meat. So, we had that in our back pocket."
But the couple still wasn't planning on opening a restaurant, until the location became available. "It was basherte," she said.
In addition to Busgang's meat-smoking skills, Weaver's desire for a good tuna sandwich was a motivation. "So, again, why not open a deli? Not the brightest of ideas, but it worked out."
And it's hard work. There is only one staff member. Busgang smokes meat "around the clock," said Weaver. "It's like having a newborn. It's a lot of work but the rewards – it's a community, we've become part of a community and it means so much. My daughter gets to work the cash register. It's crazy. We still can't believe we have keys to this place."
She said, "If we did anything right, it's that we didn't focus on the tourists, we focused on our people, and so we have a lot of loyalty here. I think people also come here [because] there's a lot of cursing, a lot of bad behaviour, you can come here and just laugh, and that's what we want. Come here, have a laugh, I'll make you eat, you have to finish your plate or you go to your room. That was our business plan – make the community happy, hopefully make a few bucks."
Since they opened, the menu has seen some additions; in particular, matzah ball soup and tomato soup. "We don't want to get too big. We just want to stay like someone's kitchen," she said.
And the island has been very welcoming. "Someone knew that we want to make our own pickles, so they're going to grow us cucumbers," said Weaver as one example. "The love here," she said, "it's insane."
Hannah, who had checked in a couple of times with her mother, joined the interview. In addition to sometimes working the cash, she delivers food to the Saturday market and to the bar a few doors down from the deli.
"That's another thing," said Weaver, "it's a family joint."
School runs four days a week and, while Hannah enjoys helping out, she was still getting used to living on the island. When she's not working or at school, she's probably at soccer or horseback riding; she had just received a paddleboard for her birthday. Though she has a couple of sandwiches named after her, her favourite is the grilled cheese.
"A lot of what we're doing here has to do with taking the power back in our lives," said Busgang, when he returned to the table. "It has to do with being in showbiz all those years and feeling like you had no control over anything and feeling like you're handing over all the power to other people to validate you…. I was tired of it."
Buzzy's opened on June 22 last year. "Whereas, in show business, nobody wants to help you, in this business, I have so many people who want to help me."
One of those people was William Kaminski, owner of Phat Deli in Vancouver, who Busgang described as a mentor.
"We're not perfect but we're figuring it out," said Busgang.
The smoked meat he has got down to a science.
"We're open till four o'clock and then I have to get my brisket ready for the next day, so I have to bathe the brisket," he said. "We cure it for eight days – dry cure – and then I have to take the salt out, so we bathe it. I'm bathing a brisket right now and sometimes I sing to it. It's very sweet. After I bathe it, then I put some rub on it and then I'll take it home and we'll smoke it for seven-and-a-half hours. And then it goes in the steamer for two, three hours."
Finding rye bread was one of the early challenges.
"I knew I was in a special place," he said, "because people would come by with bread and say, 'Try this bread.' They'd constantly come in and say, 'What are you going to do about the bread?' It became like a cause célèbre, the bread. It took me three months, and I got someone here on the island to make me an organic rye bread."
Barb Slater makes the bread; Shigusa Saito, the knishes. Saito is now also "making a dark chocolate babka to die for," wrote Busgang in a follow-up email. "If you're not already dead, she's also making us New York cheesecake, our soon-to-be-famous potato knishes, and rugelach."
Meanwhile, Busgang – whose credits include having been a head Just for Laughs-gala writer, creating the award-winning sitcom The Tournament and writing for TV series Boy Meets World and Good Advice, among many others – is still writing, still pitching shows. Earlier that afternoon, he was slicing meat while plugged into his phone, listening to a meeting in which a producer was trying to put a deal together.
Weaver popped out to say that Busgang often has to go next door to finish his calls because the meat in the charger of his cellphone prevents his phone from charging. "There's meat everywhere," she said.
A couple of relatively new customers stopped to say hello to Busgang and Weaver. They said they were slowly adding Buzzy's to their list of usual places to eat.
And, said Busgang and Weaver, local Jews have discovered, by going to Buzzy's and meeting fellow Jews, that there actually is a Jewish community on the island.
"We're blessed to have this," said Busgang.
As he explained the deli's name – his father called him Buzzy – Hannah returned, offering him a taste of a new salad dressing she had created. "Daddy, just try it."
"Interesting," he said, "I like it."
"It's gross," she corrected him.
Three generations seemed present in that moment.
As the interview came to an end, Busgang asked, "Do you want some rugelach? I gotta keep feeding you."
Buzzy's is open Monday to Saturday, 11 a.m.-4 p.m. Find them at facebook.com/buzzysluncheonette and then head to bcferries.com and start planning your trip.