Las Vegas's Or Bamidbar Chabad Sephardi synagogue at Chanukah. (photo from Rabbi Yossi Shuchat)
The Las Vegas Strip is where all of the action is, an endless sea of attractions and hotels with casinos, exhibits and more. These hotels cater to a tourist's every whim. However, during my last trip to Vegas, several years ago, I spent a majority of my time off the strip, away from the bright lights and glitz.
I met up with a group of friends who I had spent a year with in Arad, Israel, in 1990-91, on a World Union of Jewish Students (WUJS) program that was for young Jewish professionals thinking of making aliyah. This was our second excursion to Las Vegas and members of our group hailed from Paris, New York, Boston, Toronto and Seattle. On our first trip, we stayed in the Egyptian-themed Luxor Hotel; this time, we stayed at Bally's Hotel, in the heart of the strip.
We spent our first night wandering around the area near our hotel. The next day, on Friday afternoon, we ventured further afield to eat a fabulous lunch at an Israeli kosher restaurant called the Jerusalem Grill, which also offers pre-Shabbat delivery to hotels. As we dined on authentic Israeli dishes that could have come straight from the Holy Land, we reminisced about the good times we had had on our program and the many trips we took to explore Israel together.
We then explored the Palms Casino Resort and the Rio Hotel and Casino, which were near the restaurant. The Rio, where we would be going to see magicians Penn and Teller perform on Saturday night, after Shabbat, was also hosting the World Series of Poker.
On the Friday night, a few of my WUJS friends and I went to Or Bamidbar Chabad – East Las Vegas, a unique Sephardi synagogue, whose Chassidic spiritual leader, Rabbi Yosef Yitzchok (Yossi) Shuchat, is from Venezuela. I had made arrangements with the rabbi prior to Shabbat to attend services and he graciously invited my friends and I to dinner at his house afterwards.
The synagogue features a picture of the Rebbe (Rabbi Menachem Mendel Schneerson) but, other than that, it is a typical Sephardi house of worship, with the bimah in the middle, and Sephardi prayer books and a Sephardi Torah case. I felt right at home, as I have prayed at Sephardi and Chassidic congregations all over the world and have an affinity for the customs and traditions of both streams of Judaism.
After some spirited davening and a great drash by the rabbi, we and a few members of the congregation followed the rabbi to his home, where we were treated to a scrumptious Shabbat meal by his wife, Miriam Bryna Shuchat, who is co-director of Or Bamidbar.
Most of the guests were Sephardi and from Las Vegas, but there was also Baruch, a visitor from New York who was in town to play at the poker tournament. There was also Walter, a Jew who had moved to Las Vegas from Boston and, at one time, was a boxer and a blackjack dealer. After great conversation and food, I retired to a recently renovated mobile home right across from the synagogue, which was reserved for guests – and I had the honour of being the first one!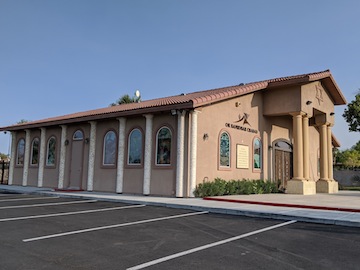 The next morning, I participated in the services and got to chant Birkat HaKohanim, the ancient priestly blessing that Sephardi shuls – including Beth Hamidrash in Vancouver – do every day, but Ashkenazi ones do not. At lunch, I had a lively discussion with a former Vancouverite who was encouraging me to leave Canada and move to Las Vegas's thriving Jewish community, with its approximately 80,000 Jews, 20 synagogues, many Jewish schools and several kosher restaurants. When they had lived in Vancouver, both he and his mom had attended services at the Kollel and are fans of Rabbi Shmulik Yeshayahu. Interestingly, since my Vegas visit, the Pacific Torah Institute, which was located in Vancouver, has relocated to Las Vegas and merged with a local yeshivah.
After services, I was contemplating walking back to the hotel in the sweltering 32°C heat, but Walter, the former blackjack dealer, invited me to spend the afternoon at his house. It was a relaxing, enlightening and cool afternoon. Walter regaled me with stories about what Vegas was like when he arrived there in 1956. At that time in the city, which was founded by notorious Jewish gangster Bugsy Siegel, most of the hotels were owned by Jews and, so, as a blackjack dealer – at a variety of casinos, including the Flamingo and Desert Inn – Walter got to know many of them. He also got to know Frank Sinatra, Dean Martin, Sammy Davis Jr., and other members of the Rat Pack, as well as boxer Rocky Marciano. (When Walter was a boxer himself, he also met Muhammad Ali.)
After my stay at Walter's – where I even got a Shabbat nap in – he gave me a lift to the Rio, where I met my friends to see the Penn and Teller show. The poker tournament was also in full swing, of course, but I don't know how Baruch fared.
I spent my last night in Vegas before returning home to Vancouver with my friends at a glitzy hotel watching a magic show. However, while I enjoyed all that I did, the highlight of my trip – in addition to hanging out with friends – was the gracious hospitality of the folks in the Jewish community. I will always remember my wonderful Shabbat in Las Vegas at Or Bamidbar Chabad.
David J. Litvak is a prairie refugee from the North End of Winnipeg who is a freelance writer, former Voice of Peace and Co-op Radio broadcaster and an "accidental publicist." His articles have been published in the Forward, Globe and Mail and Seattle Post-Intelligencer. His website is cascadiapublicity.com.