While my Barbari bread (above) looked nothing like the photo from the book (below), as my dough was too wet to allow for the requisite creation of vertical ridges, it tasted really good nonetheless. (photo by Cynthia Ramsay)
I was very excited to try out Persian Delicacies: Jewish Foods for Special Occasions by Angela Cohan. Living on the North Shore, I have met several people whose heritage is Iranian, though not Jewish, and I've eaten Persian food, but never made it. The idea that I could make my own "delicacies" was enticing.
Cohan is a Los Angeles-based writer and editor, so it's no wonder that her cookbook reads well and looks fabulous. The layout is pretty and logical. The colour photos are beautiful. This is a great gift for a seasoned cook, or a cook that's willing to have a few misadventures and so-so meals before they get the hang of things.
In the preface, Cohan, who moved to the United States with her family in 1979, writes, "I was inspired to compile the specialty recipes of my mother, my late grandmothers, and other family members and friends in this cookbook. This book is as much theirs as it is mine. It is a tribute to my heritage as a Persian woman as well as an evolution of recipes since living and cooking in the United States for the past three decades."
I remember watching my grandmother cooking. She seemed to randomly toss in this, shake in that. It appeared to the uneducated eye that measurements were not measured at all. I get the feeling that this is somewhat the case with this cookbook. Guesstimates in many cases rather than meticulously precise cups, teaspoons, etc. And the assumption that one knows how long to knead dough, for example.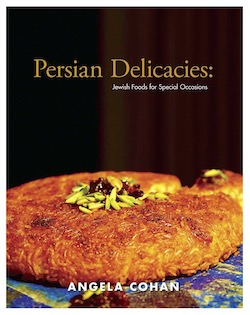 The recipes I tried – dolmeh (stuffed peppers), Barbari bread and sesame brittle – seemed easy enough. I chose them because I was on a deadline and had all the ingredients at hand. I will continue to explore this cookbook, as my first foray was promising but not that successful, in part because, instead of adapting the measures, I decided to follow the instructions come what may. So, even though I knew that my pepper stuffing was too bland, my dough was too sticky and my brittle too bendy, I made them as per the recipes. Everything was edible but nothing was delicious. Next time, I will use, respectively, another pinch of salt or another clove of garlic, more flour (or less water) and less honey. I can't wait to try my hand at making kuku seeb zamini(potato frittata), tahdig (crispy rice), turmeric chicken, lavash bread and more.
Each recipe in Persian Delicacies comes with a brief description, either of what it is, from where or whom it came, and other useful tidbits. At the end of the book, there is some information on special occasions, with the examples of Norouz, the start of the Persian New Year, and Shabbat, and traditions associated with them, in particular as they relate to foods. A glossary of many of the ingredients and their health benefits is an interesting component.
DOLMEH
(serves 3)
3 or 4 bell peppers
1/4 cup olive oil
1 cup diced yellow onion
1/2 cup scallions, chopped
2 cloves garlic, peeled and finely chopped or minced
1 cup quinoa, cooked
1/2 cup fresh dill, finely chopped
1/2 cup fresh tarragon or parsley, finely chopped
1 tsp ground cinnamon (optional)
salt and pepper to taste
Preheat the oven to 350°F.
Cut the top of the bell peppers and remove the seeds and veins.
Heat the oil in a skillet or a saucepan. Add the onions, scallions, and garlic and cook until soft, about four minutes.
Add the quinoa, dill and tarragon and season with salt and pepper. Remove from heat.
Spoon the quinoa mixture into the peppers. Place the stuffed peppers on a baking tray or baking dish and bake for 45 minutes. Add salt and pepper to taste. Top with chopped parsley and cinnamon (optional).
BARBARI BREAD
(serves 4)
1 1/2 cups warm water
1/2 tsp active dry yeast
3 cups all-purpose flour plus 1 tbsp additional flour
1 tsp salt
3 tbsp water
1/4 cup sesame seeds
Add the yeast to the warm water, stir, and set aside.
In a large bowl, combine the flour and salt. Add the yeast mixture. Knead the dough on a flat surface.
Place the dough in a bowl and cover with plastic wrap. Let it rise for an hour.
Preheat the oven to 325°F.
In a small saucepan, stir one tablespoon flour and three tablespoons water over a medium-low heat.
Uncover the risen dough, cut into four pieces, and roll out in an oval shape using a rolling pin.
Place the dough on a cookie sheet. Using your finger or a small knife, create vertical ridges on the dough. Brush with the flour and water mixture. Sprinkle with sesame seeds.
Bake for 25 to 30 minutes.