From Nov. 12-15, Rumble Theatre's Tremors presents three different plays – Trainspotting by Harry Gibson, The 4th Graders Present an Unnamed Love-Suicide by Sean Graney and This is War by Hannah Moscovitch. They will take place simultaneously in different parts of the Russian Hall. After each night's performances, the entertainment will continue, with an after-party to which everyone is invited.
Part of Rumble Theatre's mission is to foster "meaningful interactions between emerging and established artists," and Tremors does just that. From start to finish, each of the plays is mounted by a group of relative newcomers to the professional theatre world. Knowing Rumble Theatre either directly or indirectly through colleagues, both Andrew Cohen and Naomi Vogt leapt at the opportunity to be involved when the call for artists went out.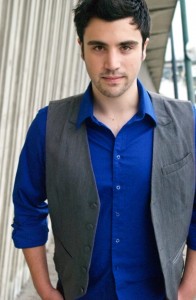 "I have been interested in music composition and sound design for a long time," said Cohen. "When I watch – or hear – a show, the moments I can connect to most are the ones where the sound is used to mirror the action onstage. I'm excited to have started exploring and establishing myself as a composer and designer in addition to performing."
Cohen will be in charge of sound design for Trainspotting. "I submitted to Stephen Drover, artistic director of Rumble Theatre not knowing which plays were being mounted," he said. "When we all submitted, we were asked which types of shows we were interested in working on and why. They paired all the designers and directors with their respective shows based on similar theatrical esthetics and tastes."
Rumble's mandate to mentor newcomers means that "all Tremors artists are assigned mentors, who are helping us to navigate this challenging material," said Vogt, who was a student ambassador for the organization in her final year of theatre school.
"I promoted Rumble Theatre's work, especially their phenomenal show Penelope, and co-produced a 48-hour play-building experiment called The Crockpot, which featured one representative from Vancouver's theatre training facilities: UBC, Studio 58, Douglas, Capilano, Trinity Western and SFU. The goal of the project was to inspire students at these schools to connect with each other. There's a tendency among theatre students to work only with their peers, even after graduation. It's important to maintain those contacts from school, but it's also important to expand into the larger community of Vancouver artists."
Vogt will be acting in The 4th Graders, which "is about a class of fourth-grade students who honor their classmate Johnny with a play he wrote, following his suicide," she explained. "The play details Johnny's version of the series of events that led to his suicide. I play Rachel, an unpopular 10-year-old who is bullied for being overweight. Rachel and Johnny were 'boyfriend/girlfriend,' but Rachel ends the relationship because she believes she's not deserving of Johnny's love. The 4th Graders Present an Unnamed Love-Suicide is dark, but it's so hilarious, too. It explores serious themes of love, betrayal and revenge, but through the lens of a 9-year-old, which I hope resonates with audience members of all ages.
Her past experience should help in her portrayal.
"I started performing in elementary school," she explained, "when I was given special permission to dramatize Shel Silverstein poems during 'reading hour' with a friend. We weren't popular girls, but our classmates thought our skits were funny – plus, we got out of reading hour! We kept going, eventually developing a sketch series of Oprah Winfrey Show parodies, which we'd perform almost daily to our Grade 4 classmates. I, an overgrown poofy-haired 8-year-old, played Oprah. My friend Allison, a tiny bespectacled thing, played our various idols: Michael Jordan, Michael Jackson, Shania Twain and others. We were a hit."
It was then that Vogt knew she wanted to be an actor. "It offered some respect and acknowledgment I otherwise didn't receive in the social arena," she said. "I knew it was a job grown-ups had, so I thought, 'Perfect, got that whole what-do-you-want-to-be-when-you-grow-up business sorted. I'm going to take acting classes, hang up some Destiny's Child posters and things are going to fall into place for me.' Obviously, a career in the arts is different than my fourth-grade mind dreamed it would be. I've only just transitioned into the professional world, and things are difficult sometimes, but my grade school dream is still alive!"
Flourishing, actually. Vogt just completed the bachelor of fine arts acting program at the University of British Columbia, where she won the Evelyn Harden Award. "It's an award that the UBC theatre faculty gives to a graduating theatre student and, happily, it accompanies a cheque," she explained. "It's made available annually through the generosity of Dr. Evelyn Harden. I was so grateful to be the recipient among my class and it helped me make it through my final year."
Vogt also expressed gratitude for her connection to the Jewish community. "Like theatre," she said, "my affiliation with Judaism gave me a cultural anchor. In the rocky seas of adolescence, I knew I was a Jewish theatre nerd and, whenever I felt lame, ostracized or unusual, I could feel confident about those two things. It's still a big part of my life, and so it features pretty largely in my improv and sketch comedy. I often find myself muttering broken Hebrew prayers or referencing Jewish holidays or practices onstage."
Describing herself as a "'character' type within a pool of ingénues," Vogt said she "often played one of the following roles: old women, very old women, and men. And, I honestly wouldn't have it any other way. I'm unusual, so I get to play interesting people. For example, in my final show at UBC, I had the fantastic opportunity to play the murderous king Pere Ubu in an all-female version of Alfred Jarry's masterpiece Ubu Roi, and I couldn't have asked for a weirder, bigger, more joyful undertaking."
Cohen, who has been featured in the Jewish Independent on more than one occasion, is also engaged in several interesting and meaningful undertakings. He was in the JI just a few months ago, when he was interviewed about his involvement as part of the faculty of Gotta Sing! Gotta Dance!, which celebrated its 20th anniversary this past summer.
Over the last couple of years, Cohen said he has spent most of his time out of Vancouver, performing in plays and musicals in Calgary, Edmonton, Toronto and Halifax.
"I spent several months traveling around the Americas to work with the Broadway organization Artists Striving to End Poverty. They commissioned me to direct and musically arrange an international music video featuring some of the students from their schools around the world, and some of their celebrity teachers (like cast members from Netflix's Orange is the New Black, HBO's Looking, Wicked's Kristin Chenoweth and others).
"Most recently, I have been working on re-imagining and rearranging the Joni Mitchell canon for a new show co-created with my beautiful, talented fiancé Anna Kuman. Our show, Circle Game, for the Untitled Theatre Company, was developed as part of the inaugural residency with Capilano University. Anna and I are excited to have been granted another development residence, this time with a professional theatre company in the city. We are also very excited to have New York and Stratford director Robert McQueen helm our next workshop."
Cohen is part of the tech team for Firehall Arts Centre's presentation of Urinetown, which runs until Nov. 29. This month, he also "will be workshopping a new musical with Axis Theatre that tours around Western Canada in the new year. Following that will be the next development phase of my show Circle Game…. And then, next summer, I will be playing Judas in the Arts Club Theatre's production of Godspell. After that, I've booked the biggest, most exciting gig of my life: marrying the incredible Anna Kuman!"
As for Vogt, she said about her future plans, "It's scary to be released out of the safety of theatre school, but it's exciting to work in the professional community, too. I'm teaching with the Vancouver Youth Theatre right now, which is especially fun because I took their classes as a child. I'm also experimenting with physical theatre and puppetry and, right now, I'm taking a clowning class with the remarkable Gina Bastone. Traveling is a big part of my immediate plans, too – I'm hoping to go to Israel in the spring. But, until then, feel free to hire me!"
Tickets for Tremors ($15 for each play) can be purchased via rumble.org. Since the plays take place simultaneously, it is only possible to see one play per night.