Vanessa Goodman (photo by David Cooper)
One could be forgiven for thinking there was a Jewish dance festival coming up, as there are so many community members participating in this year's Dancing on the Edge, which takes place July 2-11.
Adapting to the circumstances of the pandemic, which limits public gatherings, DOTE festival producer Donna Spencer recently announced that, while it won't be possible to present the initially planned 30-plus live performances, the festival "will be offering instead some specially curated digital programming with live-streamed performances, premières of dance films, dance discussions, four outdoor live performances in the Firehall's courtyard and one dynamic theatre performance at the Firehall Arts Centre theatre (all live performances for very limited audiences with safety precautions in place)."
Among the featured dance companies and choreographers are, in alphabetical order, Action at a Distance (Vanessa Goodman), All Bodies Dance (Naomi Brand, with Carolina Bergonzoni), Ben Gorodetsky, Ne. Sans Opera and Dance (Idan Cohen), Radical System Art (Shay Kuebler), the response. (Amber Funk Barton) and Tara Cheyenne Performance.
* * *
Action at a Distance is presenting Solvent, a new work created in collaboration with musician Loscil (Scott Morgan).
"I have been incorporating video footage into my work for years, and the recent time at home has provided an opportunity to generate material and experiment with new editing techniques," said Goodman. "In some ways, this is an extension of our previous work together. Our first video collaboration was for a song on his album, Monument Builders. Since then, we have built four works together for my company Action at a Distance, including Never Still, which was presented by the Firehall Arts Centre in 2018."
When the pandemic hit, Goodman said, "At first, I found myself grasping for something substantial to hold onto and tried to reschedule all the tours and premières that were being canceled. It was challenging to let go of everything. Eventually, I came to terms with the downtime and embraced the slow pace as best I could."
When the need to isolate began, she said, "I started making short dance films for myself and my 96-year-old grandmother to help us stay connected. At times, it has been tough to stay motivated during the shutdown, and this was a simple way to stay creative.
"There's no way to compare these sketches to a staged dance performance," she said. "However, when I shifted my frame of mind and started to approach video as a whole new medium instead of an altered version of an existing piece, I became more comfortable with the idea of sharing work this way. I am very grateful to DOTE for bringing the community together to share work right now."
Even in such times, arts and culture are "absolutely vital," said Goodman. "Without them, we're living in the dark ages. It is essential to have creative outlets for expression. Right now, finding connections through creativity can help cut through the isolation. Art can provide much-needed escape and levity in challenging times, as well as reframing current issues and inspiring insight around movements of essential social change."
* * *
All Bodies Dance Project (ABDP) is bringing Ho.Me to the festival. "The film was commissioned by F-O-R-M, Festival of Recorded Movement, last year … and is a collaboration between longtime ABDP company members Carolina Bergonzoni (choreographer/director), Peggy Leung (dancer), Harmanie Rose (dancer), Mathew Chyzyk (dancer) and Vancouver-based artist Gemma Crowe (cinematographer/editor) and Alex Mah (composer)," said Brand. "Ho.Me explores themes of belonging and comfort in relation to inhabiting one's own body. The film is comprised of three personal solos shot inside the dancers' own apartments. In the piece, we get to see these three very different bodies dancing within the privacy of their own homes among the objects that have meaning to them.
"While the film was created long before the pandemic, the significance of moving inside our homes feels really different now since we've all been spending so much time inside. Many dancers have been figuring out how to turn our living spaces into places where we can also practise, explore and move, as studios haven't been an option."
Since the start of the pandemic, ABDP has moved some of its community dance programming online.
"We also started a weekly virtual gathering for our community of dancers in order to prevent social isolation," said Brand. "Many of our projects have been on hold. There is so much about what we do as a company that just isn't compatible with the necessary restrictions of COVID life. Our work is based on bringing people with different bodies, backgrounds, experiences and abilities together to move, share and make in real-time. We've been thinking a lot about what kinds of things translate into the digital space and what things just can't be replaced."
She said, "Now more than ever we need community and collective experiences, as so many have been isolated during these past few months. People with disabilities in particular have experienced a lot of isolation and so we are even more committed to our purpose at All Bodies Dance Project."
She added, "Dance is about each of our essential relationship to our own bodies. During COVID times, many of us have learned a lot about our own physical experience of moving through the world and the social choreography of physical distancing. There has been so much choreography on the sidewalks, grocery stores and, of course, in the streets during the incredible protests during this pandemic."
* * *
Gorodetsky, who is Russian-Canadian, is one half of the political comedy duo Folk Lordz, with Cree co-creator Todd Houseman. The pair tackle racism, among other social ills, and have created a 15-part series "[r]eflecting urban-Indigenous, immigrant and activist perspectives through the lens of biting satire." A second series of sketches is on its way, but Gorodetsky is bringing a very personal work to this year's DOTE.
"It's a movement video piece honouring my grandfather, Dolik (David) Lutsky. He died on April 3, 2020, and, since we could not gather for his funeral due to the pandemic, we were left to sort through our grief alone," he shared. "One small relief was my grandmother mailing me a box of his clothes. Using these garments as performance artifacts, I created a digital video piece reimagining grieving rituals in the age of COVID.
"I explore the ceremony of wearing Dolik's clothes and reactivating the narrative, cultural and physical threads of his life. Spoken oral histories exploring my grandfather's immigration (I was born 10 days after they landed in Canada), identity (he was the official communist 'propagandist' at the coalmine he worked at in Ukraine) and faith (he went from being an ardent anti-religious communist to a practising Lubavitcher Jew) provide textual counterpoint to the dance video. The visuals themselves were all created through aerial drone photography, creating a fluid visual style for this interdisciplinary new video work. Country roads, forests and lakes frame this physical score exploring grief, memory and family history."
Gorodetsky said, "I think if I had been able to grieve, remember and connect with my family after Dolik's death, I would have no need to explore these ideas artistically. But, since I have not, I have a nagging need to articulate this particular pain through movement, story and visual composition."
Since COVID, Gorodetsky has become the fulltime caregiver for his 2.5-year-old son. "Time and energy have become scarce resources," he said, "so I've had to get better at working furiously fast while he naps. Focused blasts of creativity.
"Also, my family has been displaced from our home and all our possessions in Brooklyn, N.Y. We were in Kelowna (where I was teaching on a one-term contract at UBC in the performance program) when the border closed and we could not return to our home as planned. So, we're in Waterloo, living at my sister-in-law's house, until [who knows when]. Honestly, my mental health is brutal right now. Anxiety grips me in a way I had never experienced before, and I have had to find tactics for replenishing my depleted stores of happiness and hope. One thing that really helps is long bike rides with my son Gus. We get out of the city and follow country roads – we live near Amish country! It's a small way to feel free, alive and empowered in the midst of these deeply destabilizing times."
For Gorodetsky, who grew up in Metro Vancouver – in Burquitlam – "dance is a way of moving your grief around. It helps me shake the weight and sediment of catastrophe off and meet my grief as an equal, rather than as a victim.
"Gus and I developed a habit of walking to a beach or body of water, finding a big tree stump, climbing on top and dancing to a playlist called 'Klezmer Dance Party at Home' (lots of Klezmatics, Michael Winograd, Frank London, Socalled and Di Naye Kapelye). It's been a real lifesaver."
* * *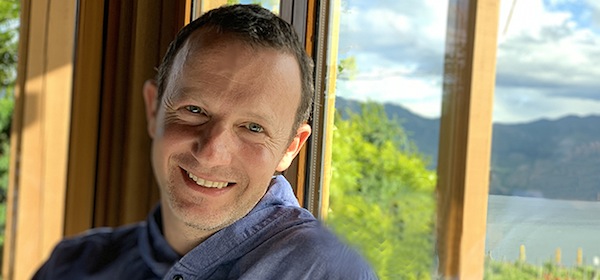 Ne. Sans Opera and Dance's Trionfi Amore (The Triumph of Love) was commissioned by Peter Bingham for EDAM's Spring Choreographic Series, April 2019.
"It is a trio created for three phenomenal Vancouver-based performers, Kate Franklin, Jeremy O'Neill and Ted Littlemore," said Cohen. "Besides being excellent dancers, these three are also trained musicians, and the piece utilizes their many talents.
"The trio is inspired by the opera Orfeo ed Euridice and is a part of my ongoing research on the theme of Orpheus," he explained. "It speaks of love, and of the power of music and art to move, entertain and touch us. It also speaks of the power of manipulation and control on the individual and, as we prepare it for DOTE during this time, we find that new meanings present themselves to us."
Cohen said, "The act of presenting something as abstract as the notion of love in a dance performance is quite a challenge by itself, and nowadays even more so – how do you speak of love without being able to touch, to be close to one another? Instead of looking at this as an obstacle, we choose to look at it as a source of inspiration, a new adventure. As artists, we reflect what we experience and then monitor, or direct, those notions into our actions and creative choices. My responsibility here is to stay true to the origins of this piece, but also to protect the viewers and the performers while offering art that speaks of relevant issues and current experiences."
It hasn't been easy.
"Ne. Sans had to stop our season and rethink and rearrange our commitments," said Cohen. "It has been painful to see how many creative ventures that have been in the planning for quite awhile have been postponed or canceled, and to realize the ensuing financial and emotional toll…. I believe in the value and presence of arts in our community and in our lives, in countless ways, and tackle issues that I find not just relevant for myself, but that reflect on many lives. At the same time, I recognize how privileged I am to be here, in Vancouver, and to be safe and healthy."
Whether theatre, music or dance, one thing common to all forms of live performance, said Cohen, "is that they are alive." They all involve the human body, both "the performing bodies and the ones watching."
"As an artist who uses movement as a primary artistic discipline," he said, "I have a huge love and respect for the human body in its most basic form. When you learn to love and accept your body, you can truly love and respect people. That love is also where my queer identity(ies) meet my Jewish ancestry. So much hate is being inflicted on the body; if we don't learn to love and appreciate our bodies, how can we truly love and appreciate someone else's? How can we heal? With so much violence in our history and in our present, in a world polluted with ignorance and hate, how do we learn to love and forgive our ancestors, our pasts? The arts bear a huge responsibility. Artists need to change our priorities, acknowledge our inherited racism and create new stories.
"Ne. Sans is an organization that is centred on Western European music and dance, and my origins are in Western Europe," he continued. "Our main goal in Ne. Sans is not to present a notion of nostalgia, romanticism and artificial beauty, but to raise the issues of violence and inequalities created by that culture, recreate its narratives and bring those up into the surface."
In Jewish teaching, there is the concept of tikkun olam, repairing the world. "We can all be involved in tikkun olam at any given moment," said Cohen, "and we need to keep adapting and correcting our values, individual or systemic. We have a responsibility to help and support one another. We have survived horrible historical events. Looking straight at our bleeding past and present: in the face of injustice, we cannot and will not stay silent."
* * *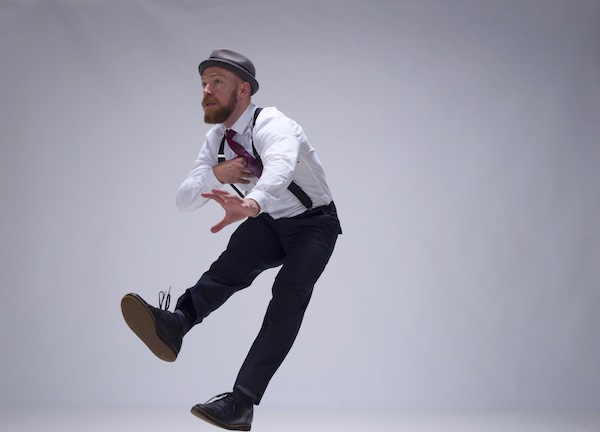 Kuebler, who has performed at the Chutzpah! Festival and is connected to the Jewish community through his sister's family, will be presenting Momentum of Isolation at DOTE. Started last year, he said, "This first chapter of research is a chain of solos, for seven performers, that was developed by company artists online and in isolation."
Given the restrictions required to control COVID, this part of "the project has taken on a much more singular focus on each artist's personal interpretation," said Kuebler. "As these solos were developed in home spaces and in isolation, the artists are performing their solos in smaller performance spaces – averaging six-by-nine feet – as well as performing these solos in relation to walls and surfaces in their environment."
Of COVID's impacts, he said, "There was certainly sadness and stress from losing work and touring opportunities. The company was two weeks away from a European tour when all the social protocols came into place. We were fortunate to receive some support and, after assessing the financial losses, we were able to move forward with a different creative practice for this phase of this project.
"The new creation practice of working online and in isolation actually revealed some very interesting new approaches and beneficial tactics. This online format had us focus on different dance techniques and improvisation tasks that could both challenge our individual movement skills and develop more group unity in movement. It also opened a window for focused study around the social content in the project."
Kuebler said, "For myself as an artist, this time has offered me some space to 'fill the well.' I have been creating, traveling and supporting multiple projects simultaneously for a solid amount of time. This time in isolation, although not in the form that I would have wished for, or for anyone for that matter, has offered me space and time to just research and train…. I've found that, with this space, I've been more creative and have developed further outlets to express my creativity."
He said, "I think that art holds a very important place in society. It offers people an escape from certain stresses and can help inspire them to find their own creativity. I believe that being creative can help you live with greater curiosity, humility and awareness of the world around you, which can make you a better member of society…. From this standpoint, I believe that art and artists gain greater relevance during challenging times and times of change."
* * *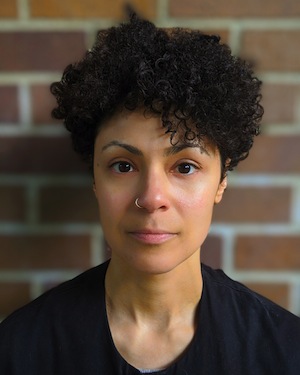 Barton's company, the response., will host a special-edition, two-day version of Dance Café, which will feature eight Vancouver-based professional dance artists during DOTE.
"Together with my administration assistant, Kaia Shukin, we have been presenting Dance Café since 2017," said Barton. Originally, it was held once a year as an informal, free event in studio, but, since May of this year, they have been presenting professional dance artists online using Instagram Live, and did so in June, as well. Given the positive response, Barton would like to keep the free event going monthly until the end of the year, but it will depend on resources, and she hopes people will donate to help make that happen.
With the arrival of the pandemic, Barton said, "It felt like many of the things I do changed overnight. At first – and there are still many moments at present – I felt overwhelmed with the learning curve of teaching and rehearsing on platforms such as Zoom. I feel that the act of participating in these online platforms, whether you are ready to or not, forces you to be creative just by showing up. In many ways, the act of applying for grants and the typical administration side of what I and the company do haven't changed, but the artistic side of it is what I find is in question. How can we continue and how can we share and create work in a safe environment? Those are my biggest questions right now."
For Barton, "Art can be a reflection of what we are experiencing in the world and can act as a mirror. It can be cathartic. It can also help us escape. We are all listening to music, watching films and trying to make sense of what is happening and/or trying to make time pass by. No one can deny that their consumption of art is interwoven in the daily fabric of their lives."
* * *
At DOTE, Tara Cheyenne Performance will share two films made in collaboration with Allison Beda/Amuse Productions and possibly a live online performance, said Tara Cheyenne Friedenberg. "These works are a continuation of my solo I can't remember the word for I can't remember, which premièred at the Firehall in 2018."
For Friedenberg, life during COVID has been "up and down."
"Some days are good – home schooling actually happens (we have an 8-year-old), I might even take an online dance class and have a virtual rehearsal with my dramaturge Melanie Yeats. Other days, making lunch and trying to figure out Grade 3 fractions is too much," she said. "I'm not loving the many, many Zoom meetings. I feel like our brains and bodies are compromised being in front of screens so much.
"Artistically, it has been invigorating and challenging – also very frustrating and often sad, to be honest – to try to reach my audience. I was recently working on a video of past work and noticed that, in every show, I literally climb into/onto the audience. My focus right now is how do I break the fourth wall when it is a virtual fourth wall."
When asked the importance of the arts in such a stressful social and economic period, Friedenberg said, "We absolutely need to share stories and experiences right now. I feel like it is my duty to offer levity, commentary and my own feelings in order to facilitate those moments of community and recognition. My grandfather toured Europe playing piano for Maurice Chevalier leading up to the war, then here in Canada during the war. I feel like it's in my blood to offer what I make, especially during difficult times. I've been making these very silly satire videos of my character Laura Lockdown, which people are enjoying I think because they allow us to laugh at the extreme situation we are all living through."
Friedenberg also has been recording, for almost a year now, the podcast Talking Sh*t with Tara Cheyenne.
"I interview artists about their work, their lives and how they manage," she said. "These interviews are even more interesting in the time of COVID-19. Creativity, and how we navigate its absence in the face of difficulty is so useful for all of us. Right now, I'm leaning towards interviewing artists of colour – voices, art and ideas that need to be heard."
* * *
For the full DOTE schedule, visit dancingontheedge.org.
(Note: This article has been edited to reflect that Action at a Distance's performance at DOTE is called Solvent.)