For this year's Dancing on the Edge, Alexis Fletcher and Ted Littlemore perform together in a work created and directed by Vanessa Goodman. (photo by Sylvain Senez)
This year's Dancing on the Edge contemporary dance festival features a lineup of online and onstage live performances, including Tuning, a new duet created and directed by Jewish community member Vanessa Goodman. And Tara Cheyenne Performance is among the artists who will be presenting films (details TBA).
During its July 8-17 run, the festival will present more than 30 shows, with artists from across Canada. On offer will be some specially curated digital programming with recorded performances, premières of dance films, dance discussions, outdoor live performances in the Firehall Arts Centre's courtyard, for very limited audiences with safety precautions in place, and theatre performances with limited capacity, if permitted, in the centre.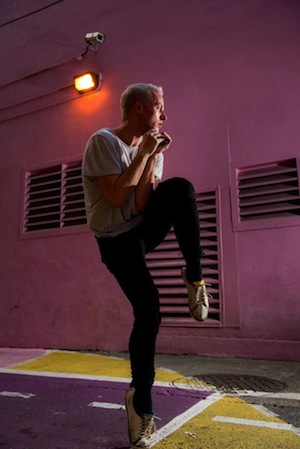 Commissioned by dance artist Alexis Fletcher, Tuning will be performed by Fletcher, artist in residence at Ballet BC, and Ted Littlemore, aka Mila Dramatic in the drag community. The new work focuses on how people tune to one another. In Tuning, the performers create a live sonic and physical atmosphere using their voices to amplify the conversations of the body.
Festival producer Donna Spencer also announced seven DOTE-commissioned projects, which will première at this year's festival. Companies/choreographers presenting commissioned works include Ouro Collective, Raven Spirit Dance, Billy Marchenski, Immigrant Lessons, Generous Mess, Rob Kitsos and Meredith Kalaman. "We were thrilled to have offered this incentive, knowing that these commissions have enabled artists to keep creating new work during this challenging time for all," said Spencer.
Keep an eye on dancingontheedge.org for performance and ticket updates.
– Courtesy Dancing on the Edge