The Art of Stealing grew from Barton's desire to explore what's considered right and wrong in a post-apocalyptic world. (photo by Chris Barton)
When Amber Funk Barton was constantly dancing around her house at the age of 4, she didn't realize that one day she would become a professional dancer and choreographer. But the Vancouver-born artist, now 33, is living her dream. Her latest production, The Art of Stealing, created by her choreography company, the response, premières on May 28 at the Firehall Arts Centre.
"I didn't think I had a future as a professional dancer, I thought choreography was one way I could still be involved in dance," said Barton. "My dream was to have my own company and to choreograph."
The Art of Stealing grew from Barton's desire to explore a dark theme, what she describes as a "post-apocalyptic world" and the difficulties in understanding what's right and wrong in this haunted, mysterious future.
"The small picture is the obvious thing – the obvious literal act of stealing, that's physical, taking something physical without consent," she said. "I found it very interesting in this post-apocalyptic world that all of sudden it's OK to steal – and if you don't steal, you're gonna die. It's related to survival. On the bigger level, I started really thinking about it – the stealing that we can't control at all – our time, our energy, our youth. Essentially to me, death is the ultimate thief in life."
The 60-minute piece is the third full-length work that the response has created. Established in 2008, the company's two previous pieces, RISK (2008) and Portraits and Scenes of Female Creatures (2011), also premièred at the Firehall.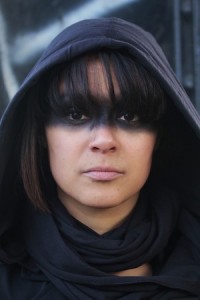 Although Barton said she had been dancing since she was a little girl, she only started dancing professional at 21. Perhaps her maiden name, "Funk," was a glimpse of the career trajectory her life would take.
But Barton isn't just making her mark in the dance world. While creating the piece, she teamed up with active-wear clothing line lululemon's innovation hub, called lululemon lab. "The lab is very inspired by different groups in the community and works with them to make functional fashion for people specifically in our community," said Barton. She was introduced to Jean Okada, team director at lululemon lab, who was impressed by Barton's creative piece.
"She came up with the idea that she would like to pitch what the lab calls a capsule collection. So they essentially designed our costumes," said Barton. In addition to designing the dancers' costumes, they created a collaborative clothing line, which launched last week, on May 16. "They're selling it in stores and we're wearing [that] same clothing on stage. It's a really beautiful exchange," Funk said. The clothing is in line with the dance piece's theme – it's dark and edgy and promotes Barton's unique ideas about the struggle for survival in a dark world. The limited edition capsule collection produced three pieces for women and three for men and will be available only until the items are sold out.
"First of all, having a line designed is beyond what I was imaging in the first place. It was amazing. They had such respect for what we were doing as artists. They asked dancers thorough questions, what our needs are. I was able to share images and whatever I had collected in terms of inspiration. They actually took what I wanted and integrated it into the line. I was part of fittings. It was beyond what I was hoping for," said Barton.
Reflecting on her beginnings and how far she's come, Barton said, "I started dancing probably around 4 years old and it was with ballet and I had some kind of alignment issues. I had weak mobility in my legs so the doctor recommended ice skating or dance to strengthen the alignment of my legs. My mom noticed I was dancing around the house all the time anyways and she also didn't want to sit in an ice rink at 5 a.m., so she enrolled me in ballet classes and that's basically how it all started."
Now, she wants to focus on choreography and creating more unique pieces, as she embarks on what she calls her "mid-career artist years."
"I feel very fortunate and very grateful," she said. "My company is a small, project-based company. It's like a little home where I can make what I'm interested in and make my art. Sometimes I just pinch myself."
The Art of Stealing is on stage May 28-31 at the Firehall Arts Centre. There is an artist talk back after the performance on Thursday, May 29. For tickets, contact the Firehall at 604-689-0926 or visit firehallartscentre.ca.
Vicky Tobianah is a freelance writer and editor based in Toronto. Connect with her on Twitter, @vicktob, or at [email protected].