Shoresh executive director Risa Alyson Cooper and Mati Cooper plant a tree. (photo from Shoresh)
Risa Alyson Cooper, who was raised in the Toronto suburb of Thornhill, was road-tripping across the country with a friend about 20 years ago when they ran out of cash in Nelson, B.C. That misfortune changed the course of her life – and is making a big impact in Canada's Jewish community.
"We were invited to a free church dinner for homeless and struggling individuals and we decided to go," Cooper said of the adventure. "That was, for me, one of those aha moments. It was the first time that I thought religion might have what to say about the food that we eat."
Cooper is now executive director of Shoresh, a Toronto-area charity that "inspires and empowers our community to take care of the earth by connecting people, land and Jewish tradition." Cooper is one of four speakers at FEDtalks Sept. 9, the annual campaign opening event for the Jewish Federation of Greater Vancouver.
The church supper made her think about something that hadn't really struck her before.
"I wondered if Jewish tradition has anything to say about food," she recalled with a laugh in a recent telephone interview. "It was the first time that I really started thinking about food ethics. I'd grown up Jewish, I knew that food was so much of an anchor of Jewish observance, [that] my family's Jewish identity was about meals to celebrate holidays, but I never really thought about the moral values that we can express through the food that we eat."
She quickly discovered that Jewish tradition has a great deal to say about food and the moral, social and ethical issues around it. Agriculture is so intrinsic to the ancient texts that, Cooper said, a friend refers to Torah as "the Jewish Farmer's Almanac."
"It has very clear rules for how we farm, what we plant, where we plant, when we plant, and it also has rules beyond that," she said. "It has rules for how we celebrate the harvest, how we hold gratitude for that which we receive from the land, and it also has very, very clear rules about how we share our resources with others in our community."
There have been a number of Jewish "back to the land" movements – the most consequential being Zionism – but, on the shoulders of all this history, there is something new happening today.
"The idea of there being a Jewish way of thinking about food security is as old as Jewish tradition," she said, "but what we are seeing now are really innovative ways of addressing food insecurity and also building vibrant Jewish communities"
Shoresh (the name is the Hebrew word for "root") operates Kavanah Garden, adjacent to the Jewish Community Campus in suburban Vaughan, Ont., and invites children and adults to "participate in experiential programs rooted in Jewish text, tradition and values, and [is] designed to elicit experiences of awe in response to the wonders of the natural world." Food grown at the garden is used in programming or donated through tzedakah partnerships.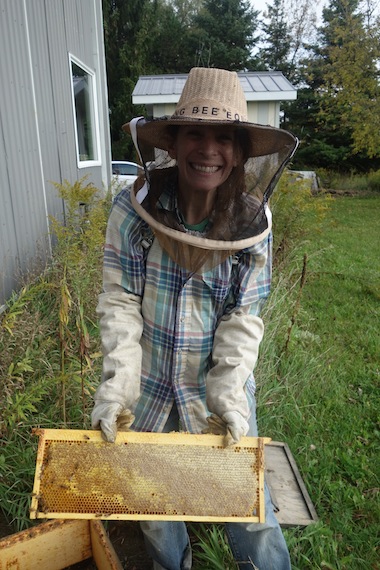 Shoresh also operates Bela Farm, in Hillsburgh, Ont., a little further outside Toronto. This 100-acre farm, home to Shoresh's apiary, bee sanctuary and native reforestation efforts, offers "deep, immersive experiences for land-based Jewish learning and living, creating for participants sustained connections with self, community and the earth."
Their third location is Maxie's Garden, a partnership between Shoresh and Jewish Family and Child, located in the Kensington Market yard of a Shoresh member. Here, an urban sanctuary in the heart of Toronto's historic Jewish neighbourhood is "a haven for people, plants and pollinators." It was envisioned to empower, educate and inspire clients of the social service agency through the power of nature connection and food production.
Beyond these three sites, Shoresh runs programs out of schools and camps, and in green spaces, parks and ravines throughout Toronto.
Cooper's own agricultural journey, which began here in British Columbia, led her to a master's degree in which she looked at religious food and environmental ethics. Then she went to Connecticut, where she worked for three years as a Jewish environmental educator at the Teva Learning Center, the only full-time, year-round program dedicated to innovative, experiential Jewish education taught through the lens of the natural world.
She got her hands even dirtier in small-scale organic farming as a member of the Adamah Jewish Farming Fellowship. She grew vegetables on a four-acre farm, worked in a raw goat-milk dairy and dabbled in the art of fermentation.
"I was so deeply in love with the community that I discovered in the States I probably would have stayed there but I had my visa revoked and I got sent back to Canada," she said, laughing again.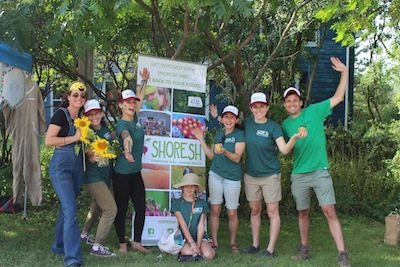 Living out Jewish values on the land in the Diaspora raises particular issues, Cooper said.
"What does it mean to be holding a tradition that is in many ways land-based," she said. "So much about the Torah, so many of our holidays, have agricultural connections. What does it mean to be having these land-based traditions and to be practising them in Canada? How do we honour the elements of our tradition, while honouring the fact that not only are we in the Diaspora – so not on the land where many of these traditions are rooted – but we are also specifically here on Turtle Island, this land that has been stewarded by indigenous communities for thousands and thousands of years?"
In Vancouver next month, Cooper said, she will talk about contemporary Jewish food insecurity issues and will share something about the model that Shoresh has developed, as well as ideas spawned from similar organizations across North America.
Everything she shares at the event will owe a debt back to that fateful visit to British Columbia's Kootenay region.
"That was the moment that I can trace all this back to," she said.
Other speakers at FEDtalks, which takes place at the Vancouver Playhouse on Monday, Sept. 9, at 7 p.m., are National Young Leadership Cabinet member Dr. Gillian Presner, who will offer "hard-earned wisdom about the power of community and the nature of our true legacies"; Rabbi Brian Strauss, whose Houston, Tex., synagogue and home were flooded by Hurricane Harvey and who subsequently witnessed an outpouring of support from Jewish federations across the continent; and Isaac Herzog, chairman of the Jewish Agency for Israel and former longtime politician, who led Israel's Labour party and was opposition leader from 2013 to 2018 (featured in the other cover story in this issue).
For tickets ($36/$10) to FEDtalks Sept. 9, 7 p.m., at Vancouver Playhouse, visit jewishvancouver.com/fedtalks.