Seattle comedy couple Clayton Weller and Sophie Lowenstein are bringing Naturally to the festival. (photo from Amanda Smith)
Fear of death, making comedy and fighting prejudice are but a few of the topics Jewish community members will be exploring in their productions at this year's Vancouver Fringe Festival, which runs Sept. 7-17.
Seattle comedy couple Sophie Lowenstein and Clayton Weller are bringing Naturally to the festival. It's not one show, but two, with audiences deciding which they want to see: the one about grief, which also contains a dating scene, "the worst theatrical audition ever" and more; or the one about what sketch comedy is, how to make it – and why to bother making it.
"We have a variety of choosing activities at the top of the show, which culminates in the audience throwing paper airplanes at the stage for the show they'd most like to see. It's going to be bonkers," explained Weller. "As far as seeing both shows – how flattering would that be?! – the final two performances we're locking in which show will happen." So, Good Grief (Heart) will be on Sept. 14 and Understanding Sketch (Head) on Sept. 16; for the other performances, you'll have to take your chances. Though, having seen them on video in preparing for this interview, it's not much of a risk – both shows will have you laughing, and crying. There is a reason they dub Naturally "serious comedy."
"As a duo, this has always pretty much been our style," said Weller. "We've both done a bunch of plays, both serious and completely frivolous…. We thought that a laugh never feels as good as after you're done crying. The contrast makes both the dark and light pop out more."
"I would also say that we find a lot of beauty in that line between joy and pain because it's not a very thick line. It's blurred and sometimes nonexistent," added Lowenstein, who is part of the Jewish community. "When you're working with comedy, experiencing other emotions besides happiness while you laugh is sort of taboo – at least rare. We play in that playground. I think, individually, we are both curious about people's emotions and we investigate them in our own ways, so we came together to run a joint study."
According to the press material, Lowenstein and Weller have been performing comedy together for more than 12 years.
"Sophie and I went to the same college, University of Puget Sound, and both got cast in our college sketch comedy group," Weller told the Independent. "We performed in several shows before we actually started living together as roommates, then we started living together, with feelings and stuff. Humour and comedy definitely permeate every part of our lives. Lots of laughter keeps our hearts light."
With the comedy group Ubiquitous They, the couple produced about 15 shows. However, said Weller, the group "is more of an alumni network at this point. Several members have moved on to work in L.A., or across the country. We produced really regularly from 2007 to 2014, but, for the most part, it's more of a club that hangs out every couple of months, and goes, 'Wow, it's tough to be an adult, am I right?'"
For the past few years, Lowenstein and Weller have been focusing on their performances as a duo. "Basically, Naturally is the only comedy project Sophie and I do now," said Weller. "We'll do a variety show or small play here and there on our own, but, because our lives are so crazy, we've pared the work we do down and this is where we put our real artistic push. I've never made work I'm more proud of than what I'm currently making with Sophie. She's awesome. (Secret: This is all just an excuse for me to hang out with her more!)"
"Other secret: I feel the same way about him," added Lowenstein. "He makes this process happen."
In addition to Naturally, Weller runs two performance venues – the Pocket Theatre and the Slate Theatre – and Lowenstein works as a nurse practitioner.
"I look at it like this: some NPs have kids and they can do it. I have theatre and I can do it," said Lowenstein about balancing her careers. Her recipe for success? "Save as many of your nights for rehearsals as possible. Dinner no earlier than 10 p.m. most nights. Make sure the other member of your group does all the administrative stuff and keeps you motivated when you're dragging your butt and snarling. And, if the project doesn't give you deep joy, don't do it."
In one of the Naturally shows, Weller mentions that he once had a lucrative high-tech job that he gave up for comedy. Does he have any regrets?
"I started a company called Freak'n Genius in 2012," he said. "We made animation software, and we raised over half a million dollars in financing. At first, I was working with cool creative people and helping them make awesome things – then we slowly turned into an iPhone app for tweens. I learned a ton, but I 100% do not regret leaving. I give about three hours a week's worth for tweens. Not the 60 hours a week I was putting in. Artists are who I really care about!"
About how he became one, or at least got into comedy, Weller said he had terrible stage fright until eighth grade. "I decided I was tired of being scared, and did improv comedy. After the first laughing crowd, I got bit by the bug, and I've been doing it ever since. There's no better way to make friends than to make art together. Our relationship is proof to the point! I'm super lucky."
For her part, Sophie said she first got into comedy "by loving that feeling of making my friends laugh. So, I practised how to do that more and more. I also had very funny friends. Now, I'm friends with the funniest human I know, and he also has a heart and mind. Bonus. As for the theatre part, I started performing when I was a little kid then throughout school: musicals, Shakespeare, etc. Stuck with it."
The couple has been doing Naturally for a couple of years now. "After every performance," said Weller, "we can't help but do the 'Oh man, next time why don't we blah blah blah.' The script is never permanent, and every remounting of the material we go through a rewrite and punch up all the scripts. Also, finding new ways to fit it together is a whole other way to make the thing new for us. Mostly, we just like hanging out and this is a great excuse." Lowenstein agreed.
Naturally runs Sept. 8-16, at various times, in the gym at False Creek Community Centre on Granville Island. The 55-minute show is rated 14+ for coarse language and sexual content. Running Sept. 7-17 at the Firehall Arts Centre, also at various times, is the Canadian première of Cry-Baby: The Musical!, which is being presented by Awkward Stage Productions. It, too, is rated 14+ for the same reasons.
Jewish community member Erika Babins, who is artistic associate of Awkward Stage, choreographed the Fringe production, which features "a cast of 16 emerging artists" and runs 90 minutes.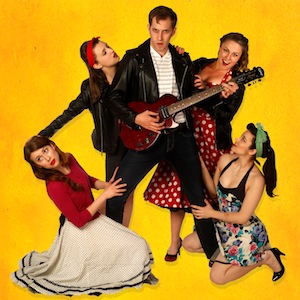 "It's 1950s Baltimore, the conservative squares face off against the leather-clad delinquents in this rockabilly musical based on John Waters' cult film," reads the press release. The 2008 Broadway show was nominated for four Tony Awards, including best choreography, and won a Drama Desk Award for outstanding choreography. So, where does Babins begin?
"I start my choreographic process by obsessively listening to the music of the show so that it can live in my body," Babins told the Independent. "Before we start rehearsals, I'll meet with the director and we'll talk through the shape of the show so that we know what purpose each song serves in the show, where we're coming from and where we're going, and how we're going to get there.
"Then, when I get the cast in the room, I can take the story I know I'm going to tell and use them to tell it, using movement and music as my storytelling techniques. If I'm really stuck about how to tell a part of the story, I might look up a video or two on YouTube to see how a different company made something work, but I'm careful to only watch it once so that it only ever is for inspiration and I don't accidentally steal something."
Awkward Stage decided to mount Cry-Baby for several reasons. "Awkward has made a tradition out of presenting hilarious, and culturally relevant, full-scale musicals at the Fringe Festival," said Babins. "Cry-Baby: The Musical came to us via artistic director Andy Toth. He brought it forward as a show that features a mostly young cast, great music and a lot of interesting and fleshed out female characters. Not only that, the messages in the show about systematic prejudices, classism and living your own truth so long as it's not hurting anyone else, are still so relevant today."
This is Awkward's eighth musical at the Fringe Festival. "In that time," noted Babins, "we've won three Pick-of-the-Fringe's and the Joanna Maratta Award. We are committed to bridging the gap for emerging artists coming into the professional theatre scene in Vancouver and paying our artists for their efforts."
For the full Fringe schedule and tickets ($14), visit vancouverfringe.com. (Note: a $5 Fringe membership is required for all shows.)