Left to right are GOLDRAUSCH actors Tebo Nzeku, Gray Clark, Karthik Kadam, Matthew Rhodes and Hannah Everett. (photo by Javier Sotres)
GOLDRAUSCH is described as "a comedy with music that journeys through film director Oskar's efforts to make a film about the man who started the Gold Rush Fever of 1848: the 'Emperor of California.' Mixed with classic country and Mexican banda songs, GOLDRAUSCH is the story of rampant jealousy, greed and ambition run amok, as dueling actors fight for their close-ups in Oskar's magnum opus."
The University of British Columbia's theatre and film department presents GOLDRAUSCH at Frederic Wood Theatre March 14-30.
"GOLDRAUSCH follows the story of director Oskar, creating a film on Johann Augustus Sutter, based on the book Gold by Blaise Cendrars," explained Hannah Everett, who plays the role of Marlene in the UBC production. "Sutter was a German-born colonizer who came to America, set up a farm for himself and became rich – until the gold rush of the 1850s, which destroyed the land he had taken.
"The playwright, Guillermo Calderón, is commenting on how Blaise Cendrar's Gold is an exaggerated and fictionalized version of Sutter's life that glosses over his problematic character, and the history surrounding the land and people during this time," she said. "The play begins months into the shoot when Oskar realizes his film has become boring, and lacking 'soul.' He decides to bring in two new actors and shoot a porn scene, much to the other actors' surprise."
Marlene is one of the new actors.
"Marlene has been hired by Oskar to perform a porn scene and body double the leading lady, Greta, on set," said Everett. "Marlene represents Oskar's 'fresh start' to the film, in order to make it more interesting. Throughout the play, we learn she contracted hepatitis from the porn industry and is incredibly poor. She needs this job to make money and survive, which sends Greta into a panic as she learns Marlene is her replacement."
Appropriately for a play about a film, GOLDRAUSCH is a multimedia work.
"GOLDRAUSCH features real cameras and sound equipment that will project film scenes onto the stage," said Everett. "We are calling it a 'meta-theatrical comedy with music' and, in a way that is somewhat Brechtian, the play often breaks into song and dance, with karaoke tracks projected onto screens. In a final scene, where Oskar and the four actors interview about their film, it becomes clear that these songs are included in the film soundtrack. The multimedia layers to this piece create an effect that continues to take the audiences out of these different worlds of the past and the present, and remind them that they are watching a performance – and that not everything is always as it seems."
Calderón, a Chilean playwright, wrote GOLDRAUSCH in 2017, "in a continuing time of political upheaval and uncertainty, particularly in United States," said Everett. "Johannes Augustus Sutter came to America in the 1800s, stole land and enslaved indigenous peoples. His story, Calderón highlights, is unfortunately still incredibly relevant.
"Calderón asks us to think about land ownership, freedom and immigration. He shows us how history repeats itself," she said. "The play satirizes Cendrar's book, Gold, demonstrating how we become numb and alienate ourselves from people and politics that attempt to take away basic human rights. This is seen in Oskar's film, and the ego and greed between the four actors, all struggling for the spotlight…. Calderón has decided to illuminate these issues in a way that is absurd and entertaining, as a way to get audiences to think more actively than perhaps watching or reading a news story."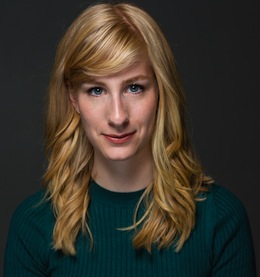 Born in White Rock, Everett grew up in Tsawwassen. She got into acting through various avenues, including Gateway Theatre and high school productions. During a three-year internship with the Riotous Youth program at Bard on the Beach, she helped create A Shakesperience and Shakespeare Unhinged. She also participated in the InTune Young Company Intensive with Touchstone Theatre and with the Stratford Theatre Performance Intensive.
In the course of her university studies, Everett has performed in many theatre and some film productions at UBC, as well as in other theatre productions. In her fourth and final year of UBC's bachelor of fine arts acting program, Everett graduates in May.
"I'm hoping to get a film agent and, ideally, work in both film and theatre," she said of what comes next. "I am keen to explore more devised performance, Shakespeare and the contemporary Canadian theatre scene. What I love about this line of work is that it scares me and challenges me to always keep learning, whatever the future may hold."
Everett's love of theatre came from her maternal grandmother, Irene N. Watts, who most recently has published Seeking Refuge (2016), a graphic novel, with Kathryn E. Shoemaker, which is a sequel to the graphic novel version of Goodbye Marianne. (See jewishindependent.ca/meet-award-winning-artists.)
"Her most well-known trilogy includes the novel (adapted from the play) Goodbye Marianne, which draws from her experience as a child Holocaust survivor, arriving in England via the Kindertransport from Germany," said Everett of her grandmother. "In England, she became a teacher and worked in drama education before coming over to Canada in 1968, where she continued working in children's theatre, acting and directing.
"Her love for theatre trickled down to me, and I was incredibly fortunate to be taken to numerous productions over the years, and given seemingly endless supplies of plays and books. Our shared passion has created such a cherished and close relationship and, as Judaism has had such a deep effect on her life and storytelling, I am always eager to share and learn her stories. Coming from both Jewish and non-Jewish heritage on my father's side, I have learned to appreciate and be open to different views of the world, especially when it comes to making art."
Tickets for GOLDRAUSCH – which contains adult themes and language – can be purchased from ubctheatretickets.com or 604-822-2678.