Phillipa Friedland is trying to raise funds to sustain basic facilities at the Population and Immigration Authority in B'nei Brak, where thousands must go to renew or obtain visas to remain in the country. (photo from gofundme.com/restrooms-for-refugees-israel)
When she left Vancouver for Israel more than a year-and-a-half ago, Phillipa Friedland, 54, became involved in social activism. Today, she is trying to raise funds to sustain basic facilities like toilets and seating at the Population and Immigration Authority (PIBA) in B'nei Brak, where thousands must go to renew or obtain visas to remain in the country. The Independent interviewed Friedland recently to find out more about her involvement.
Jewish Independent: When did you learn about the work of the Population and Immigration Authority?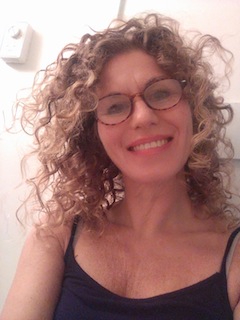 Phillipa Friedland: I met an Eritrean refugee at the passport office when my daughter Eli and I lived in Israel in 2014, and we became friends. At the end of February, the Israeli government abruptly closed the South Tel Aviv PIBA office and left a note in Hebrew, not the first language of any refugees, stating that the PIBA office had moved to B'nei Brak, to a very large, barren parking lot in an industrial part of the city. I went with my friend to hand in his form and he waited in line six times, just to hand in the paper.
JI: You're not happy with the facilities PIBA is providing. Why?
PB: The B'nei Brak municipality refuses to provide shade, toilets, water or seating for those who wait in line. Once refugees gain entry, there are ablution facilities and seating. However, there are approximately 40,000 refugees and the only places to apply for or renew visas are in Eilat and B'nei Brak. Knowing that thousands of people would converge on these centres, the government should have done infrastructural planning to accommodate such numbers.
Activists at the site have confided that, since the government closed the detention centres and refugee prison, they are using PIBA as a "soft" place to repel the refugees. They can no longer threaten them with prison or repatriation to a third African country, since these negotiations fell apart when it was revealed that these are not safe-haven countries for refugees. So, the goal is for the refugees to become so frustrated and disheartened by the visa process that they will voluntarily leave.
JI: How many asylum seekers are using PIBA in B'nei Brak, and where are they from?
PB: Most Sudanese have left Israel, so most of the PIBA users are from Eritrea. Some days, there are over 1,000 people there, though, in recent days [in late May], the number has dropped dramatically, as more refugees are given visas. Families are provided with six-month visas and single men are given two-month visas. They are required to take off work and are not paid when they leave to wait for a visa. By contrast, in many countries, a visa application can be obtained online.
JI: Are these asylum seekers also refugees, or a mixture of both?
PB: The Israeli government says they are all economic migrants. It has granted asylum to 11 people – a very poor showing for a country of refugees ourselves. The government … considers them infiltrators. In fact, the education minister declared openly on public TV that the migrants are infiltrators. It stuns me that a nation that promised to never forget has an education minister that has forgotten the persecution the Jews experienced.
JI: What are you doing at PIBA?
PB: After visiting the PIBA in B'nei Brak, I was compelled to take action. I was reviled by apartheid South Africa, and taught about the perils of discrimination and racism for 15 years at the Vancouver Holocaust Education Centre. I could not just watch quietly.
I decided to sponsor two toilets for a month in the barren parking lot where the refugees line up. These cost $600 per month. I also bought 10 benches, seating for only 50 people. Unfortunately, this is all that I could personally afford.
The toilets were so direly needed that, after three days at the site, I paid additional fees to have them emptied, as the company I lease them from only empties them once a week. Myself and an Eritrean lady, Sabrina, clean them when we are on-site, replenish the toilet paper and spray them with toilet spray.
I realized that I could not sustain this expense every month on my own, as I am an immigrant and earn a salary commensurate with working in a nonprofit organization. So I decided to start a GoFundMe Campaign called "Restrooms for Refugees." So far, I have raised [almost $3,000]. The Good People Fund run by Naomi Eisenberg in New Jersey is donating $1,800 over three months. [gofundme.com/restrooms-for-refugees-israel]
The B'nei Brak site has been running very effectively thanks to amazing Eritrean volunteers who ensure the lines run smoothly and that people get a turn. One of them is Michael, who left Eritrea after 15 years in forced military conscription; he had 10 years still to complete. His back has many scars from being tortured in the military. He left his wife and four children behind and hopes to come to Canada, where his brother is living.
JI: What do you want Jewish Vancouverites to know about this? Why is it important to you personally, and why should it be important to us?
PB: I believe that, as Diaspora Jews, we have rose-coloured glasses on when it comes to Israel. I love and support Israel, however that does not mean I support racist and discriminatory government policies. Eighteen Jewish U.S. Democratic senators spoke out about Israel's refugee policy and 400 rabbis, pilots, teachers and other groups spoke out vehemently against the deportation policy the government was adopting. Since Israel first accepted and then rejected the UN's offer to Israel regarding the refugees, there has been no new Israeli policy. The refugees essentially live in limbo, renewing their visas and being treated with no dignity.
I believe we should treat everyone with dignity. I know that, being such a small country, Israel cannot open its doors to an unlimited number of people. However, those strangers within our Jewish borders should be treated with care, as commanded 37 times in the Torah.
Lauren Kramer, an award-winning writer and editor, lives in Richmond. To read her work online, visit laurenkramer.net.