Shauna Labman (photo from Shauna Labman)
Amid the world's largest refugee crisis since the Second World War, Winnipeg-based legal scholar Shauna Labman has come out with the book Crossing Law's Border: Canada's Refugee Resettlement Program, an in-depth look at how national and international law and policies have shaped Canada's resettlement programs.
After growing up in Winnipeg, Labman did her undergraduate degree in English and religion at the University of British Columbia, then went into law school at the University of Victoria.
"At the end of law school, I was called to the bar in Ontario, and then I got a contract with the United Nations High Commissioner for Refugees in New Delhi, India," said Labman. "I went to India, knowing about refugee laws that I'd studied in law school … which meant I knew about the Canadian context of refugees – how refugee claims are made in Canada, how the Immigration and Refugee Board works. I didn't know anything about how refugees receive protection in a country like India, which has not signed the [United Nations] Refugee Convention or anything."
After returning to Canada, Labman accepted a consultancy with the Canadian embassy in Beijing. Realizing that the life of a diplomat was not for her, she returned to UBC in 2007 for a master of laws, which was followed by a PhD. Her graduate supervisor was the current dean of the university's Allard School of Law, Prof. Catherine Dauvergne.
Of her master's thesis – "The Invisibles: An Examination of Refugee Resettlement" – Labman said, "It's about the fact that refugees waiting for resettlement don't get seen. We only see them when they are resettled … but the program is very ad hoc and there was very little attention given to it at the time."
As Labman was starting her PhD, the ships Sun Sea and Ocean Lady arrived off the coast of British Columbia, carrying several hundred Tamil migrants seeking asylum from civil war in Sri Lanka. She recalled how resettlement was being discussed then. "The relationship between law and refugee protection and what I call 'the layer legality of it all,' how different laws work to position different refugees differently, became the basis of my doctoral work and this book," she said.
After moving back to Winnipeg 10 years ago, she worked as a law professor at the University of Manitoba. Last July, she joined the University of Winnipeg and its Global College. As a human rights professor, she teaches courses on refugees, resilience, and concepts and conventions of human rights.
"I find this really rewarding work," she told the Independent. "I sit on the board of the Immigrant and Refugee Community Organization of Manitoba and, in that program, I meet a lot of incredible people who spend a lot of time committed to creating a place of welcome for newcomers in our community."
Labman's book looks at Canada's refugee resettlement program from the 1970s, when there were large numbers of people fleeing Vietnam, Cambodia and Laos, up to the Syrian resettlement that's been happening in the past decade. It covers the different ways that Canada resettles refugees – the government's resettlement program and the private sponsorship program, including the newly created Blended Visa Office-Referred program, which works with refugee referral organizations to screen refugees before connecting them with private sponsors.
"One way you can think of it is that resettlement itself is a complement to Canada's inland refugee protection program," she explained. "Because not that many refugees are able to come to Canada to claim protection, we have a resettlement program. Within that resettlement program, the government is doing resettlement, but the private sponsorship program allows the broader Canada population, individual citizens, to complement the government resettlement program by resettling refugees as well.
"We need only to look south at the U.S. to see how a change in government can affect refugee resettlement," she said. "We have a legal obligation to asylum-seekers, but a lot of conversation about the border-crossers right now is about whether they are illegally entering the country and whether they are coming in violation of the law when they cross a border. I would say they're not. I'd say that part of our recognition in the Refugee Convention is that they cannot be penalized for their entry and that, even within our Immigration and Refugee Protection Act, we recognize that refugees may need to cross in a different way or manner to make their claims of asylum.
"In the same way," she added, "refugee resettlement isn't a legal obligation, but law still plays out … in how these refugees are selected for resettlement before they enter our borders, which means that, when they are entering our borders, they are entering with a legal document permitting their entrance. They have a legally valid means of entering the country, even though they didn't have a legal right to enter the country until they were selected for resettlement. So, the book looks at different ways the law operates within these two programs."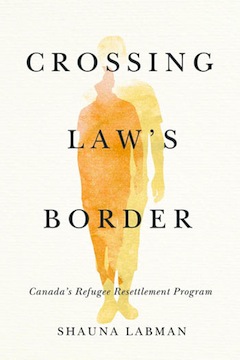 One area in which the book does not delve, but that Labman said is important, is that the required forms are becoming more complicated to fill out, forcing applicants to seek help from lawyers. "It was too complicated for me to fill out when my family did a private sponsorship application," she said.
While Labman's book is academic, it is accessible to a broader readership. "It's not going to be a page-turner if you're not interested in refugee resettlement," she said. "But, if you've, say, sponsored refugees and want to understand the program in more detail, it might be of interest. If you've worked with refugees, whether in a medical or educational context, in a settlement context … individuals working with refugees, there's so much history and contextual details to the program. When I was writing this book, that information didn't exist anywhere particularly clearly. So, if you want a comprehensive understanding of what resettlement in Canada is, this book has that."
Also, for the main target audience – academics and graduate students in history, philosophy, political science, social work, sociology, law and others – Crossing Law's Border provides a starting point for their own research on refugee resettlement and sponsorship.
"And, as Canada in the past few years has been promoting the expansion of private sponsorship to other countries, and other countries are taking up private sponsorship models, there's lots of international interest by governments and policy makers and NGOs in those countries, in what Canada's resettlement program is about," said Labman.
The Winnipeg launch of her book took place on Jan. 16, and Labman is planning a launch at the Allard School of Law sometime in May.
Rebeca Kuropatwa is a Winnipeg freelance writer.