In Bayla's Issues, the title character is plagued by the travails of aging and anxiety, and a desire for acknowledgement in the art world.
Bayla's Issues, a 2020 animated short based on the comic strip Bayla's Comics by Vancouver artist Hinda Avery, has been making the Jewish film festival circuit, with a recent stop in Washington, D.C. The 15-minute film, which follows the story of its title character and her quest to be recognized as an artist, was directed and edited by Victoria's Michael Kissinger, and is voiced by Ellen Kennedy and animated by Marty Emanuel.
Divided into eight chapters, Bayla's Issues delves into the inner thoughts – a turbulent sea of doubts, fears and anxieties – of its heroine and her conversations with an expensive and expletive-laden therapist, who is neither encouraging nor helpful.
The character of Bayla came into being after Avery retired from her career in academia. At the time, she wanted to do two things: return to painting after a long break and establish a means of connecting with family who died in the Holocaust.
"Clearly, the only way for me to make this connection would be through an imaginary process, and painting seemed a tangible tool," Avery told the Independent. "I decided to paint myself with my late mother and, with the help of only two motley photographs, my murdered aunt and grandmother. This would suffice as a way of spending time with them."
Avery's mother had left Poland before the start of the Second World War, but was severely traumatized by the murder of her family by the Nazis.
"The atrocity affected both her mental and physical health; her trauma was passed down to me, hence my close connection to the Holocaust," Avery said.
Over time, in a process that began in 2005 and lasted 13 years, Avery was able to separate herself from, as she puts it, "an overt depiction of the Holocaust experience – an event too catastrophic for me to depict using conventional representation – and instead depicted it as a phantasmagoric event. I added more women and called us all 'The Rosen Sisters.'" Rosen was her mother's family name.
The paintings feature strong, confident women resisters in situations that are both humorous and dark. Avery found it therapeutic and liberating "to fight the Nazis in this vicarious method." Still, she said, "beneath the surface of all the paintings, the calamity and horror of the Holocaust is ever present."
When the paintings, in her view, had run their course, she was "desolate" and expressed this by drawing a comic about a befuddled, unfulfilled older Jewish woman who is plagued by the travails of aging and anxiety, and a desire for acknowledgement in the art world.
"In many of the comics, Bayla expresses her angst about being Jewish. Her Jewishness has never been a joy for her. In one of the comics, she says it feels like a huge lead-heavy Star of David, attached to a thick chain-link, hanging from her neck – it weighs her down, she can't pull it off," said Avery.
Kissinger's collaboration with Avery can be traced to 2015, when he served as the editor of the now-defunct Vancouver Courier. "She left a message on my work phone about an upcoming art exhibit of her paintings and I, of course, never returned her call…. But she left another message, and another message," Kissinger recounted.
"We didn't do a lot of art exhibit coverage," he explained. "But, for some reason, I decided to Google her name and up came these paintings of elderly women in bikinis holding automatic weapons and swearing and taking down Hitler and having a great time while they were at it. From that point on, I was in."
Kissinger went on to write a story and created a five-minute video to accompany it on the newspaper's website.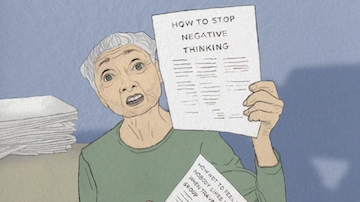 A year later, Avery reached out again – this time to share that she had obtained a Canada Council grant and to ask Kissinger if he would be interested in making a documentary about her, her paintings, and her journey in dealing with the Holocaust and depression.
A 27-minute documentary, Hinda and Her Sisterrrz, ensued. That 2018 film screened at a number of Jewish film festivals, including those of San Francisco, Toronto, Boston, Vancouver and Victoria.
"The documentary ends with Hinda talking about retiring the characters in her paintings and moving on to working on a comic strip about an 'old, neurotic Jewish woman' who wants to be an old, famous painter, but is hampered by her own demons," said Kissinger.
"Because I know Hinda's work and backstory and she trusts me with it and was happy with the documentary, she asked me if I could help her animate her comic strip," he added.
"Bayla lends herself to being animated. I love seeing her come alive!" Avery said.
The original strip, Bayla's Comics, appeared in Jewish Currents. More episodes about Bayla's tribulations – under the title Bayla's Got Problems – are currently underway.
To watch the trailer for Bayla's Issues, visit vimeo.com/439541618.
Sam Margolis has written for the Globe and Mail, the National Post, UPI and MSNBC.