Robin Esrock contemplating ancient wonders in Turkey. (photo by Paul Vance/EWM)
Read about Robin Esrock's visit to a fountain of youth in Colombia, his rail journey across Siberia, his diving lessons in Papua New Guinea. Esrock has traveled to more than 100 countries and, as he writes in the introduction to The Great Global Bucket List, the hybrid guidebook and essay collection "draws together the best of these adventures." What's more, Esrock hopes that you won't just read about his exploits, but make plans for your own.
Esrock is one of the many writers participating in this year's Cherie Smith JCC Jewish Book Festival, which runs Nov. 27-Dec. 1. The local author and journalist has not only been featured in the Jewish Independent before – for The Great Canadian Bucket List, among other things – but has written for the paper as well, so it was nice to catch up with him in anticipation of his Nov. 27, 5 p.m., presentation at the Jewish Community Centre of Greater Vancouver, appropriately called Travel Dreams.
While his career as an intrepid traveler only started after a bike accident – from which he received a broken kneecap and, eventually, a $20,000 insurance settlement that was "just enough," he writes, "if used sparingly, to book a solo one-year adventure around the world" – he had traveled before.
"My first trip overseas was to Israel when I was 11, on a discovery tour, with my family and grandparents," he told the Independent. "It was a hop-on, hop-off bus trip to tick off Israel's greatest hits. I did a European bus tour after high school, memorable in that I can't remember much of it, a two-month stint to a kibbutz, and then backpacked up East Africa to Zanzibar. I didn't get malaria, but I did get the travel bug. I lived in London for a couple years and used that as a base to visit various odd spots in Europe, but the idea of traveling around the world always seemed like an impossible dream. Once it finally manifested, the result of a modest insurance settlement for my accident, I couldn't believe I'd waited so long."
The accident occurred as Esrock was approaching his 30th birthday. On that first yearlong trip, he visited 24 countries and was "published in newspapers on five continents."
He writes, "A year later, my Hail-Mary pitch for a TV show landed on the right desk at the right time and, seven months later, I found myself as a co-host, writer and producer for a 40-part adventure series filmed in 36 countries. Funded by television networks, I was tasked with seeking out experiences that conformed to my bucket list criteria: Is this destination or activity unique? Is it something I will never forget? Will it make a great story? Is it something everyone can actually do?
"Tick off all those subjective items, and the journey began."
These were the same criteria Esrock used to compile his shortlist for The Great Global Bucket List. Then, he said, "I had to cut 27 chapters for size in my book, but, fortunately, I have a Bucket List blog (globalbucketlist.com) to find them a home, and add new experiences. In my book, you'll find far-flung adventures (Antarctica! the Galapagos! the Azores! the Amazon!) but you won't find the Eiffel Tower or Tower of Pisa. This is a book of inspiring stories and photographs, not a guide to popular tourist traps."
In addition to experiencing many a far-flung adventure over the last decade or so, Esrock has also found the time to start a family. How has that changed his travel plans?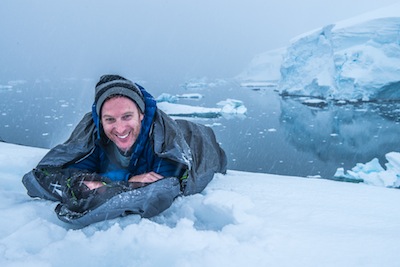 "There seems to be a subtle flow in the career of travel writers: you start with hardcore budget travel, transition into hard adventure, then soft adventure, romance, family, cruise, food, wine, spa, and end up in golf!" he said. "I don't take the risks I once did, or have the energy to sleep in roach hotels. People have become more important than ever and, since I've managed to tick off so much, I'm very drawn to unique experiences. My kids are a little young (3 and 3 months) to start ticking off a family bucket list, but I'd love to take them to countries like India, Cambodia, Israel and Turkey, where locals embrace children. Disneyland can wait."
And his own bucket list?
"Write a novel that explains, in an entertaining way, everything I have learned on my journey. Raise my kids to be curious and up for anything, so they can join me on future adventures. And I'd love to get to the five 'Stans on the Silk Road in Central Asia, which has a rich history, few tourists, and is undergoing a fascinating modern transformation."
Esrock added, "There's too much bad news out there. The 24/7 news cycle dictates that bad news must be happening somewhere, all the time. The goal with my bucket lists, and with my career in general, is to provide some much-needed good news. In all my journeys, I've never been robbed, attacked, violently ill or had my organs harvested (at least to my knowledge!). The world is far more welcoming, reasonable, peaceful and beautiful than you'd imagine.
"Some people see bucket lists as a silly, ultimately harmful pastime that creates unrealistic goals. I see them as a mechanism for positive inspiration. You don't have to go sandboarding on a volcano in Nicaragua or cage swim with crocodiles. You just have to do that thing you've always wanted to do, even if it's just fixing the garden. We don't have nearly as much time as we think we do. Every chapter in my book concludes with 'Start Here,' and an online link to practical info for readers to follow in my footsteps. More important, I think, is to start now."
For the full book festival schedule and tickets, visit jccgv.com/content/jewish-book-fest.
The idea behind a bucket list is that life is finite and, if there are things we would like to do, we should do them while we can. The Cherie Smith JCC Jewish Book Festival opens the night of Nov. 27 with San Francisco-based writer and psychiatrist Dr. Irvin D. Yalom in conversation with Vancouver psychotherapist Larry Green. The title of Yalom's most recent book, Creatures of a Day, comes from Marcus Aurelius' The Meditations, to which Yalom refers more than once in his writings, and from which he quotes at the beginning of his latest book: "All of us are creatures of a day; the rememberer and the remembered alike. All is ephemeral – both memory and the object of memory. The time is at hand when you will have forgotten everything; and the time is at hand when all will have forgotten you. Always reflect that soon you will be no one, and nowhere." Creatures of a Day is a collection of 10 stories based on his patients' experiences with loss and illness, and their – and Yalom's – efforts to live a life of both meaning and pleasure.