The Feb. 18 silent march in honor of Alberto Nisman began on the steps of the Vancouver Art Gallery. (photo by Cynthia Ramsay)
Approximately 75 members of the local Argentine community and their friends and supporters gathered at the steps of the Vancouver Art Gallery on Feb. 18 in memory of Argentina's federal prosecutor Alberto Nisman.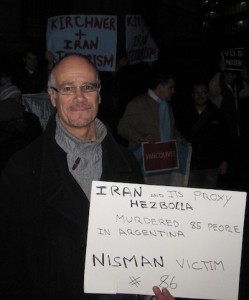 A silent march, there were no speeches, but participants carried signs. They would like the government of Argentina to conduct a full investigation of the suspicious death of the 51-year-old Jewish lawyer who was found dead on Jan. 18 at his home in Buenos Aires. Nisman was investigating alleged Iranian involvement in the terror attack on the AMIA (Asociación Mutual Israelita Argentina) Jewish community centre in 1994, which killed 85 people and injured hundreds of others. He was found dead the day before he was to appear before a congressional hearing to air his contention that President Cristina Fernández de Kirchner, among others, arranged a deal with Iran to cover up its involvement in the bombing in exchange for economic benefits.
Jewish community member Gabriel Patrich, one of the organizers of the march in Vancouver, was satisfied with the local support. "The main rally in Argentina drew [up to] half a million people, and there were big events in Miami, Australia, Spain, France and Israel. We are proud to take our part and demand a full investigation of Nisman's murder and the truth he was about to bring to light."
In addition to the call for justice, Patrich told the Independent, "we were also there … to honor a courageous man, who knew that his life was in danger – he said that his investigations might cost him his life."
Reports are that some 400,000 people attended the Buenos Aires march alone. On her website, Kirchner criticized that event as being politically motivated and, "not at all an act of homage to the tragically deceased, with the obvious exception of their immediate families." She said its one merit was that it showed "that in Argentina, your country, you can disagree, you can insult the government and the president, and can move freely. It was not always so, so do not speak of dictatorship."
For those interested in more about the AMIA bombing, Argentine author Gustavo Perednik has written a "lightly veiled" fictional account based on documents provided him by Nisman. It has been translated into English – To Kill Without a Trace: A Prequel to 9/11, the 1994 Terrorist Bombing in Buenos Aires and the Iranian Connection (Mantua Books Ltd.) – and Perednik will be in Vancouver for the book's launch at the Isaac Waldman Jewish Public Library on March 23, at 7 p.m. Also speaking will be Dr. Elena T. Feder, who wrote the introduction to the English translation. Anticipating a full house, the library requires an RSVP to 604-257-5111, ext. 248, or [email protected] by March 19.
Shahar Ben Halevi is a writer and filmmaker living in Vancouver.