Kerry Sandomirsky co-stars in Ominous Sounds at the River Crossing by Jason Sherman, which has its world première at Performance Works March 6-13. (photo by David Cooper)
Who is permitted to tell stories? This is the main theme of Ominous Sounds at the River Crossing; or, Another F–king Dinner Party Play, playwright Jason Sherman told the Independent.
The world première of Ominous Sounds takes place March 6-13 at Performance Works on Granville Island. Not only is Sherman a member of the Jewish community, but so are cast members Alex Poch-Goldin and Kerry Sandomirsky and lighting designer Itai Erdal. The production is being staged by Touchstone Theatre, whose artistic director is Roy Surette.
Ominous Sounds is described as "a provocative and darkly comedic piece of metatheatre that dives into hot-button issues including the ethics of representation, climate responsibility, and social power in a reality marked by colossal cultural shifts and blurring meanings."
"In exploring the central theme," said Sherman, "characters in the play reject a number of storytelling approaches, old and new, notably the dinner party play, of which there are many fine examples, to be sure, but which one of our characters is desperate to escape from. The play keeps returning to various versions of a dinner party play, interspersing it with attempts at other forms of storytelling, before finding a synthesis in a new story."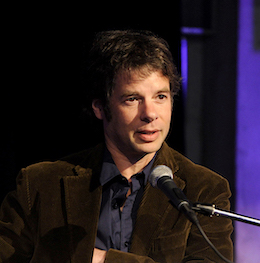 The launching point of Ominous Sounds was a planned follow-up to Sherman's play Patience, which Surette directed some 20 years ago. Patience is "a contemporary retelling of the story of Job; the new play was to pick up with news of the death of the earlier piece's main character," said Sherman. "But I found myself balking at returning to the earlier story – for reasons of both form and content – and instead incorporated some of its elements into what would become Ominous Sounds."
Erdal described some of the considerations in lighting a play like Ominous Sounds. "In a naturalistic play," he said, "the lighting usually wants to be invisible; it should move the story forward and set the mood and the tone for the scene but it should do all that without pulling any attention to itself…. In an abstract play, the lighting doesn't have to be justified – it can be part of the architecture and the dramaturgy of the piece. This play is about making theatre, so it moves between the two approaches – sometimes the lighting is invisible and sometimes it can be very dramatic and noticeable.
"We have a brilliant projection designer," he added, "and many of the locations will be done with video projection, so I will have to … work closely with the projection designer to determine which scenes will be done with lighting only and which scenes with lighting and projections. We are still very early in the process so a lot of those decisions are still being made."
When Poch-Goldin spoke with the Independent, there had been only three days of Zoom rehearsals.
"It was a bit exhausting using that format, but very enlightening," he said. "The writer, Jason, was part of our rehearsals and he was able to clarify things for us, which was very helpful.
"I hope people will come see the show now that things are opening up. While COVID is hovering in the background, I have to be optimistic. I want to share this play with people. I want to work with other actors without masks on and I want a sense of normalcy to prevail. I'm not nervous about having restrictions loosen and a full theatre appreciate the work."
Sandomirsky echoed this last sentiment. "We have all been inside now for two years, many of us living on a diet of Netflix and Skip the Dishes," she said. "This play does what theatre does best – engages in the cultural conversation of the moment in a provocative, entertaining way. It's an opportunity to see theatre that you will keep discussing post-show. It's an opportunity to leave your bubble and safely let a group of experienced actors delight and enrage you. You don't need to go to New York. You can hear a script that has intelligence, humour and heart right here, on Granville Island."
Both Poch-Goldin and Sandomirsky play more than one character.
Among Sandomirsky's roles, she said, "is a 50-something actor trying to navigate the minefield of what stories she is and is not allowed to tell. Is her voice still relevant?"
"We start as numbered entities and then we start to play other characters in little plays along the way, but always return back to our numbered entity," explained Poch-Goldin. "My character starts vulnerable and becomes quite strident and outspoken, longing for the good old days, when theatre was something he understood. As for the other characters I play, Peter is a bit of a wisecracking dad who is trying to be a better person and facing a lot of struggles. I also play the character of Ruben, who is someone who has passed away and comes back in a flashback to talk about his struggles, and to learn to accept himself and his failings. I love all the characters, they're profound and reflect many things I feel about the changes in society."
Poch-Goldin has been busy since the pandemic began. He moved to Winnipeg two years ago and has been doing a lot of TV and film, he said. For example, the première of the series The Porter started on CBC Feb. 21, and Poch-Goldin is in five of the eight episodes.
"I also just finished writing a new play called The Trial of William Shakespeare," he said. "After three years of development, we're finally starting to share the script after several workshops. I also have a play called The Great Shadow, about the first film studio in Canada in 1919. It's going to première this summer at 4th Line Theatre, which is an outdoor theatre in Millbrook, Ont."
For her part, Sandomirsky continued to teach acting for film and television at Langara's Studio 58.
"I gathered a group of friends and directed A Midsummer Night's Dream on Galiano Island in a field," she said. "It was an opportunity to have experienced Bard on the Beach actors mix with local islanders and create a bit of magic on a few warm August nights."
As well, she, her son Ben (who is in Los Angeles shooting The Mysterious Benedict Society) and her mom (who lives in Saskatchewan) "started doing nightly themed Zoom sessions to amuse ourselves and stay in contact. We'd choose a theme and then give ourselves half an hour to whump up costumes and props using only what we had at hand." They shared photos with friends and "began to take thematic requests and covered everything from Bergman to Batman to Brueghel."
Next for her is the play Courage Now at Firehall Theatre.  Written by Manami Hara, it's a piece about Japanese consul Chiune Sugihara, who helped thousands of Lithuanian Jews flee Europe. "The director, Jane Heyman, is herself a descendant of a family saved by Sugihara's actions," said Sandomirsky.
For tickets to Ominous Sounds, visit ticketscene.ca/series/926.