In the very talented ensemble of The Road Forward by Marie Clements are Michelle St. John, left, and Jennifer Kreisberg. (photos from National Film Board of Canada)
This year's DOXA Documentary Film Festival features several films with Jewish community connections. They explore a wide range of topics: First Nations activism, Fort McMurray and the oil sands, real-life mermaids, bigotry against larger people, and being a freelance journalist in the Middle East. They will make you question your assumptions, ponder the various ways in which humans find connection, and introduce you to ideas, people and places you probably didn't know existed.
Opening the festival, which runs May 4-14, is The Road Forward. In the very talented ensemble of this musical documentary by Marie Clements are Michelle St. John and Jennifer Kreisberg. As many of us do, St. John and Kreisberg have multiple cultural heritages that form their identity; in their instances, First Nations and Jewish are among them. In addition to performing, Kreisberg also composed and/or arranged many of the songs; the main composer is Wayne Lavallee.
The Road Forward began as a 10-minute performance piece commissioned for the Aboriginal Pavilion at the 2010 Olympics, and premièred as a full-length theatre show at the 2015 PuSh Festival. The documentary has mostly traditional components – interviews, archival footage, news clips – but these are broken up by a number of songs, which add energy and emotion to the film.
The documentary uses as its starting point the Native Brotherhood and Sisterhood, which were established in the 1930s, when First Nations people were not permitted to meet and organize. The groups' "official organ," the Native Voice, was the first indigenous-run newspaper in Canada.
"The idea was to honour B.C.'s history, so I started researching and reading online and came across the archives of the Native Brotherhood and Sisterhood, the oldest Native organization in the country. Their parent organization, the Native Fishing Association, is located in West Vancouver, close to me," explains Clements in the press material.
The Road Forward touches on many issues along its journey to current-day First Nation activists, who carry on in their ancestors' paths. Though their goals are varied – some fight for particular legal or policy changes, others for restitution and reconciliation, yet others for their own voice and place in the world – they are all seeking justice, equality, understanding.
The songs highlight the immense struggles. As but two examples, "1965" is about the decades upon decades that First Nations have been denied the basic rights that most other Canadians have long enjoyed, and "My Girl" is a heartbreaking tribute to the aboriginal women who have been murdered along British Columbia's Highway 16, the "Highway of Tears." The Indian Constitution Express, a movement organized by George Manuel in 1980-81 to protest the lack of aboriginal rights in then-prime minister Pierre Trudeau's plans to patriate the Canadian Constitution, receives somewhat more attention than other activist achievements, and the song "If You Really Believe," based on a speech by Manuel, is quite powerful.
The May 4 gala screening of The Road Forward is the official launch of Aabiziingwashi (#WideAwake), National Film Board of Canada's Indigenous Cinema on Tour. For the length of 2017, NFB is offering films from its 250-plus collection to all Canadians via [email protected]. The film also runs on May 10 and Clements will participate in a Q&A following both screenings.
* * *
Limit is the Sky follows a handful of 20-somethings who have moved to Fort McMurray to follow their dreams. A few years before the price of oil plummeted in 2015 and the 2016 wildfire decimated the northern Alberta city, the average family income in "Fort Mac," was $190,000 a year, according to the film. Working on the oil sands was where the real money lay, but others were drawn to the college or to places that serve the oil workers (and others), such as hairdressing salons and restaurants.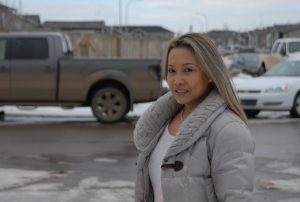 Most striking about the population we meet in Limit is the Sky is their diversity: they not only come from other Canadian provinces and the United States but from much further afield. The seven young dreamers featured include Max, from Lebanon; Mucharata, from the Philippines, who had to leave her 2-year-old son behind initially (for fours years); and KingDeng, a former child soldier from South Sudan, who had to help support his wife and children (in Edmonton) while at school in Fort McMurray.
"I was looking for young people who'd just recently arrived in Fort Mac, full of hopes, dreams and naïveté," says filmmaker Julia Ivanova in the press material. "I wanted to walk the viewer through their ups and downs in a place where the men seem tough and the women even tougher. I wasn't looking for tough characters, though: sensitivity and beauty – both inner and physical beauty – were important to me."
Ivanova, who has Jewish roots, migrated to Canada from Russia many years ago.
"Being an immigrant myself," she notes, "I could feel what was at stake for these young people and the challenges they face on a very intimate level."
The main filming ran from fall 2012 to spring 2015. She felt welcomed by the people in the city, though not by the industry. "That was a brick wall I hit over and over again," she says. "There was no filming of anyone allowed, anywhere, period."
By the end of the film, most of the millennials featured had left the city, along with many others. "The town felt almost deserted, compared to how I had seen it in 2012 and 2013," says Ivanova. "So many people were leaving. There was so much anxiety. I went to all the places I loved – and they'd all changed."
Ivanova's film shows the hope, the drive, the challenges, the loneliness of her interviewees. The dynamics are much more complex than one might assume of a city that relied on the oil sands for its prosperity. The environment is of crucial importance, obviously, but people matter, too, and this documentary shines a necessary light on that fact.
Limit is the Sky screens May 5.
* * *
Falling into the who-ever-would-have-thought category, Ali Weinstein's Mermaids introduces viewers to real-life mermaids, of a sort.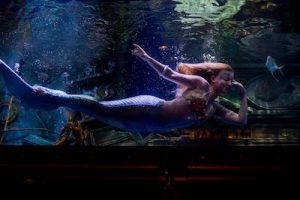 Rachel's underwater job at the Dive Bar in Sacramento, Calif., helps her deal with a family tragedy. Vicki and a group of former Weeki Wachee Resort (in Florida) swimmers recall their mermaid days, including a show for Elvis and a 50th anniversary performance. Being a mermaid helps Cookie, who was abused as a child and has mental health issues, manage life, and she and her soulmate, Eric, who makes her mermaid tails, are married in a mermaid wedding, after being together for some 30 years. Last but not least, Julz, a transgender woman who was bullied as a child and disowned by her father, discovers acceptance and love in a Huntington Beach, Calif., mermaid group.
Weinstein intersperses these stories with brief summaries of long-told mermaid tales, "from the 3,000-year-old Assyrian figure of Atargatis to the Mami Wata water spirits of West Africa."
It really is a fascinating documentary, showing just how resilient and resourceful the human spirit is.
Mermaids plays twice during DOXA, on May 6 and 13, and Weinstein will be in attendance at both screenings.
* * *
Think of the cartoon villains and the hapless sidekicks. How are they often portrayed? As fat, dumb and/or oversexed? If those weren't your first thoughts, think again. The documentary Fattitude convincingly shows how widespread bigotry against larger people is – so much so that it can be overlooked, until pointed out. Then, you wonder how you ever missed it.
From the old woman in the candy house that eats Hansel and Gretel, to Star Wars' Jabba the Hut, to the evil squid in The Little Mermaid, these are just a few of the villains. Then there is the heavyset and dumb Hardy, sidekick to thin, smart Laurel; the stereotypical chubby best friend in so many movies; and the archetypal black nanny, forever cast in the caring, subservient role. Miss Piggy is a more complex character, both strong and confident in herself, but also sex-crazy over Kermit. And, in the entire Star Trek franchise – where have the larger people gone?
From the age of 3, the film notes, we are already programmed with negative stereotypes. When all put together, it's quite depressing. However, Fattitude is a rather upbeat documentary, as its interviewees are spirited, determined and intelligent enough to effect some change, mainly via social media.
Filmmakers Lindsey Averill and Viridiana Lieberman speak to almost 50 people and, to a person, they provide an interesting perspective, connecting the body images depicted in films, television shows, cartoons, magazines and advertisements with their effects on viewers and on our perceptions of ourselves and others. The film discusses the links between race, socioeconomic status and weight, as well as the reasons why Michelle Obama's campaign to end childhood obesity was misguided.
Fattitude screens May 9.
* * *
Being a journalist in a war zone seems dangerous and frightening, and it is. But it is also tedious and lonely. At least this is what it seems from watching Santiago Bertolino's Freelancer on the Front Lines.
Bertolino follows Toronto-born, Beirut-based freelance journalist Jesse Rosenfeld as Rosenfeld hustles to get story ideas and budgets approved, waits in sparse hotel rooms for fixers to connect him with interviewees, and ventures into Egypt during its post-Arab Spring elections, the West Bank during an Israeli-Palestinian conflict, a Syrian refugee camp in Turkey and to Iraq, where they witness the fight against ISIS from the front lines.
Some of the more disturbing images are of the bodies of Palestinians gunned down in a home by undetermined executioners and the corpses of dead ISIS fighters dumped in the back of a truck, as well as tied to its back bumper. In another memorable part, Rosenfeld yells questions to a caged Mohamed Fahmy, when Fahmy and two fellow Al Jazeera journalists were on trial in Cairo. (Fahmy, who holds both Canadian and Egytian citizenship, spent almost two years in jail of a three-year sentence.)
Rosenfeld has strong views and isn't afraid to share them, though he struggles to make eye contact with the camera when he makes his pronouncements. Some of the best exchanges in the film are between him and Canadian-Israeli journalist Lia Tarachansky, who hold different opinions on the Israeli-Palestinian conflict.
Freelancer on the Front Lines screens May 13 at Vancity and will include a post-film discussion.
For tickets and the full DOXA Documentary Film Festival schedule, visit doxafestival.ca.