Jordan Billinkoff, left, and Josh Glow started the company Gryd, winner of the Canadian Federation of Apartment Associations' New Product or Service of the Year Award. (photo from Gryd)
The Toronto-based start-up Gryd is reinventing the look and feel of finding a place to rent.
Created by Winnipeg Jewish community members Jordan Billinkoff and Josh Glow – who started their careers as b'nai mitzvah photographers/videographers – Gryd provides property management companies with a virtual reality (VR) video of the place they want to rent out.
The idea is sometimes a hard sell to management companies, Billinkoff told the Independent, but renters are lining up to use it. The Canadian Federation of Apartment Associations has recognized Gryd as the best new product on the market.
"I've always been very interested in technology and digital media," said Billinkoff. "And, when I was younger, I was making a lot of videos for fun, and people started saying I could make money shooting videos. So, I started shooting bar mitzvah videos."
At 24, he started doing more commercial work, mainly in real estate, which led him to start a company called Property Reel, which produced photos and videos for real estate properties.
"And then," he said, "I realized there are a lot more opportunities for new technologies and enhancing the user experience … the way people search for properties online. So, I decided to change the name to Gryd and we got involved with VR [virtual reality], augmented reality (AR), technologies."
Billinkoff went to Gray Academy of Jewish Education until Grade 7 before transferring to Grant Park High School and then finishing high school at the University of Winnipeg Collegiate.
"I was always curious about what was coming up next and I wanted to experiment with new technologies that I thought would be promising," said Billinkoff. "I saw a lot of promise and potential in 3-D technology.
"When I say 3-D technology, I think of VR and AR. Both of these technologies are built on video game engines. The same tools that developers use to make video games are what our developers use to create 3-D models for VR and AR apps."
So, they bought a 3-D camera and started filming some properties and some 3-D models of properties to gauge public interest. It was a hit with some of their already existing clients.
The product takes a couple of different forms.
"There are the 3-D tours," said Billinkoff. "With the 3-D tours, you can view them with the headset on. So, the 3-D tours you can put online and you can use them on a desktop, tablet or phone.
"Taking it to the next level, you have a virtual reality headset and can view it in VR. So, you're immersed in the property, which creates a dimensionally accurate 3-D model."
To achieve this, Gryd uses a 3-D scanning camera that creates a wire frame of the environment it's in. It places each VR photograph on top of the wire frame to make a 3-D model of the property. It is not a mere rendering, but a 3-D model that is dimensionally accurate.
On top of this, there is the floor plan, which users can view by clicking that option. "You can move it around in 3-D, so you can see different vantage points of the floor plan," said Billinkoff. "The traditional virtual tours were 360-degree panoramic photos, where you click on one, wait for it to load, then click on another. But, with these 3-D models, you can actually walk around with a full range of motion … and, there are no loading wait times."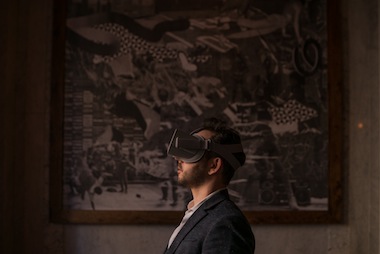 VR goggles are a new technology and most companies are just starting to use them in their leasing centres or corporate offices. The technology allows a potential lessee or buyer to be immersed in a place that is not yet built.
Because the technology is so new, Billinkoff has been holding off on releasing his 3-D videos for the past few years in order to build up a content library of tours before they launch.
While the 3-D headsets cost close to $300, Gryd is selling ones that are only $15 and allow anyone to use their own smartphone as the 3-D screen.
The biggest challenge has been convincing property managers to invest $250 on a property that typically rents in a couple of weeks during a slow period.
"So, we're kind of fighting for the renters, to create a better user experience even in these markets where everything is leasing anyways," said Billinkoff.
While most property managers are open to the idea of shooting 3-D tours, he said, "They just have such low vacancies that, a lot of times, they won't even have a vacancy available, to be able to shoot the unit, for another half a year. So, there are a lot of logistical issues with that, because of the low vacancy.
"Also, property management isn't known for being the most innovative industry. So, a lot of property managers are comfortable with their old-school routines and processes. This is something very new and high-tech."
When Gryd first started shooting VR in 2015-2016, they would not mention it in the sales pitch, knowing it would likely cause resistance. Instead, they shot as many 3-D tours as they could over two to three years. Then, they launched a VR app, which has a library of 3-D tours, and property managers receive this bonus.
"We sold them the 3-D tours," said Billinkoff. "Then, one day, which was a couple months ago, we put the switch on, and all the tours turned VR. And we informed all our clients that they now have this new and awesome bonus."
At first, Billinkoff did all the shooting, but now Gryd has a network of trained photographers all over the country. Both Billinkoff and Glow have relocated from Winnipeg to Toronto to expand their business.
If someone visits gryd.com now, they will not yet be able to search for a place in Vancouver. But, that addition is currently in the works. Billinkoff anticipates that it will come into effect as of spring 2019.
"The number one thing we hear from all the property managers is that having the 3-D tours pre-qualifies the renters," said Billinkoff. "So, if a renter is coming in to see the unit in person, they're already very well-informed. They've already seen everything they need to know online. So, if they are coming in, they are already ready to put down a deposit on the property. They are just confirming everything is what it looks like online.
"It just makes the process more efficient, as they [the property managers] are weeding out tire kickers from coming in and taking a look at the apartment. Then, on the opposite end, it works great for renters, as they don't need to waste time going to apartments they aren't interested in. When they go to an apartment, they already know they like it, as they've seen everything online."
For more information, visit gryd.com.
Rebeca Kuropatwa is a Winnipeg freelance writer.