Janet Strayer at the opening of her solo exhibit, Wings of Imagination, on Nov. 28 at the Zack Gallery. (photo by Olga Livshin)
Janet Strayer first conceived the idea for her new show at the Zack Gallery, Wings of Imagination, about a year ago. "I was talking with Linda, and the bird theme came about," she said in an interview with the Independent, referring to Linda Lando, director of the gallery.
"Birds appeared in my paintings before," said Strayer. "They take us into the air, into a different place. Birds symbolize freedom – freedom of movement, freedom of imagination. The flight of imagination allows us to envision different possibilities, different solutions, even different ways to see familiar things. When I considered the name for this show, I thought about [Albert] Einstein and his words that knowledge is always limited, but imagination is limitless. Imagination is the most important thing for any artist."
Wings of Imagination is all about flight and wings. Birds populate the paintings. Bright and whimsical, they flitter around birdhouses, soar towards a distant sky or interact with other creatures, real or imaginary. Some images are bright, almost cartoonish, inviting a smile, while others seem more serious, characterized by quiet intensity and misty, pastel colours. And then there are funky collages, with real 3-D birdhouses attached to the two-dimensional pictures.
"There are three distinct styles of paintings in this show," said Strayer. "The three styles are consistent with the theme of the show. I started it conceptually, as I always do, but I couldn't explore it in any one direction. Wings of imagination is a huge theme, and there is no one way to approach it – all the possible ways should be expressed. Freedom of expression is what it is all about; it is like several different directions of flight."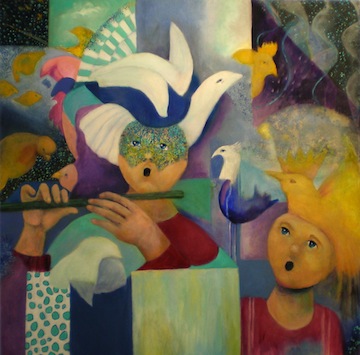 One of the styles is almost impressionism. The paintings' blurry lines are reminiscent of Claude Monet's foggy nights. The dream-like imagery catapults the viewers into some eldritch realms of sublime illusions with their wings and birds, sky and air.
"Another style is magic realism," the artist explained. "I wanted to go magical. Imagination is magic. The Canada goose is flying, but his wings are magical – you can't see such pattern on a real goose, except in your imagination. Beside the goose hangs my homage to Leonard Cohen, as he walks across the sky."
The two paintings of "Birdwoman" seem similar in composition but entirely different in their palettes and in their emotional subtext. "The colours in 'Birdwoman on the Roof' are muted compared to the other one," said Strayer. "On the roof, she is open to the sky, not as loud as the other, more of a mystery. It has space for you to come in and indulge in your own perception, while the other one is more enclosed inside its room and its brilliant colours."
Strayer's magic realism paintings are eccentric and capricious, with clear lines between the colours and frolicking creatures from fantasy novels, while her third style, the collages, appear at first glance as a jumble of small images punctuated by birdhouses.
"Birds need places to live in," said the artist. "I took a risk with the collages, didn't know what would happen, but it was such fun working with them. It took me three months to finish those two collages. They started with fragments, and then they led to other fragments. And feathers. And birdhouses. Things tell you what to do, until the entire image comes alive. It was like an adventure in my studio every day. Where would it go?"
Strayer's playful adventure resulted in two unique art installations. "I wanted people to be surprised by these collages," she said. "I wanted them to stop and look at all the tiny details. We don't always stop and look. Even with art, so often, we come to a gallery, but we just glance. We don't stop and really look."
Strayer's is a familiar name to Zack Gallery patrons. She had a solo show at the gallery in 2010, but the difference between the two shows is not only temporal but esthetic. While the previous show was black-and-white digital art and a poetic look at childhood, this one is bursting with colour and exuberance, and features mostly acrylic paintings.
"I enjoy creating digital art," she said, "but I wouldn't want it as a steady diet. I'm an explorer. I always want to try something different. I love to work on real paintings. And I've always loved colour."
For Strayer, a predominantly abstract artist, the esthetics of her creations are more important than the telling of a story or the conveying of a message.
"A message should come through the esthetics," she said. "And, if someone has a different interpretation than me, it's fine, too. As soon as the paintings are on the gallery wall, they are not mine anymore, even though I created them. Everyone could see something different, compatible with their own memories and experience."
Wings of Imagination opened on Nov. 28 and runs until Jan. 5. To learn more about Strayer, visit janetstrayerart.com.
Olga Livshin is a Vancouver freelance writer. She can be reached at [email protected].