The Confucius temple is a must-see in Beijing. (photo by Thyristorchopper)
On Sept. 7, I arrived in Beijing for a 10-month adventure – teaching Hebrew at Peking University. (Yes, this is what it is still called.)
Among the many preparations I had to make for this journey were learning some basic Mandarin, downloading and scanning for the students a huge amount of Hebrew material that would not be accessible from China, and packing clothes for three seasons. I also had to think about celebrating the High Holidays away from my family.
On the internet, I learned that Beijing's Jewish community enjoys two congregations: Chabad, as one would expect almost anywhere in the world, and Kehillat Beijing, "an egalitarian, unaffiliated, lay-led Jewish community organization." The latter has a rabbi, but only a guest one, and only during High Holidays. This year, they invited, for the second time, Rabbi Jack Shlachter, a physicist-rabbi from Los Alamos, N.M. What a small world! His wife, Bruria (Beverly), who would accompany him, was one of my mini-ulpan students in Santa Fe last year! In an email exchange, she assured me that Kehillat Beijing is a warm and welcoming community and, by the way, would I mind taking part and reading a passage during the Yom Kippur service?
The first few days on campus are full of bureaucratically required errands, and they are a good way to get familiar with the geography of my new and fascinating environment – a beautiful campus, part of which was the southern edge of a huge imperial garden. Surprisingly, it doesn't feel as foreign as I expected it would. Global village? Still, there are enough things, even those on the mundane side, which are so different and curious, they promise more surprises.
Three days after arrival, I venture into the super-modern subway, heading to the Israeli embassy. The ambassador's wife had invited Israeli women in Beijing for an informal potluck evening to welcome the New Year, and I am on the list. The instructions I receive from a student are clear: change from Line 4 to 10, take Exit B, walk two blocks into the diplomatic part of the city, and I am there.
There are about 20 women from what seems to be a close-knit group. Among them, a now local restaurateur, an architect, some businesswomen, an event planner, the Chabad rebbitzen, embassy employees, and wives of businessmen or embassy workers, taking time off from their jobs in Israel and enjoying all that Beijing has to offer – a good group for a newcomer to get her first tips about life in China. Late at night and after a rainstorm, I safely walk to the subway and back to my campus residence.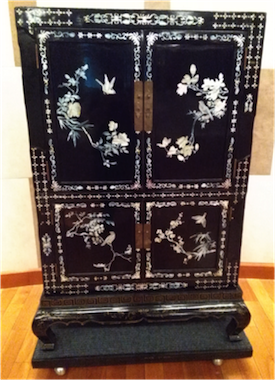 On Friday night, I head to Kehillat Beijing. I take the same subway station, but Exit A gives me my first glimpse of a busy downtown street, a shopping centre, hotels, the construction site of a large and creatively shaped tower, many tiny little – some elegant – stores (are all stores in Beijing so small?) and street food prepared and sold in small carts.
KB meets every Friday evening on the third floor of the Capital Club Athletic Centre. Local Jews, fluent in Mandarin, living in China for periods ranging from a few years to a couple of decades – business owners, financiers, ESL teachers, people working in the American, Canadian and Israeli embassies, students of Chinese or Chinese medicine, and others – get together with local Chinese who are searching for a new spiritual path, as well as with visitors. These visitors are tourists, exchange students and university professors, here temporarily, or those with great ideas, who come to explore business potentials.
The service this time is led by the guest rabbi in front a Chinese antique piece that has been turned into a small ark. If you look carefully, you will notice the probably unintentional Magen David-like decorations on its doors.
The KB logo, embroidered on their kippot, also has a Magen David in it, only here it replaces one element of the Chinese characters denoting the word Beijing. It is something to take home for your kippa collection.
After the service, there are announcements – and a surprise. One of the organizers of Limmud China, which alternates yearly between Beijing and Shanghai, tells us about this year's event in November, and invites potential presenters to apply. I approach him and offer to do so, in this way compensating for having had to withdraw my offer to present at Limmud Vancouver 2016.
Friday and holiday services at KB are usually followed by dinner. Attendees buy a ticket but, for students, it is subsidized. The social mix at every table ensures interesting and lively conversations.
Saturday is my first day as a real tourist. I visit the Confucius temple site, with its ancient trees and long library "avenue" – all the Confucian wisdom engraved in close to 200 stelas, each more than twice a man-size tall. At the end, a class of university history students stages their version of an ancient bow and arrow shooting competition in historical clothing.
The next day is erev Rosh Hashana and Rabbi Jack leads the service in a meaningful, beautiful way. At my dinner table sits a British journalism professor, an American government envoy here to discuss drug issues with Chinese officials, a father visiting his Chinese-language-student son and an American university librarian hunting for both Jewish and Arabic publications produced in China, accompanied by two young guests: a Chinese woman writing her master's thesis on Cynthia Ozick's work and an Arabic-Chinese translator working in Chinese television. For both, it is their first time in a synagogue. The translator speaks to me in the formal literary Arabic he learned at Peking U and in Sudan, and I answer in my colloquial Arabic, explaining the meaning of the various Jewish New Year customs.
The next day, after Kiddush and a bite of challa dipped in honey, we head to nearby LiangMa (Bright Horse) River for Tashlich, right beside a few fishermen sitting patiently, waiting to hook a fish. From there, we walk for a few blocks and sit on the roof of a brewery, reserved today especially for the KB community to share in vegetarian pizza and drinks. It is an enjoyable, almost family-like, holiday gathering that extends to the late afternoon. By now, I feel quite at home. I speak Hebrew and English at this table and another and, from a trilingual (English, Chinese and Hebrew) 10-year-old girl, I get a detailed explanation and demonstration of the different tones and, hence, meaning of two Chinese words that sound equal to my ear.
On the second day of Rosh Hashana, KB does not hold services, and I join Rabbi Jack and Bruria at Chabad for another warm welcome. I am surprised to find a few of my new acquaintances from KB now here at Chabad. Dividing your "Jewish time" between the two very different congregations is not uncommon, I am told. In Beijing, the two communities collaborate, especially when it comes to the local Sunday school.
In between Rosh Hashana and Yom Kippur, school starts, and I meet my new students, as well as sprinkle in another couple of outings. I witness the locals dancing, playing games and singing, individually and in large groups, in their historical, beautifully preserved parks, taking advantage of the still nice weather and the unusually low pollution levels.
The Saturday between Rosh Hashana and Yom Kippur is a musical Shabbat at KB. The service is accompanied by a group comprised of members of the congregation and of Moishe House, with their instruments. Moishe House in Beijing seems to be very active, their events include dinners, movie nights, cultural discussions, speakers, holiday celebrations and community service events. They are also central in the preparations for Limmud and host its organizing meeting.
Yom Kippur I spend again with KB, starting with the meal before the fast and ending with the break fast, but for the first night of Sukkot, I head again to Chabad to sit in the sukka. This evening is busy. On top on their usual varied crowd, they are hosting a group of Chabad followers from New York, a tour organized by the Beijing rabbi as a fundraiser for the local day school, Gannenu. As erev Sukkot coincides this year with the Chinese Mid-
Autumn (Moon) Festival, the sukka, which usually would not be decorated, after the Chabad custom, now has bright, red Chinese lanterns hanging from its schach (covering), and traditional (kosher) moon cakes are served for dessert in small, red paper bags.
Barely three weeks and so much to remember already, with the Jewish aspects only being a part of my experiences so far, albeit a significant part. And there are nine more months to go. For the first time in my life, I have started writing a diary, lest I forget.
Rahel Halabe teaches biblical and modern Hebrew in Vancouver and, this year, in Beijing. She is the author of Hinneh: Biblical Hebrew the Practical Way, and a translator of Arabic literature into Hebrew.