A photo of George Pal with the class of 2016 I-witness Field School, which can be found in his recently released memoir, Prisoners of Hope.
Shoah survivor George Pal introduced the printed and electronic versions of his memoir, Prisoners of Hope: Rising from the Ashes of the Holocaust, to a Zoom audience on June 30.
His eyewitness account describes life at Auschwitz, where Pal, now 94, was interned in 1944-45 as prisoner #42821. The book is the result of the warm response to his presentations given through the University of Victoria's I-witness Field School, a program that explores "the ways in which the Holocaust is memorialized in Central Europe, to build an understanding of how the lessons of the Holocaust are relevant in today's world."
His story demonstrates how rapidly upheaval can occur in a person's life. Pal's hometown of Mukachevo, now in Ukraine, found itself, by turns, under the rule of Czechoslovakia, Hungary, Germany and Russia – all within the first half of the century. "At the age of 17, I already had lived in several different countries, without ever having left town!" Pal observes.
The memoir's title conveys Pal's steadfast spiritual resistance to the horrors and brutality that he endured. He believes that many of his fellow concentration camp inmates shared this resolve. Eventually, he was "liberated" by the Russian army, and traveled back to Mukachevo, where he was reunited with his mother and sister. His mother had been interned in a ghetto in Budapest, while his sister had survived a concentration camp.
Pal soon moved to Budapest. A decade later, that city was invaded by the Soviet Union. By then a married engineer with two children, Pal went to Austria. Ultimately, he found asylum in Canada, where he became the dean of engineering at Mohawk College in Hamilton, Ont. There, he learned English. He already spoke Czech, German, Hungarian, Hebrew and a smattering of Russian. In 2006, he moved to Victoria. His journey has been one of patience, perseverance, love and hope.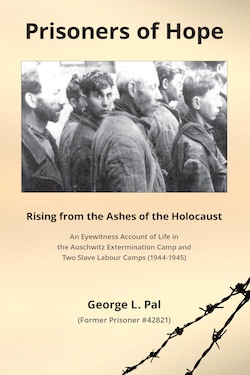 The release of his memoir proves timely, as nations worldwide explode in public protests urging their governments and police to confront their histories of systemic racism. Pal's heartfelt plea reiterates the famous refrain "never again."
"Having survived one of the most monstrous events in human history, I believe that it is my duty to testify. This is crucial especially because Nazi sympathizers and followers continue to exist throughout the world," he writes.
In May 2019, Pal began working with Vancouver editor Lisa Ferdman, whom he credits for "her consummate skill and insight." Her recent work as editor includes The Nazi's Granddaughter: How I Discovered My Grandfather Was a War Criminal by Silvia Foti, soon to be released by Regnery Publishing, in Washington, D.C.
"It was an honour to assist Pal in sharing his story with a wider audience," Ferdman affirmed.
The book launch featured Prof. Helga Thorson of the University of Victoria's department of Germanic and Slavic studies; Shoshana Litman of the Victoria Storytellers' Society; and a video-recorded conversation with Pal.
"For the past 10 years, George has shared his story in my Holocaust studies courses at UVic. In this way, he has affected the lives of countless students, who now carry his story with them as they face their own experiences of a world still struggling with racism, antisemitism and genocide – 75 years after the Shoah," Thorson said.
"George's stories of resilience offer concise glimpses of experiences few of us have endured. His writing helps us begin to understand the tremendous perils of unchecked racism in a very personal way," Litman, Canada's first ordained maggidah (female Jewish storyteller), reflected.
In one of the later chapters, Pal states: "I have often been asked, 'Do you hate the Germans?' My emphatic answer is always, 'No! If I were to blame the entire German people for everything that happened to me, my family and all those who did not survive, I would be making the same mistake that the Nazis made in blaming the Jews for all of Germany's woes.' Such generalizing, or demonizing, is dangerous."
Sam Margolis has written for the Globe and Mail, the National Post, UPI and MSNBC.