There is a bounty of books to read and review at the Jewish Independent. One of the many perks of my job is that I have so much culture literally at my fingertips. But, given the weekly deadlines and other demands of running a newspaper, I can't always be au courant. So, hopefully I will be forgiven for reviewing four books published last year for this Passover issue: a memoir, a work of fiction (perhaps 😉 and two young adult novels. I'm excited to report that two of the books were written by people who have written for the JI and one was written by a local community member.
My favourite podcast is Wait Wait … Don't Tell Me! And, even though I don't run, one of my favourite magazines is Running Room. I'm not sure how I got onto their mailing list, but I always enjoy reading people's inspirational stories of why they started running, I like the recipes and nutritional advice and the training tips, which are useful for other types of exercise. Anyway, all that to say I was excited when the host of Wait Wait, Peter Sagal, who is Jewish, came out with his new book, The Incomplete Book of Running (Simon & Schuster, 2018).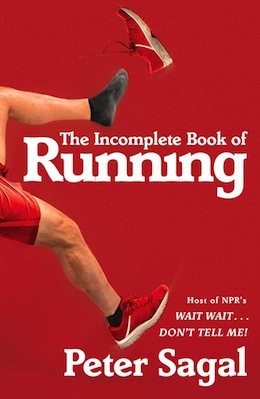 Sagal shares personal stories about why he started running, some of the marathons in which he has participated and people he has met along the way, notably a couple of runners who were blind (or almost), for whom he acted as a guide. Scattered throughout, he offers various facts and figures about running; its health benefits, as well as its downsides (I did not know about, to put it delicately, the digestive issues long-distance runners can face). He speaks somewhat vaguely but openly about the dissolution of his first marriage and he is refreshingly honest about his struggle with depression.
Running has helped Sagal deal with difficult circumstances, and continues to not only be a form of exercise for him, but something that informs how he lives. Among other things, running has taught him persistence and has made him more courageous; it has contributed to his "faith in the possibility of positive change" and his realization of just how enduring is love.
I admit that, despite Sagal's enthusiasm, reading about multiple marathon experiences, as a non-runner, got a little tiresome. And the book isn't chronological, so I wasn't always sure of what point we were at in Sagal's life. But, those minor criticisms aside, I enjoyed the book a lot, especially Sagal's conversational style of writing and his humour. Having listened to him almost every week for so many years, it felt, at times, that he was right there, telling me his story; that I was listening to him, rather than reading him.
* * *
There is no doubting that Curt Leviant is a talented writer, that he has a wicked sense of humour and a heightened sense of observation and awareness. Katz or Cats; Or, How Jesus Became My Rival in Love (Dzanc Books, 2018) is his most recent of many novels and fans will not be disappointed.
A book editor, John, and a writer, Katz, meet on the subway. On their commutes into New York, Katz shares what is ostensibly his brother's love story, though it may be Katz's. Part of the novel's plot revolves around just how true, or fictional, is the story of Katz's brother, who also goes just by his surname, Katz.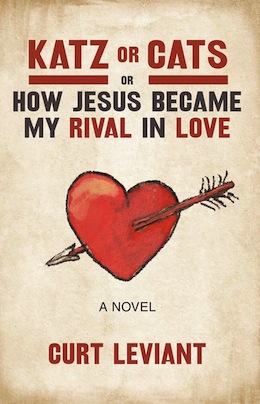 As the story goes, Katz (or Katz) meets a woman on a train. Maria is supposedly a devout Christian, but she has no trouble permitting a stranger to put his arm around her on first meeting, nor having sex pretty soon thereafter with said stranger, Katz, who she thinks might be married. Their relationship – and the novel – comprises much sex, a lot of talking about sex and many discussions about religion – Jesus, specifically, and Maria's recurring feelings of guilt for not being what she thinks a good Christian should be.
As Katz relates the tale to John, the editor interjects every once in awhile to question apparent contradictions or errors in the telling. Some aspects – Katz's marital status, for instance – remain unclear, and purposefully so.
Ironically, perhaps, given that the premise of the novel is a writer telling a story to an editor, Katz or Cats would have benefited from some tighter editing. More than one topic recurs and some points are made multiple times. While Katz's wit and intelligence provide much to think about, I didn't find him to be a sympathetic character, so "listening" to him became difficult. And, while I'm not a huge fan of political correctness, I found his treatment of Maria to be condescending and rude at times, and some of his quips to be on the edge of disrespectful towards other cultures. Though Katz refers to Maria more than once as smart, her waffling and some of her responses to Katz – and his reactions to her – don't really support that notion.
Overall, while provocative in many ways, I found Katz or Cats to read like a book from another era. Many male writers, from Seneca to Henrik Ibsen to Thomas Mann to Leviant himself, come up in conversations in the novel, reinforcing my feeling that this book would be most appreciated by older, male readers. But I could be wrong. When I shared my views with Leviant – who regularly writes for the Jewish Independent's holiday issues (see page 34 of this issue, for instance) – he shared that a similar novel of his, translated into French, got great reviews from young women critics.
* * *
Ever since reading No One Dies in the Garden of Syn in 2016, I have been waiting for the second book of local writer Michael Seidelman's trilogy featuring teenage heroine Syn. And, late last year, my wait was over.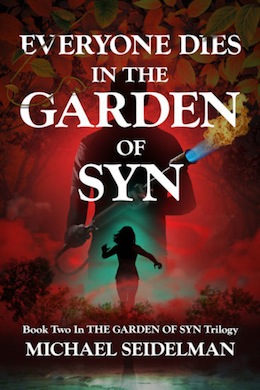 Everyone Dies in the Garden of Syn (Chewed Pencil Press, 2018) starts with a violent prologue that both heralds what's to come and starts to explain the "Creepers" – weird-looking creatures that seem to be combinations of two people or a person and an animal or insect – we met in the first novel.
In the introductory pages of Everyone Dies, Seidelman, in addition to moving the story along, reminds readers of what has come before. The action in this book centres around Syn's need to rescue her sister, who has been kidnapped by Cole, a "boy" who befriended and then betrayed Syn – or, from his point of view, was befriended and betrayed by Syn.
Still missing as Everyone Dies starts are Syn's parents, who disappeared when she was 5. Because of Syn's actions in the first book, the garden, which once had healing powers – "no one dies" – has lost them, so now "everyone dies," or can die, in the garden. Therefore, the situation is that much more dangerous now for Syn, who suffers from cystic fibrosis. Whereas she didn't have to worry about her health in the first novel, it becomes another thing she has to battle in the second.
And there is many a battle in Everyone Dies, and lots of running and chasing. There were a few times I lost track of which universe (there are multiple) we were in, and, sometimes, who was fighting whom, but the action moves along and the tension builds. There's a wonderfully satisfying twist at the end. And so begins the wait for Book 3.
To read more about Seidelman's first Syn novel, visit jewishindependent.ca/first-book-of-trilogy-now-out.
* * *
"When my 13-year-old son devoured Bulfinch's Mythology after reading Rick Riordan's Percy Jackson, I realized we need an exciting, thought-provoking series based on Jewish history, something that will send our kids reaching for a Torah, a Talmud or a Book of the Apocrypha," wrote Emily Singer to the Jewish Independent in an email about her new book, Gilgul I: Rededication (Hadassa Word Press, 2018).
Singer, who lives in Israel, is a writer and a high school teacher. When she and her family lived here, she taught at Vancouver Talmud Torah. She has written several articles for the Jewish Independent so, when she contacted the paper about Gilgul, I happily agreed to review it.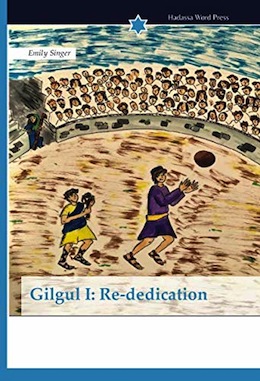 Not surprisingly, knowing Singer's skill as a writer, Gilgul is a compelling and radical take on the Chanukah story. While all the book's hero David wanted to do was to play the game skyros with his friends, the game takes on a deadly seriousness for the 15-year-old when King Antiochus sacks the Temple and starts a war against the Jews.
David must be smart, brave, strong and compassionate to stay alive and save his family and his people. He must figure out who to trust, and the fact that it's not always clear who the good guys and bad guys are adds tension and meaning to the novel. Even with the help of his equally heroic sister Leya, some unexpected courageous allies and a little magic, David has his work cut out for him. Gilgul will leave readers thinking anew about Chanukah, the rededication of the Second Temple, the Maccabees, the miracle of oil, and more.